Market Moving News (Summary of 15 Articles)
Economic statistics are down overall, and retail spending is leading the way, with weather the cause. Estimates of 1Q GDP are being lowered.
Housing is weak with the MBA purchase index down 13% vs. last year. The refinance index edged lower, even though interest rates are slightly lower.
Claims are flat, both last week and in the 4-week average; weather may be a factor.
Industrial production fell .3% in January, following a previous .3% gain. Capacity utilization dropped to 78.9% from 78.5%.
Sentiment
Consumer confidence moved to the highest level in 4 months. The consumer comfort index ended a 6-week slide. The consumer sentiment report was steady as a weather-related dip in current conditions was offset by a rise in expectations.
Luke warm sentiment and uninspiring economic data did little to depress investors. The TD Ameritrade Investor Movement Index moved from 5.62 in December to 5.66, as clients bought on the dips. The Small Business index moved higher overall in a mixed report.
The VIX(click to enlarge)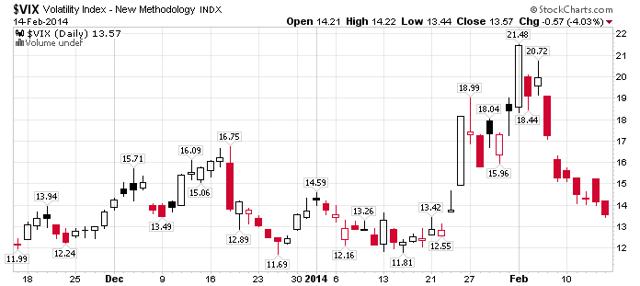 Click to enlarge
What the VIX shows is that the market is not following the economic/sentiment script. The "fear index" steadily fell as the market moved sharply higher, and is approaching the "complacent levels of early January and last year.
The Market (S&P 500)
(click to enlarge)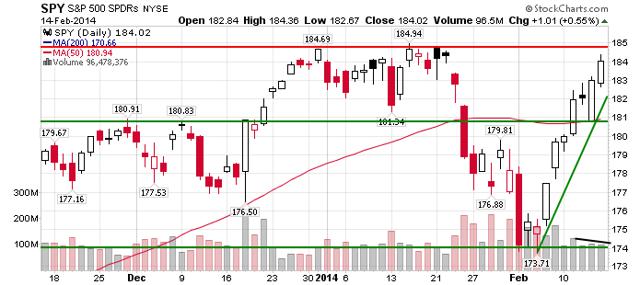 Click to enlarge
Last week, I suggested that the nascent uptrend needed confirmation, which consists of a drop to a higher low followed by a new high. This, like all market aphorisms, is not always true. The V-shaped recovery was so strong, that a continued uptrend, probably at a lower rate-of-gain is possible from here.
Small Caps (NYSEARCA:IWM)
(click to enlarge)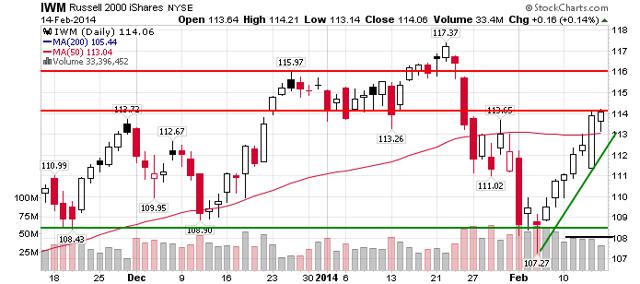 Click to enlarge
The Russell 2000 was a laggard in this rally, not recovering almost to the previous high, as did the S&P 500. In fact the Nasdaq 100 (NASDAQ:QQQ) vied with the SPY as index leader during the week.
Core Sectors
(click to enlarge)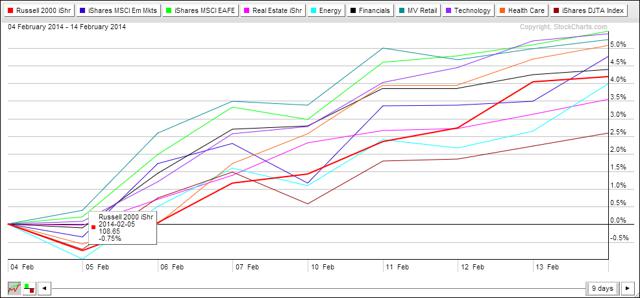 Click to enlarge
The rally was broad and strong, as obvious from the 9-day chart. Leaders beating the IWM are, in order, foreign stocks (NYSEARCA:EFA), technology (NYSEARCA:XLK), retail (NYSEARCA:RTH), healthcare (NYSEARCA:XLV), and emerging markets (NYSEARCA:EEM), and financials (NYSEARCA:XLF). Of these, I will avoid foreign stocks, because of the surfeit of opportunities in the U.S. As usual, the rise in health care is particularly smooth, and tech is very strong.
Highest Relative Strength
(click to enlarge)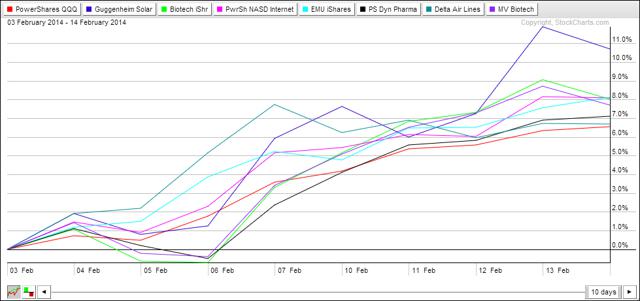 Click to enlarge
Reviewing the highest relative strengths, we see the same strengths as during the last few months. Solar (NYSEARCA:TAN), has resumed its volatile strength, followed by a tie between biotech (NASDAQ:IBB), and Internet (NASDAQ:PNQI). EU Companies (BATS:EZU) are next, and another biotech fund (NYSEARCA:BBH) follows. Just above the level of the Nasdaq 100 (QQQ) is pharmaceuticals (NYSEARCA:PJP). Of these, I favor IBB, PNQI, BBH, and PJP, and my "base" holding is QQQ.
Trades Last Week
Bought: QQQ, PJP, IBB, PANW (Palo Alto Networks)
Conclusion and Action
As noted above, the broad V-shaped rally can lead to a new uptrend without confirmation. There is lots of momentum for higher prices.
My explanation for this is that we are experiencing the first "Yellen rally," which has created a "bad news is good" sentiment. Yellen will reduce the taper if the economy becomes weak. Bond prices are expected to fall as future interest rates rise. After the recent 7% correction, stocks are perceived as cheap, and institutions stocking up at these prices. Also, the threat from Congress is reduced as more cooperation has led to passage of budget and clean debt ceiling bills. With earnings mostly behind us, and the effects of weather a temporary issue. There are few clouds on the horizon. I expect a continued rally in the short term.
Disclosure: I am long IBB, QQQ, PJP, PANW.