Market Moving News (Summary of 17 Articles)
In recent days, the economic news has not moved the market, which managed gains despite a series of negative reports.
Reports of lower consumer spending tended to blame the weather, but ecommerce sales rose less in the 4th quarter than in the 3rd. February spending was lower, despite a strong Valentine's day.
The New York Fed and Philly Fed manufacturing reports showed sharp declines, but in contrast, the Markit Economics reported a strong bounce in its U.S. Manufacturing composite index.
The Treasury International Capital report stated that the Fed's initial tapering move, which began in December, did not improve demand for US securities as foreign accounts sold government agency bonds and stocks while US accounts acquired foreign securities. Despite the Fed's December tapering, foreigners were still buyers of Treasuries, at a smaller-than-usual but still respectable net inflow of $17.8 billion.
Inflation remains subdued. The Producer Price Index total "final demand" (new terminology) rose 0.2 percent in January after a gain of 0.1 percent in December. Headline CPI inflation in January eased to a monthly 0.1 rise after gaining 0.2 percent in December.
Unemployment claims showed no significant changes.
The housing market has been strongly affected by weather. The home builders' housing market index fell a record 10 points to a much weaker-than-expected 46 which is the lowest reading since May last year. Applications for mortgages to purchase homes were down 6% in the 2/14 week and 17% annualized. Rising rates contributed to a 3% decline in the refinancing index. Housing starts plunged 16% in January; permits fell 5.4%. Existing home sales fell 5.1% in January, a 5% drop annualized. The median price was up 10%.
FOMC Minutes
A number of participants noted that recent economic news had reinforced their confidence in their projection of moderate economic growth over the medium run. The Committee reaffirmed its judgment that inflation at the rate of 2%, as measured by the annual change in the price index for personal consumption expenditures, is their target. The Committee did not specify a fixed goal for employment level.
Sentiment
The Bloomberg Consumer Comfort Index held essentially steady overall this week, at minus 30.6 on its scale of minus 100 to plus 100. The index remained in the minus 20s, indicating no progress toward recovery, for the sixth week straight. The index of leading economic indicators rose a respectable 0.3 percent in January.
The VIX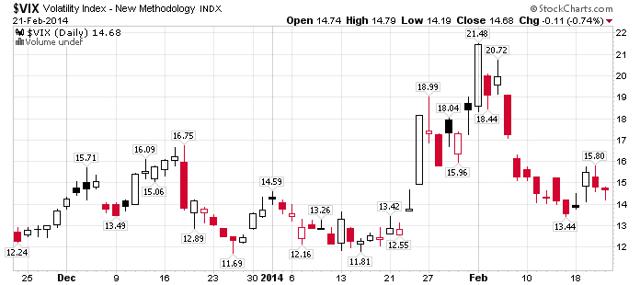 The VIX remains slightly elevated, out of the zone where institutions are concerned about a major sell-off, but there is increasing sentiment among pundits that, "this rally has gone on too long." Of course, that's always the case during rallies.
The Market (S&P 500)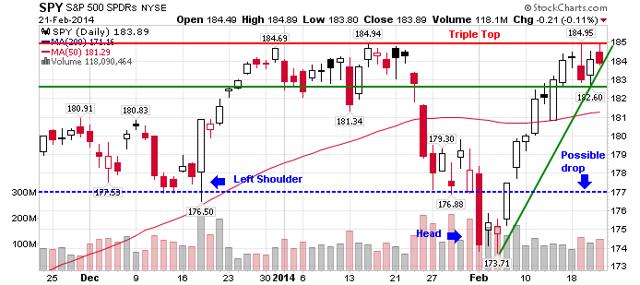 The S&P 500 (NYSEARCA:SPY) is touching strong resistance at 185, the level of two previous highs. If it falls back, the pattern will resemble an inverse head-and-shoulders, which technically suggests a drop to 177, the level of the left shoulder. In my experience, if you start hearing about the pattern from pundits, it is unlikely to happen. If the weather clears and the economy improves, I think positive sentiment will break through the triple-top. Next week, however, I expect more chop between 183 and 185.
Small Caps (NYSEARCA:IWM)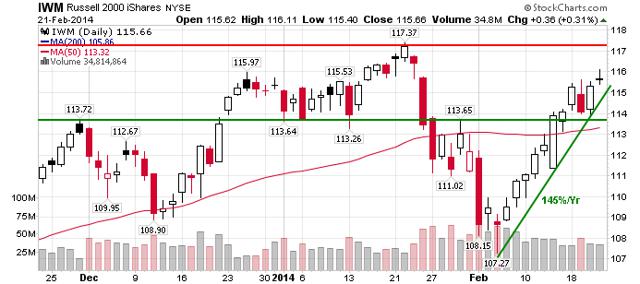 The small caps have been on a tear, rising at a rate of 145%/year so far in February, although they experienced some volatile moves, and had a loss of momentum last week. I'll be watching IWM closely to see if it levels off or continues beyond 117.4. If that happens, the S&P 500 is likely to break through its resistance.
Core Sectors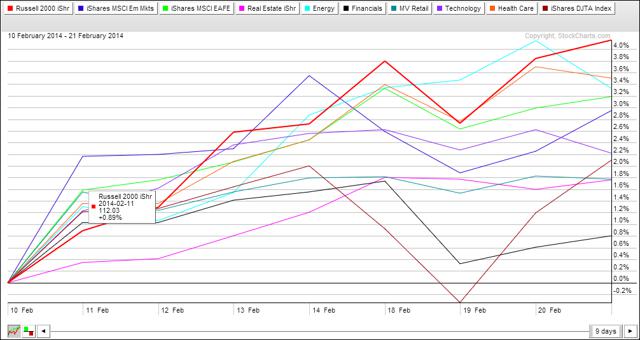 The IWM strength dominates the core sector list, rising 4.2% in the past 9 days. Under these conditions, if you can stand the volatility, IWM is all you need to own. Note the high volatility of emerging markets, financials, and transportation ETF's.
Highest Relative Strength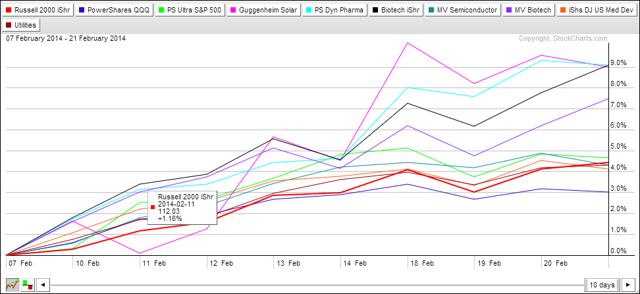 Among the 36 ETF's I follow, the usual culprits are leading the small caps. Solar (NYSEARCA:TAN) gained 9% in the last 10 days; pharmaceuticals (NYSEARCA:PJP) did the same with less volatility, as did biotech (NASDAQ:IBB). A second biotech (NYSEARCA:BBH) gained 7.5%. The remaining strong ETF's were clustered with IWM. QQQ, the other major index I watch underperformed at 3%.
48-Day Relative Strength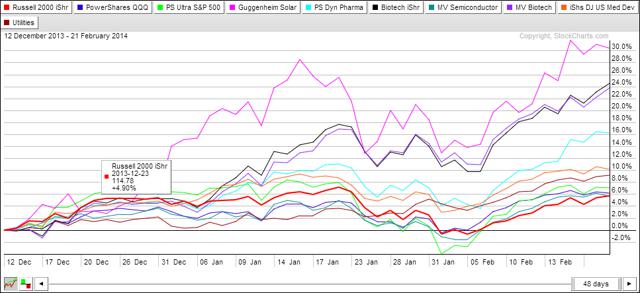 Looking at these same ETF's from a longer perspectives gives us a better idea of which ones are easiest to hold, particularly if, like me, you are a medium term "swing trader." I keep getting stopped out of TAN because of its volatility, but I am continuing to hold IBB. Over the longer period, IBB beats BBH by about 1%. Pharma (PJP) is on a strong run, and medical devices looks like a potential longer term play.
Trades Last Week
Sold: ILMN, XLV, PJP, PANW, QQQ
I also bought and sold several ETF's because they dipped before generating a profit. If ETF's break to new highs, I'll repurchase them.
IWM took a mid-week tumble, so I stayed out, and will repurchase if I see the current move continuing.
Holding: IBB, LMT
Conclusion and Action
The economic news is not helping the market, and I attribute most of the recent action to speculation on Fed actions; however the weight of the reports may have leveled off the major indices and volatility is up. I will be cautious and wait until stock break resistance before buying or adding shares. I will focus on IWM, since the small caps are very strong.
Have a great week!
Disclosure: I am long IBB.