Market Moving News (Summary of 21 Articles)
Retail sales continued weak, as weather improved in late February. In January, the National Activity Index fell sharply from to -0.067 from -0.39.
The economy weakened in 4Q. Production, retail sales, and housing were hurt by weather. Orders and other components of the Durable Goods report showed strength, however. Real GDP growth in 4Q was revised down to an annualized 2.4% vs. the previous estimate of 3.2%.
Texas factory activity increased for the 10th month in February. The general business activity index fell to 0.3 after eight positive readings in a row.52.7 from January's 56.7, the slowest rate of growth since the October government shutdown. Kansas City was slightly positive, but affected by weather, and the Richmond Fed index went negative at -6 vs. +12 in January. Philly, New York, and Dallas Feds also had weak reports.
The Markit business services index fell as perceptions of broader business conditions were not as positive this month as in January.
Jobless claims did not improve, and the 4-week average is unchanged. The 4-week average of continuing claims dropped slightly.
Home prices were up. FHFA home prices rebounded 0.8% in December after dropping 0.1% in November and were up 7.7% annualized. Case-Schiller rose 0.8% after slight drops the previous two months. The MBA purchase index fell 4% on the week. Existing home sales fell, but new home sales surged 9.6% in January, the strongest annual rate since July 2008. New home prices fell 2%.
Sentiment
The Consumer Confidence report dipped 1.3 points; however the present situation component rose 4.4 points. The expectations component fell 5 points.
Institutional investor confidence moved to 123 vs January's 114.3. There is strong demand for non-European equities, and heavy buying into corrections. The North American component is highest at 125.5, vs. 110 in Europe and 106.6 in Asia.
The Bloomberg Consumer Comfort index improved for a third straight week as Americans were more upbeat about the economy than at any time in the past six months. Other measures of consumer sentiment have been mixed. The Consumer Sentiment report held steady through this winter's heavy weather.
The VIX (not shown) settled in around 14, an indication that the market is complacent.
The Market (S&P 500)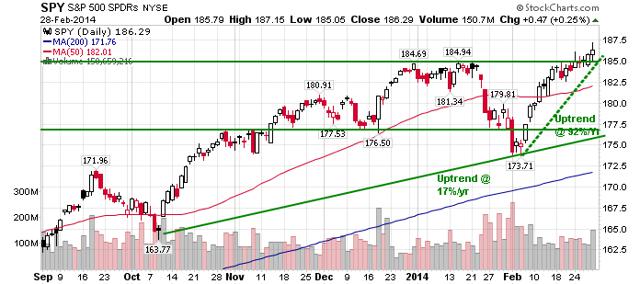 The S&P 500 remained above a 92%/year trend, and continued the lesser trend begun last week, which rises at 42%/year. The upswing began on 2/6 and has lasted 17 trading days. On Thursday, it moved through resistance at 185. Volume and volatility were high on Friday, probably due to end-of-month selling. The market rose, fell sharply, and then recovered most of the drop in the last 1½ hours of the session, but still managed to close at an all-time high. So far, there is no influence from events in Ukraine.
Small Caps (NYSEARCA:IWM)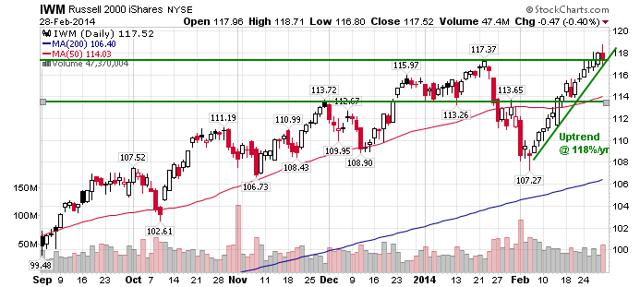 The small caps followed a stronger trend that is rising at 118%/year and also closed at an all-time high. There is support around 114.
Core Sectors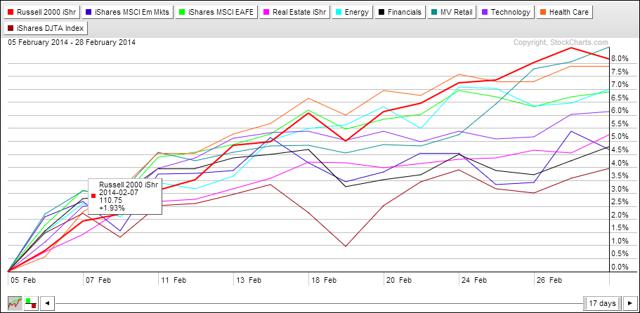 Over the 17-day rally, the strongest sector is retail. I don't understand this and have not bought RTH, because I keep seeing reports, reflected in the blog news paragraphs, that stores are having difficulty. I am much more comfortable with owning the broad based small cap index, which remains the strongest ETF among the 10 core sectors that I follow. Healthcare (NYSEARCA:XLV) is close behind with a 7.9% gain, and energy (NYSEARCA:XLE) and foreign stocks (NYSEARCA:EFA) gained 7%. Technology (NYSEARCA:XLK) is at 6%. If the trends hold, I am comfortable increasing my allocations to IWM and XLV, and to a lesser extent (XLK). I am still staying away from foreign stocks because of their higher risk.
Highest Relative Strength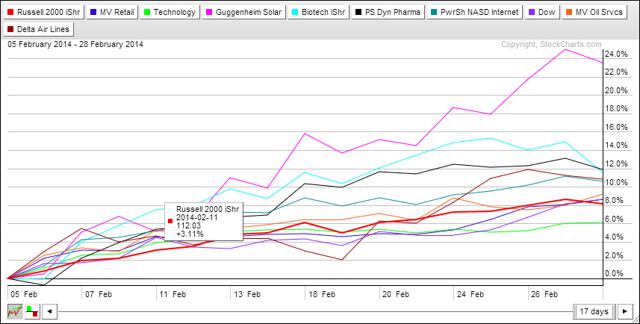 Sectors that exceed IWM include Solar (NYSEARCA:TAN), up 23% in 17 days, and Biotech (NASDAQ:IBB) and Pharmaceuticals (NYSEARCA:PJP), both up 12%. Other sectors to consider are Internet (NASDAQ:PNQI) and airlines. There is no airline ETF, but I have been and out of DAL and UAL. Chemicals also do not have an ETF, so I included Dow, up 8%. Solar remains volatile. Rather than buy TAN, I have been trading SCTY and CSIQ over short periods.
Fifty-day Relative Strength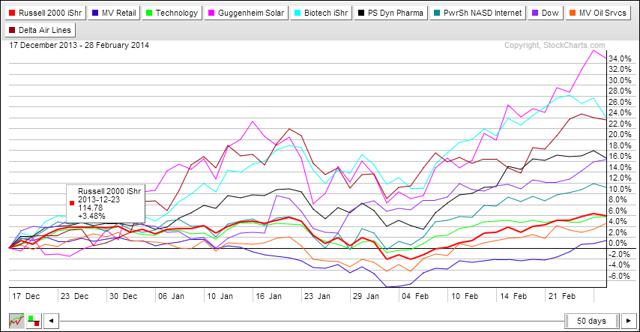 The relative strengths described above have been in place quite some time, as the 50-day chart of the same stocks and ETF's shows.
Trades Last Week
Bought: PJP, REM, XLV, XLK, SCTY
Holding: IWM, ILMN, IBB, LMT
Conclusion and Action
Economic news has been generally poor, but most reports mention the weather as a factor. Meanwhile, the U.S economy is the best of the world's regions and attracting investment. The continued flows into U.S. instruments and dovish news from the Fed are moving the markets higher in the face of the negative reports.
The week began with uncertainty and chop, followed by strong gains to new all-time highs. I am assuming that the weather clears, economic statistics will pick up, and that events in Central Asia will not involve the U.S. militarily. Next week's action may be more volatile, but I'm betting that the uptrends will hold. If they do, I'll increase allocations of cash to my existing positions.
Have a great week!
Disclosure: I am long IWM, PJP, REM, XLV, XLK, SCTY, ILMN, IBB.