Market Moving News (Summary of 23 Articles)
Americans' self-reported daily spending rebounded in February to an average $87, after a post-holiday decline to $78 in January. The February 2014 average is slightly better than that for February 2013 ($83) and the strongest February since 2008. January construction outlays gained 0.1%, following a jump of 1.5% the month before. Chain-store sales improved in the March 1 week, up 0.3% vs. the prior week for a same-store year-on-year rate of plus 1.5%.
Markit's US manufacturing report showed a composite 57.1 during February vs 53.7 for January. Frigid weather in January contributed to a decline in factory orders of 0.7% vs. 2.0% in December.
The nation's trade gap came in near expectations, at $39.1 billion in January vs. $39.0 billion in December. Exports rose a respectable $1.2 billion, offset by imports of $1.3 billion.
Markit's services PMI dropped, to 53.3 in February from January's 56.7, the slowest monthly growth since the government shutdown in October. The ISM non-manufacturing data broke lower in the heavy weather of February, with the composite index down 2.4 points to a 51.6 reading, the lowest rate of monthly growth since February 2010.
Personal income rose 0.3% following no change in December, vs. expectations of 0.2%. The wages & salaries component was not as strong, at 0.2% in January after a 0.1% dip in December. Spending jumped 0.4%, following a 0.1% increase in December.
The Commerce Department noted the impact on personal services of the Affordable Care Act: "Measures of health care services were boosted $29.0 billion to reflect the effect of the ACA on demand for these services."
Productivity in the fourth quarter rose a revised 1.8% after a 3.5% boost the prior quarter. Year-on-year, productivity was up 1.3% in the fourth quarter versus up 0.5% in the third quarter. Year-ago unit labor costs were down 0.9%, compared to up 1.9% in the third quarter.
The latest Beige Book confirms that atypically adverse weather continued to hit economic data. Boston and San Francisco reported strong demand for technology related services.
Total nonfarm payroll jobs gained 175,000 in February after a 129,000 rise in January and an 84,000 increase in December. The unemployment rate nudged up to 6.7% in February from 6.6% the month before. Initial claims fell 26,000 in the March 1 week to a lower-than-expected 323,000. Continuing claims were down 8,000 for the February 22 week to 2.907 million.
The mortgage purchase index jumped 9.0% in the February 28 week following declines of 4.0% and 6.0% in the two prior weeks. Mortgage rates fell 6 basis points for 30-year conforming mortgages ($417,500) to an average 4.47%.
Sentiment
Gallup's Economic Confidence Index, at minus 16 in both January and February marked the end of consecutive monthly increases after the large drop from the federal government shutdown in October.
The Bloomberg Consumer Comfort Index was minus 28.5 in the period that ended March 2, the strongest reading since the first week of January, reaching a 10-week high of 5.1 from 5; however the component measuring whether it's a good time to buy fell to minus 41.5 from minus 39.
The VIX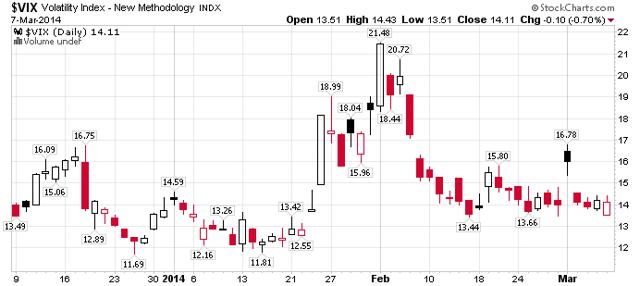 The VIX is noticeable for the spike on Monday reflecting Ukraine fears, followed by the near-instantaneous return to normal, presumably from Putin's comment that troops are returning to their barracks. In any case the market is discounting immediate war.
The Market (S&P 500)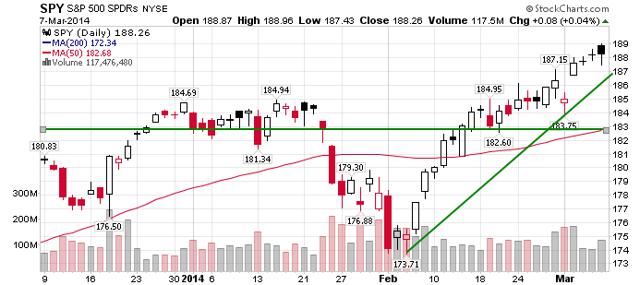 Reflecting the sentiment demonstrated by the VIX, the market rebounded to its previous trendline on Tuesday and finished the week at a new all-time high. Note the falling volume on Wednesday and Thursday. Friday's volume might have been affected by fears of geopolitical news over the weekend, but prices quickly recovered. The market has completely erased the previous sell-off. If low-volumes continue next week, we could see a break in the recovery trend.
Small Caps (NYSEARCA:IWM)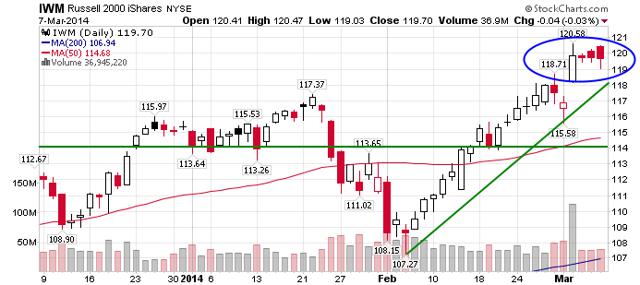 After reaching an all-time high on Tuesday, the small caps, which are the strongest market component, failed to best the mark on Wednesday through Friday, and volume was weak. This action supports the case that the market could at least take a rest at these levels.
Core Sectors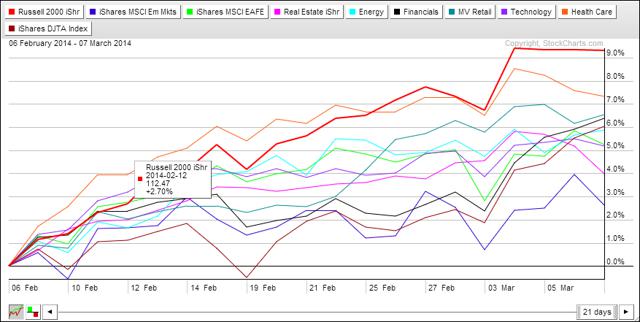 In my core sector list, you can see the strength of small caps (IWM), followed by healthcare which, as noted in the news, is benefiting from increased spending. Be aware that XLV, is a mix of drug companies and health providers, might be influenced by the relative weakness in pharmaceuticals (NYSEARCA:PJP) shown below in green. Retail (NYSEARCA:RTH) continues strong, possibly because it has a large Amazon (NASDAQ:AMZN) component. If I get into retail, I'll likely do so with AMZN. At this time, I'm comfortable with positions in IWM, XLV, and tech (NYSEARCA:XLK), as long as it retains an uptrend.
Highest Relative Strength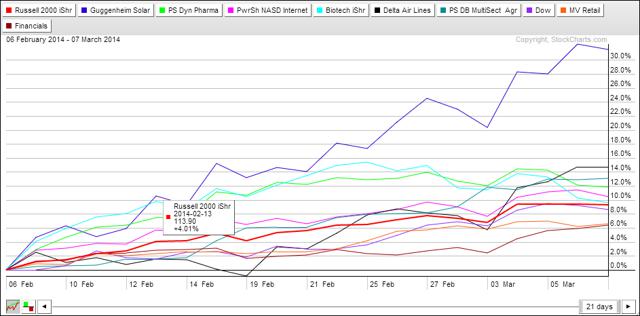 Only a few ETF's are beating IWM again, this week, with solar (NYSEARCA:TAN) continuing to lead. Airlines are strong, but can be volatile. They are represented by Delta (NYSE:DAL). Multi-sector agriculture (DBA, cyan) showed recent strength. This is a fund of futures contracts in a range of commodities, including soybeans, corn, cocoa, sugar, coffee and more. While futures can be extremely volatile and affected by weather, food costs are rising, and this trend could continue. The only ETF that interests me in this list is TAN, and here's why: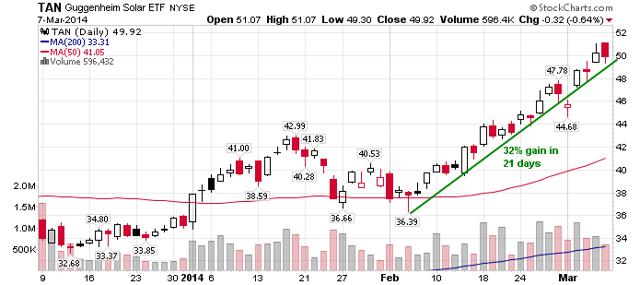 TAN has been extremely volatile, but in the last five weeks, it has moved into a strong trend with much less variance. Using an 8% stop could take advantage of a very strong trend.
Trades Last Week
I set looser stops than usual and was fortunate to avoid getting cleaned out by the big Ukraine sell-off on Monday.
Bought: SSO
Holding: IWM, LMT, PJP, XLV, XLK, SSO
Conclusion and Action
With Spending up, factories down, services lower, health care spending stronger, more jobs, a slight increase in housing, the economic news is slightly more upbeat than last week, and seems unaffected by Ukraine. The VIX popped on Monday, but immediately settled back to the prior levels around 14 on Tuesday. I regard the VIX in a "normal range," which tells us that institutions are not afraid of Ukraine.
Foreign policy pundits, of course are out in force with disaster scenarios. Examples:
There is risk that market contagion will spread throughout Eastern and Western Europe. Then, the Chinese liabilities residing inside the European banking system are in trouble, of course, and will continue to deteriorate.
Gas supplies to the EU may be disrupted. Exposure of European banks to emerging-market corporate debt, Chinese debt, and Russian liabilities is going to weaken their balance sheets just as the European central bank stress test will be kicking off.
The Western-backed Ukrainian government will fight back and Europe's second-largest country by area will descend into a Yugoslav-style civil war that will ultimately draw in Poland, NATO and therefore the US.
My guess is that Putin is getting what he wants at this time, and there will be sufficient push back from Russians with economic interests in Europe to limit the actions to grabbing Crimea.
Next week, I'll stay the course unless I detect signs of a major reversal. If the market trends up, I may purchase more IWM and XLV.
Have a great week!
Disclosure: I am long IWM, LMT, PJP, XLV, XLK, SSO.