Market Moving News (Summary of 16 Articles)
Retail sales rebounded 0.3% in February after declining 0.6% in January (originally down 0.4%). Weather is still weighing on some numbers.
Wholesale inventories rose 0.6% in January against a 1.9% plunge in sales, a heavy mismatch that drives the sector's stock-to-sales ratio up 2 notches to 1.20 which is one of the heaviest readings of the recovery.
A surge in energy prices was the dominant factor in the import and export price report. Import prices jumped 0.9% in February but reflect a 4.4% weather-related surge in oil prices and a 22.4% weather-related spike in natural gas.
The PPI for total final demand dipped 0.1% in February after rising 0.2% in January. The year-on-year reading for import prices is minus 1.1% with petroleum prices, despite February's jump, down 2.6%. Year-on-year prices are down 1.3% with export prices excluding food and fuels down 1.3%.
Business inventories rose 0.4% in the month vs a steep 0.6% decline for business sales, which is the sharpest decline since June 2012. The mismatch raises the stock-to-sales ratio two notches, from 1.30 to 1.32 which is the heaviest reading of the whole recovery. Businesses react to unwanted inventories by slowing production growth and also employment growth.
Initial claims fell 9,000 in the March 8 week to a 315,000. The 4-week average is down 6,250 to 330,500 which is more than 5,000 below the month-ago comparison. Continuing claims, which lag by one week, tell the same story, down 48,000 in the March 1 week to 2.855 million. The 4-week average is down 19,000 to 2.916 million which is roughly 50,000 below a month ago.
The year-on-year rate for the MBA purchase index, down 17.0%, offers the clearest indication on mortgage demand and underscores that home sales are being underpinned by all cash buyers. Rates moved higher in the latest week with the average 30-year loan for conforming balances ($417,000 or less) up 5 basis points to 4.52%.
Sentiment Metrics
The February 2014 Investor Movement Index for the four weeks ending February 28, 2014 showed a reading of 5.74, compared to 5.66 in January. The trend direction is positive with the trend length at 5 months.
The small business optimism index, which had been on a rebound, fell sharply in February, down 2.7 points to 91.4. A weakening in sales expectations pulled the index down the most followed by economic expectations and hiring plans.
The Michigan Consumer Confidence report rose last week to the second-highest level since August as Americans grew more upbeat about the economy and buying climate.
The Bloomberg Consumer Comfort Index climbed to minus 27.6 in the period that ended March 9 from minus 28.5 the prior week. The advance was the fifth straight. Consumers surveyed were more optimistic about the economy than at any time in the last seven months, reflecting stocks near record highs and a labor market that is showing signs of improving.
Consumer sentiment is dipping this month but not the assessment of current conditions. The composite index is down 1.7 points at mid-month to a lower-than-expected 79.9, but the current conditions component is actually higher, up 7 tenths to 96.1
The VIX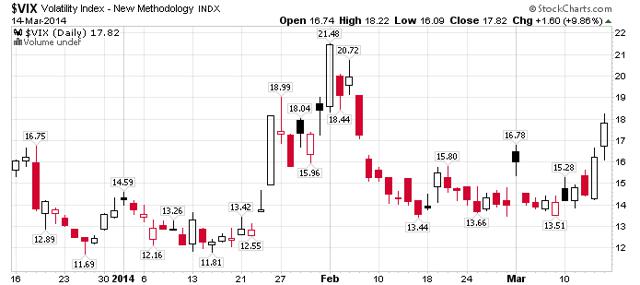 The economic news is positive overall, but VIX has popped, a direct indication of investor concern about Russian actions. Institutions bought protection against geopolitical events over the weekend.
The Market (S&P 500)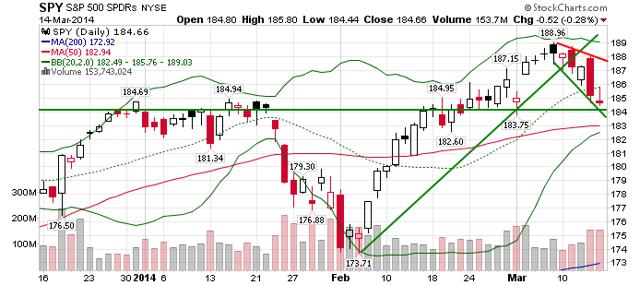 The market is looking for an excuse to correct, and may have found one. The pattern of last week is a "broadening top," a precursor to a sharp sell-off. If the next move is higher on high volume, and it fails to go to a new high, the sell-off will be triggered. The external trigger is likely to be related to Ukraine, and either a U.S./Europe or Russian escalation.
The Bollinger bands are starting to pinch, a sign of indecision. If they tighten, expect a sharp move in either direction, similar to the one on the chart on January 23. That pinch gave about a 2-day warning of the drop.
Small Caps (NYSEARCA:IWM)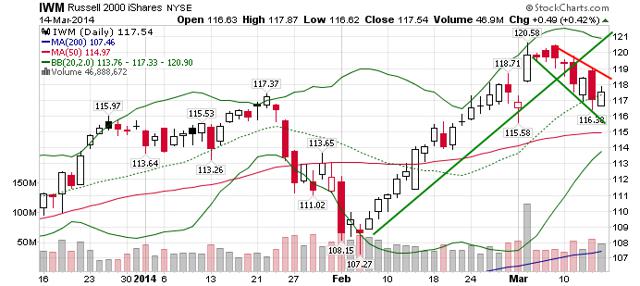 Thursday's action was very broad-base, with all indices dropping about the same amount in percentage turns. Friday's higher close suggests that the small caps have greater strength, and are likely to shoot higher when the threat passes.
I will be looking for a trend reversal in IWM to buy back in, but will be cautious about the risk of the broadening top. As a review, a trend reversal requires three events: A trend break (red line), a higher low, and a resistance level break. The full reversal thus requires IWM to reach a new high above 120.5.
Core Sectors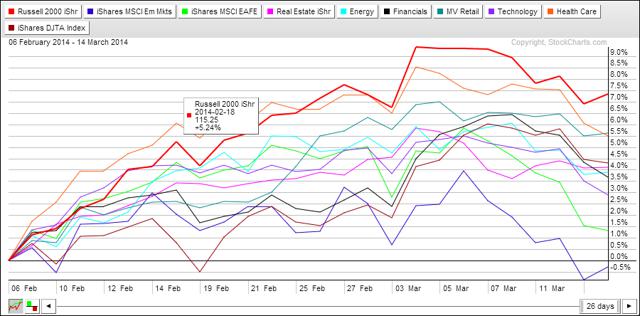 The small cap strength is reflected by IWM in the core sectors chart. As has been the case for weeks, it is closely followed by healthcare/drugs (NYSEARCA:XLV), except that XLV didn't recover on Friday. IWM remains my market barometer; when it shows a partial trend reversal, I'll buy it.
Highest Relative Strength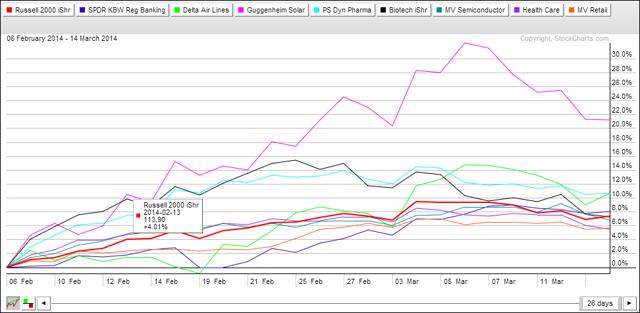 Trades Last Week
Sold: IWM, LMT, PJP, XLV, XLK, SSO
I sold all holdings on Thursday to avoid the prospect of a huge gap on Friday's open. The gap did not occur.
Conclusion and Action
Spending is generally up and expected to climb. Inflation is tame and job claims are down, but home prices and mortgage rates are up. Except for small businesses, sentiment is strongly optimistic. With clearing weather, I expect the economic environment to power this market much higher.
In the short term, however, none of this matters. Beginning Thursday, headlines like "Russian Forces Massing near Ukraine" spooked the market. Since then, they have become gradually more ominous, with violence in Eastern Ukraine, Russia's veto of a UN resolution on the Crimean referendum, and the takeover of a gas plant in Crimea.
Anything can happen. There are reports that hard liners in Russia want to return to a cold war status with the west. A miscalculation could lead to violence that will tank the markets. The biggest risk is in the Baltics: Lithuania, Estonia, and Latvia. These countries were Soviet satellites, and now have joined NATO and the EU. Estonia and Latvia have borders with Russia, and many Russian speaking citizens. If Russia decides to "protect" them, it will bring their army face-to-face with NATO, precipitating a situation akin to the Cuban missile crisis.
Events are giving traders worried that the market is too high a new excuse to sell. Longer term, the cold war likely to follow these events will create great hardship for European economies.
I am in the market with a few bearish option spreads. These geopolitical events are likely to occur when the market is closed, creating the risk of large opening gaps, I intend to limit risk until the situation cools.
Have a great and peaceful week!
Disclosure: I have no positions in any stocks mentioned, and no plans to initiate any positions within the next 72 hours.