Market Moving News (Summary of 17 Articles)
Store sales were soft last week.
The Empire State Manufacturing index was up slightly in February and is in a gradual upward slope. This month's mid-Atlantic weather has been much less severe than February's weather, giving a strong lift to the Philly Fed index which moved solidly into positive ground at 9.0 vs February's minus 6.3.
Industrial production was unexpectedly strong in February, as manufacturing jumped 0.8% in February, following a 0.9% drop the month before. The production of durable goods rose 0.9% in February and was 2.7% above its year-earlier level. The Philly Fed index moved solidly into positive ground at 9.0 vs February's minus 6.3. Capacity utilization improved to 78.8% from 78.5% in January.
Net inflow of long-term securities totaled a modest $7.3 billion in January vs a very heavy revised outflow of $49.5 billion in December, the month when the Fed began tapering. Foreigners continued to sell long-term US financial assets in January, at a net $14.8 billion. But US investors, which had been big buyers of foreign investments in prior months, turned into big sellers, at a net $22.0 billion.
The nation's current account deficit, helped by stronger exports, narrowed sharply in the fourth-quarter, to $81.1 billion from a revised $96.4 billion in the third quarter.
Consumer price inflation remained soft in February at the headline and core levels. Headline inflation posted at 0.1%. Food price inflation, however, jumped to 0.4% after nudging up 0.1% in January. Year-on-year, overall CPI inflation was 1.1% in February, compared to 1.6% in January. The year-ahead inflation expectations of businesses were 1.8% in March, according to the Federal Reserve Bank of Atlanta.
The Atlanta report noted that profit margins deteriorated somewhat, with roughly 41% of respondents indicating their profit margins are at or above normal, compared to 48% in February.
The Fed left policy rates unchanged. Thirteen FOMC participants see the first rate increase in 2015 versus 12 in the December meeting. Taper remains as scheduled with another $10 billion cut and further cuts to be in measured steps. The unemployment rate trigger in guidance has been dropped, being replaced with more generic data dependency language.
Initial claims came in at a lower-than-expected 320,000 in the March 15 week vs 334,000 in the February 15 week. The same comparison of the 4-week averages shows similar improvement, at 327,000 vs 338,500. Continuing claims, which are reported with a week's lag, rose 41,000 in the March 8 week to 2.889 million. The 4-week average is down 17,000 to 2.897 million which is more than 50,000 below the month-ago comparison.
The housing market index failed to bounce back much from February's record loss, coming in at a lower-than-expected 47 for only a 1 point gain. Details for March once again show serious weakness in traffic, at 33 vs February's 31. New home sales, which had been badly depressed, surged in January, but this report shows incremental growth for February and March.
Mortgage application activity was slow once again, down 1.0% for both purchase applications and refinance applications in the March 14 week. Year-on-year, purchase applications are down 15.0% in a reminder of how important all-cash buyers are in the housing market. Rates moved lower in the week with the average 30-year fixed mortgage for conforming loans ($417,500 or less) down 2 basis points to 4.50%.
Sentiment
The Bloomberg Consumer Comfort Index declined to minus 29 from minus 27.6 the prior period, the first drop in six weeks, a sign of the effects of harsh weather. A lack of rain in the western U.S. combined with frigid temperatures in the East have triggered a jump in food and fuel bills that will probably cause lower-income households to struggle to make ends meet.
The index of leading economic indicators rose 0.5%
The VIX
(click to enlarge)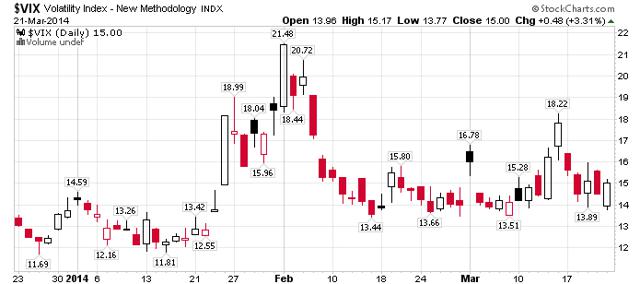 Click to enlarge
The VIX reflected easing sentiment on the geopolitical situation, leveling at 15, down from the prior high of 18.22. The average since February is two points higher than at in January.
The Market (S&P 500)
(click to enlarge)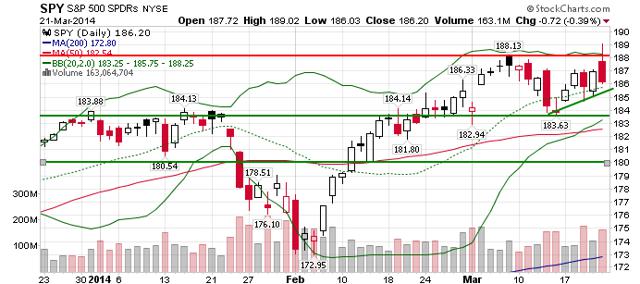 Click to enlarge
On Monday, the market rallied, on Crimea relief, it underwent a spasm from the Fed announcement, and bounced back on Thursday. Friday's action was lower, but I discount it because it was a quad-witching day, with a high volume of futures and options trading. The chart shows support at 184 and resistance at 188. Note that the Bollinger bands continue to pinch down. Note the rising lows last week. This is a bullish "ascending right triangle" pattern, which is sometimes a precursor to an up-side breakout. Friday's action broke resistance at 188, before succumbing to volatility, probably driven by quad witching.
Small Caps (NYSEARCA:IWM)
(click to enlarge)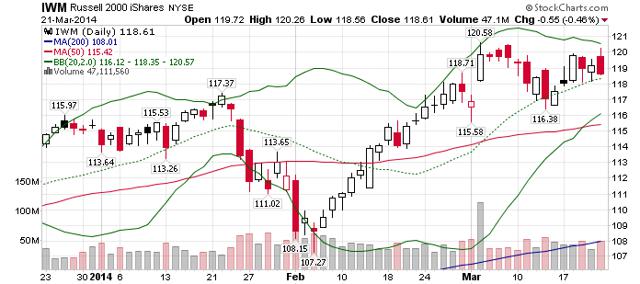 Click to enlarge
The small caps are showing the same pattern as the large caps. If you look carefully at the Best Relative Strength chart, you will see that the IWM underperformed the SPY last week.
Core Sectors
(click to enlarge)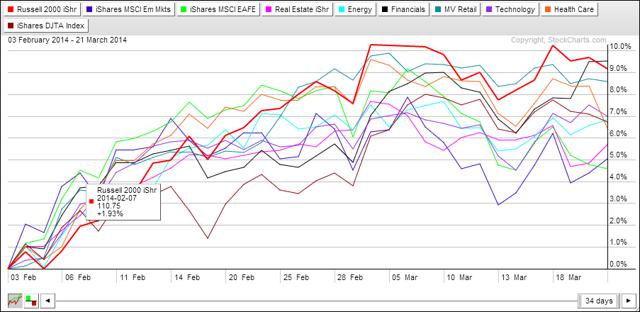 Click to enlarge
Small caps (IWM) remain a leader, but the Fed announcement caused a surge in financial stocks. If the perception of coming higher interest rates holds, expectations of higher bank earnings could continue this trend.
Best Relative Strength
(click to enlarge)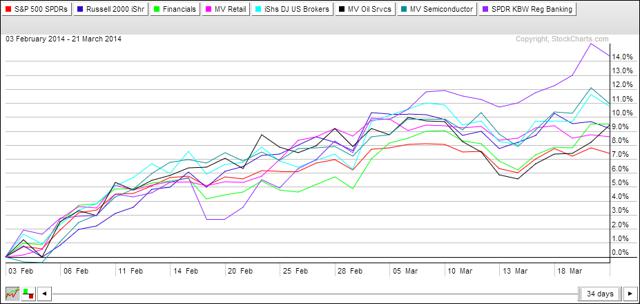 Click to enlarge
In my comparison of 36 ETF's, regional banks (NYSEARCA:KRE) broke out ahead of most other ETF's in March, presumably because of expectations of higher interest rates. Other leaders during the 34-day rally are semiconductors (NYSEARCA:SMH), brokers (NYSEARCA:IAI), and oil services (NYSEARCA:OIH). Biotech (NASDAQ:IBB) and healthcare (NYSEARCA:XLV), have been long-time leaders, but fell sharply on Friday; I expect their trends to resume after they form a base.
Trades Last Week
Last week, I based my decisions on the following: "Ukraine events are likely to take place when the market is closed, creating the risk of large opening gaps." I was totally wrong. The market blew off Ukraine and gapped up. The problem with being a short-term trader is that I missed out on a nearly complete recovery from the prior week's drop, and had to buy back many positions. On Wednesday, I took advantage of the sell-off after the Fed announcement to get better pricing. Friday was quadruple witching. Its volatility took me out of XLV. IBB dropped almost 4%. I sold and bought back at a lower price.
I bought XLF, to take advantage of an anticipated bank rally, and may purchase KRE early on Monday.
I am currently long: XLK, SSO, SMH, XLF, IWM, IBB
Conclusion and Action
The geopolitical activity is calming down, the economy is gradually improving, and reaction to the Fed announcement, always exciting, is subsiding. I expect the market to trade in a range or drift higher, given the strong recovery.
I will be on vacation next week. Other than KRE, I will hold existing positions with stops one to two support levels below current prices.
Have a great week!
Disclosure: I am long XLK, SSO, SMH, XLF, IWM, IBB.