Market Moving News (Summary of 16 Articles)
Economic news was more positive this week, but market dynamics dominated.
Consumer spending was flat in March. In the Gallup consumer spending report, Americans reported daily spending averaged $87 in March, unchanged from February. This is the first time since the recession that consumers' average daily March spending didn't increase at least slightly over February spending, and March spending was the same as spending a year ago, averaging $89. This year's Easter shift to late April from last year's late March is shifting retail sales into April at March's expense.
Consumer credit rose a sharp $16.5 billion in February but credit cards continue to be soft, down $2.4 billion in the month; the strength, up $18.9 billion, was in car and student loans.
The FOMC minutes suggested that loose policy is likely to continue for years. The minutes indicate that measured taper is still on, and the yield curve has steepened on belief of continued scheduled taper in measured steps this year. Most FOMC participants saw a pickup in GDP growth after first quarter bad weather. Changes to guidance are likely and the economy is expected to improve. Worries remain about inflation being too low.
Producer inflation is up slightly. The PPI jumped 0.5% in March, well above views; the February reading was minus 0.1%. Demand excluding food & energy rose even more, up 0.6% after falling 0.2% in February. The consensus called for a 0.2% increase. Ex-food, energy and trade services, the rise was 0.3% vs. 0.1% in February. Year-on-year, both numbers rose 1.4% in March.
Home mortgage purchase applications rose 3.0% in the April 4 week for a third straight gain, but the year-on-year rate remains depressed at minus 14.0%. Comparatively unattractive mortgage rates held refinancing applications to a 5.0% decline.
The jobs picture is improving. The JOLTS report indicates modest gains in job openings, with the hires rate at 3.3% and the separations rate at3.2% were unchanged in February. Unemployment claims showed a stunning 32,000 drop to 300,000 for the April 5 week. This is the largest drop in more than 10 years and the Labor Department says there are no special factors involved. The 4-week average is down 4,750 to 316,250, which is more than 15,000 below the month-ago reading. Continuing claims are also down 62,000, in lagging data for the March 29 week. The 4-week average is down 19,000 to 2.824 million.
Sentiment
Sentiment is mixed, with the most recent data, from the Bloomberg Consumer Comfort, showing weakness. The small business optimism index jumped 2.0 points to 93.4 to nearly reverse a 2.7 point downswing in February. Future sales and plans to build inventories lead March expectations, suggesting growing strength.
Americans' ratings of their personal finances slipped to their lowest in five months this week, possibly reflecting the impact of rising gasoline prices. At -31.9 on its scale of -100 to +100, the Bloomberg Consumer Comfort is down 4.3 points from its 2014 high of -27.6 a month ago.
The Michigan Consumer Sentiment report indicates that warming weather boosted sentiment to 82.6 for mid-April vs 80.0 in final March and vs 79.9 for mid-March, the highest reading since July last year.
The VIX
(click to enlarge)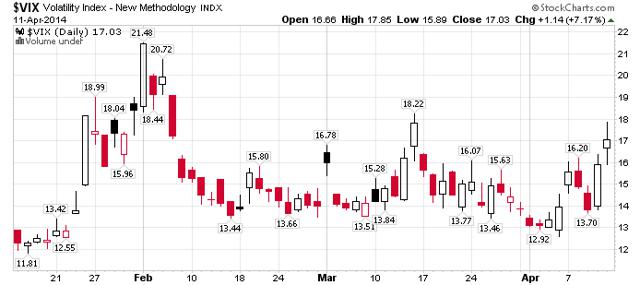 Click to enlarge
The VIX, rising on Friday, reflects continuing indecision and concerns that the sell-off, could continue.
The Market
(click to enlarge)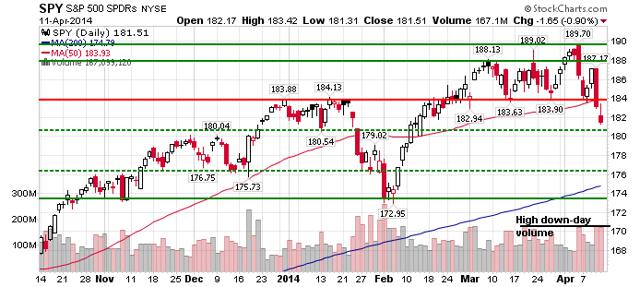 Click to enlarge
The S&P 500 is 4.3% below its all-time high, reached on April 4, when its correction began. Since the damage is mostly in tech and small-caps, this pattern appears to me to be largely the result of drag from the broader market. There is no significant support until 173, however. In the six-month chart, the index remains will above the February 3 low, when an extraordinarily sharp rally began.
Small Caps
(click to enlarge)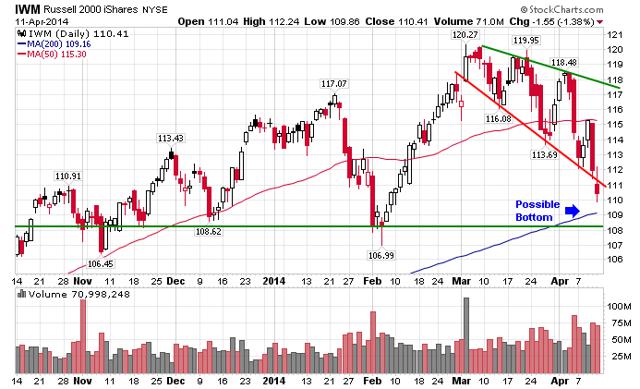 Click to enlarge
The critical chart is the small caps (NYSEARCA:IWM), which continues to show the unstable broadening top discussed last week. The index is now 8.2% off its all-time high on March 4. Comparing the charts, you can see how the downtrend in IWM coincides with higher volatility in the SPY, which nevertheless managed a new high a month later.
Friday's small body candle suggests continued uncertainty. Major indices and stocks sometimes bounce of their 200-day MA, now two points below the close-and there is significant support at the 108 level. A couple of days of rising narrow-body candles or an engulfing pattern could signal a new bottom.
Core Sectors
(click to enlarge)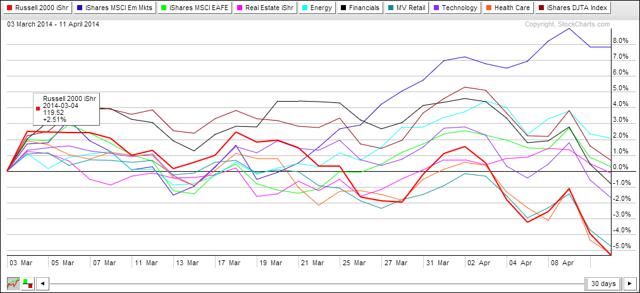 Click to enlarge
In the core list of ETF's, IWM is the weakest. With 2000 stocks, it tells us that the broad market is pulling down the major indices. The only standout is emerging markets (EMM); however its chart shows that it moved into a base last week. Accompanying IWM at the bottom are Healthcare (NYSEARCA:XLV) and Retail (NYSEARCA:RTH).
Best Relative Strength
(click to enlarge)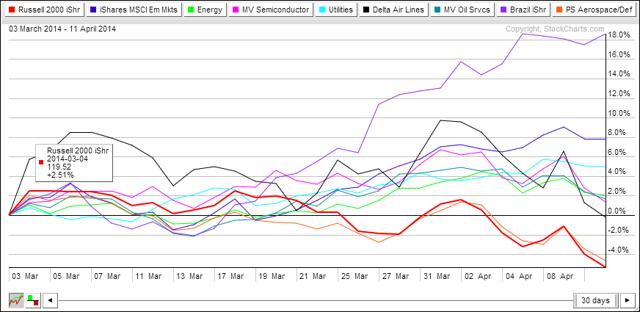 Click to enlarge
Reviewing 36 ETF's, we see Brazil far outpacing the EEM and everything else. Money has been moving into defensive utilities (NYSEARCA:XLU).
Trades Last Week
None. My portfolio is in cash.
Conclusion and Action
I conclude that this sell-off is strictly psychological, affecting the most stocks that led a very strong rally in February that just got too far ahead of their earnings prospects. With historical support near and a large number of earnings announcements due next week, major earnings disappointments are the only non-psychological factor that could drive the market still lower.
However, based on last week's chart patterns, the sell-off is not yet over. We could easily see continued institutional unloading of stocks for a few more days, and if support at IWM's 108 level is breached, further selling is possible.
Earnings will probably be the trigger of more selling or a rally. I'm betting the bottom will form next week, and will nibble IWM if it turns up and buy a full position if the uptrend is confirmed. Confirmation would consist of a rise, and a drop to about half the rise, followed by a new high, ideally over several days to weeks. Past high-fliers may lag initially, but large tech stocks like IBM-which is in a strong uptrend, HPQ, and leading Nasdaq 100 stocks. Watch for SSO to lead higher.
I will buy the stronger of SSO, IWM or QQQ when they turn higher. If EEM or EWZ breaks higher, I may also buy. I'll be watching IBM and HPQ.
Have a great week!
Disclosure: I have no positions in any stocks mentioned, and no plans to initiate any positions within the next 72 hours.