Market Moving News (Summary of 15 Articles)
The economy is best summarized by the Beige Book report: Economic growth is positive but not particularly strong and inflation is not a threat.
Retail sales grew 1.1 percent in March after rebounding 0.7 percent in February (originally up 0.3 percent). Motor vehicles jumped 3.1 percent, following a 2.5 percent rebound in February. Excluding motor vehicles, sales increased a still healthy 0.7 percent, following a gain of 0.3 percent in February.
Consumer price inflation topped expectations in March at the headline and core levels. Headline inflation firmed to a 0.2 percent rise after posting a 0.1 percent rise in February. Shelter and food accounted for most of the headline increase. Excluding food and energy, CPI inflation also rose to 0.2 percent from 0.1 percent the prior month. The inflation expectations of businesses were 1.9 percent in April, according to the Atlanta Fed's most recent business inflation expectations (BIE) survey.
In the Beige Book, most Fed Districts reported economic activity to be growing at either a modest or moderate pace. Ten Districts of 12 reported that activity was up.
Manufacturing is mixed but positive. The Empire State index was 1.29 vs 5.61 in March. New orders, the most important reading, were minus 2.77. Shipments show some growth, at plus 3.15. In contrast, the Philly Fed index jumped 7.6 points to 16.6, its strongest monthly growth since September. New orders are up 9.1 points to 14.8 the strongest reading since December. Shipments were up 17.0 points to 22.7, the strongest reading in three years. Industrial production advanced 0.7 percent, following a rebound of 1.2 percent in February. Market expectations were for a 0.4 percent boost.
Housing is slow, but looking up. The housing market index, at 47, remains below breakeven 50 for a third straight month; however, the prospective buyer index is at 57 for a 4 point gain in the month. In the MBA report, applications for refinancing jumped 7.0 percent in the week and purchase applications were up 1.0 percent. The average rate for conforming 30-year fixed mortgages ($417,000 or less) fell 9 basis points to 4.47 percent. Overall starts rose 2.8 percent after a 1.9 percent increase in February.
Jobs are strong. Initial claims came in at a better-than-expected 304,000 in the April 12 week. The latest 4-week average is the lowest of the recovery going back to October 2007. Continuing claims for the April 5 week fell 11,000 to 2.739 million. The 4-week average is down 33,000 to 2.785 million, is more than 100,000 below the month-ago trend.
Sentiment
Sentiment improved. The Bloomberg Consumer Comfort Index rose to minus 29.1 in the period ended April 13 from minus 31.9 the prior week.
The VIX
(click to enlarge)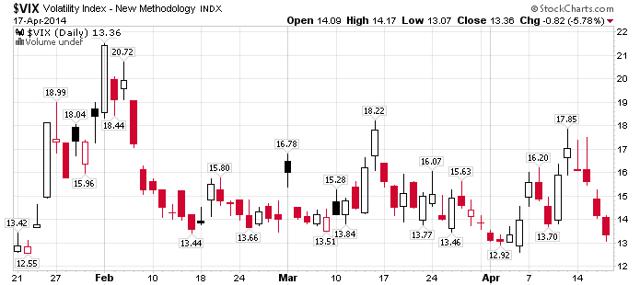 Click to enlarge
The VIX showed a sharp drop after a peak on Tuesday, closing at 13.4, down from 17.9 on the prior Friday. This action coincided with a bottom on most charts.
The Market
(click to enlarge)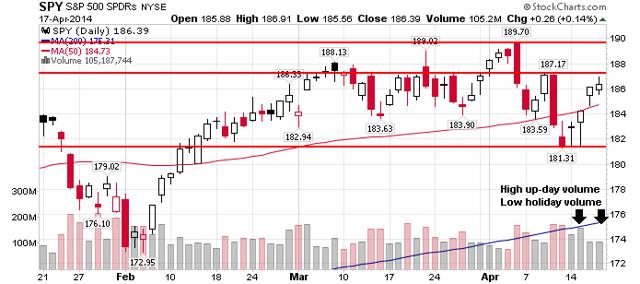 Click to enlarge
The S&P 500 rose strongly every trading day, from a low of 181.3 up 5.1 points to 186.4, closing about halfway to the all-time high on April 4. The action was choppy, as indicated by the tails on the candlesticks, and limited by the approach of the Easter holiday. A dip to a new low above 181.3 will provided confirmation of the bottom.
Small Caps
(click to enlarge)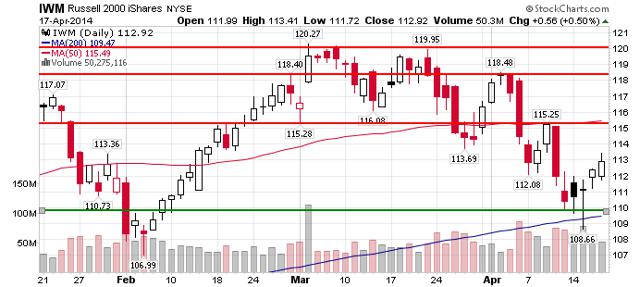 Click to enlarge
The small caps (IWM, Russell 2000) also showed a 4-day uptrend with a bottom in the vicinity of 110. Confirmation would be strong if the price broke 116, settled back above 111, and then moved higher. There is still significant resistance. Small caps have not rebounded as strongly as the SPY, but the IWM was the strongest index during Thursday's trading.
Core Sectors
(click to enlarge)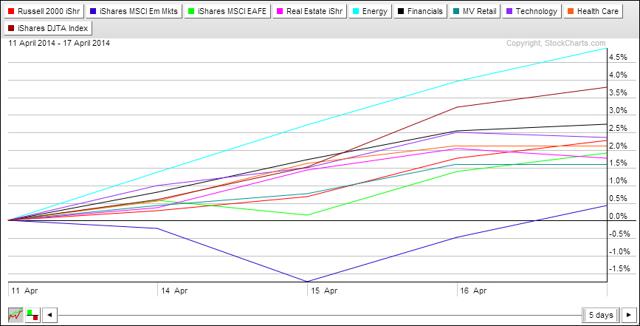 Click to enlarge
This week I moved to a 5-day relative strength chart to get an idea of the leaders of the new uptrend, if one does get established. Energy (NYSEARCA:XLE) was strongest, followed by transportation (NYSEARCA:IYE), financials (NYSEARCA:XLF) and technology, (NYSEARCA:XLK).
Best Relative Strength
(click to enlarge)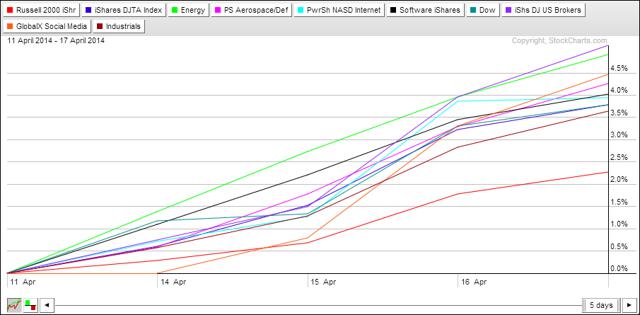 Click to enlarge
Among the 36 ETF I follow, brokers (NYSEARCA:IAI) had the sharpest gain, followed by energy (XLE), social media (NASDAQ:SOCL), aerospace (NYSEARCA:PPA), Software (NYSEARCA:IGV) and a tie between Dow chemical (NYSE:DOW) and transportation (NYSEARCA:IYT). Industrial companies (NYSEARCA:XLI) were up 3.6% vs. 2.3% for our reference, the small caps (NYSEARCA:IWM). XLE is volatile, but it gapped to an all-time high on Thursday.
Trades Last week
Bot: SSO, protected with a put
Conclusion and Action
The economy remains the same-grinding slowly higher, and earnings reports seem to be okay, at least not dragging the market down, although there were some notable misses, specifically GOOG. I remained cautious because of the volatility, but will begin buying as IWM firms, if it does so next week.
I will be watching IYT, XLE, XLF, PPA, and IGV next week.
Have a great week!
Disclosure: I have no positions in any stocks mentioned, and no plans to initiate any positions within the next 72 hours.