Note: Technical difficulties prevented publication last week.
Market Moving News (Summary of 19 Articles)
Spending is mostly flat. The retail sales report flattened after two strong months, up 0.1%, following a 1.5% jump in March. Excluding autos and gasoline, retail sales slipped 0.1%. ICSC same-store chain-store sales readings for the May 10 week are mixed, down 0.1%. Redbook's May-vs-April reading is up 1.1%. E-commerce sales rose 2.8% in the first quarter vs the second quarter, slower than 3.0% growth in the fourth quarter.
Manufacturing is improving but mixed. The Empire State report surged 20 points surge to 19.01; employment was up nearly 13 points to 20.88. The Philly Fed's general conditions index came in at 15.4 in May to indicate nearly as strong monthly growth as April's 16.6. In contrast, the April industrial production report declined 0.6%, following gains of 0.9% in March and 1.1% in February.
Domestic inflation is rising slightly. The April PPI for total final demand jumped 0.6% in April, following a 0.5% boost the month before, vs. views of 0.2%, the largest gain since September 2012. Excluding food & energy, the number gained 0.5%. Food spiked a monthly 2.7%, following a rise of 1.1% in March. April consumer inflation rose 0.3% rise. Excluding food and energy, CPI inflation came in at 0.2%. The energy component rebounded 0.3% in April. Conversely, import prices fell 0.4%. Export prices fell 1.0. Business inventories rose 0.4 in March vs a strong 1.0% rise in sales, a favorable combination that keeps the inventory-to-sales ratio unchanged at 1.30.
Claims improved slightly. Initial jobless claims were down 24,000 to 297,000 in the May 10 week, the lowest reading since May 2007. The 4-week average, inflated Easter less improvement, down only 2,000 to 323,250.
Housing is mixed, rates are better. The mortgage purchase index fell 1.0% in the May 9 week, and is down 12% annualized. On the positive side, the refinance index rose 7.0%, the thirty-year fell 4 basis points to 4.39%, the lowest since November, and housing starts advanced with a 13.2% in April, with an annualized rate of 26.4%.
Sentiment
Sentiment is mixed. The NFIB small business optimism index rose a sizable 1.8 points to 95.2 for the best level of the recovery. The Michigan Consumer Sentiment report softened to 81.8 vs 84.1 in final April; expectations were down 1.5 points and current conditions were down 3.6 points.
The VIX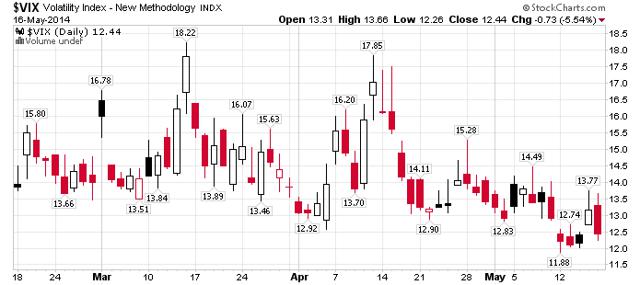 The VIX seems to reflect complacency and acceptance of the situation, in spite of the now greater that 10% drop in the IWM. In past corrections, I've seen the VIX over 30.
The Market (S&P 500)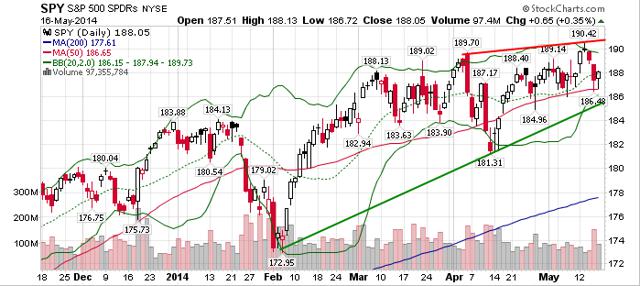 The pattern in the S&P 500 is technically a rising wedge, which is bearish. Quoting, chart expert Terry Bedford, "It… is a rally to a new high on strong volume, several weeks of narrowing…with higher highs and higher lows, followed by a sharp break lower on strong volume."
With the caveat that patterns are not perfect, here's what I think is happening. First, notice the much higher "historical" volatility. (The VIX is showing us option "implied" volatility, which is quite low). The news flow on large companies was generally positive, keeping their prices at new highs. While this is going on, social media, biotech and tech recently reached new highs that were the result of speculation, not earnings performance. The selloff in these stocks is making traders more nervous in general, hence the increased volatility. The S&P 500 cannot continue to reach new highs for long while an index of 2000 stocks is in a sharp correction.
Note that the Bollinger bands are narrowing, a fairly reliable indicator of a break-but direction is not predicted.
Small Caps (NYSEARCA:IWM)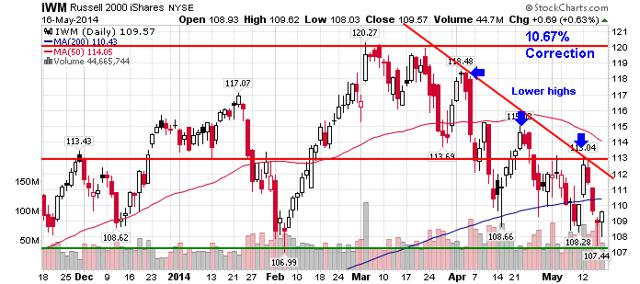 If the IWM breaks support near 107 and moves down aggressively, I am guessing that the event would the S&P 500 selloff that the pattern is suggesting, which is a drop to 181. The technical pattern suggests a further drop much lower, but I disagree. If the IWM correction flattens and gains (ideally over 113), I think the S&P 500 will rally to new highs.
Core Sectors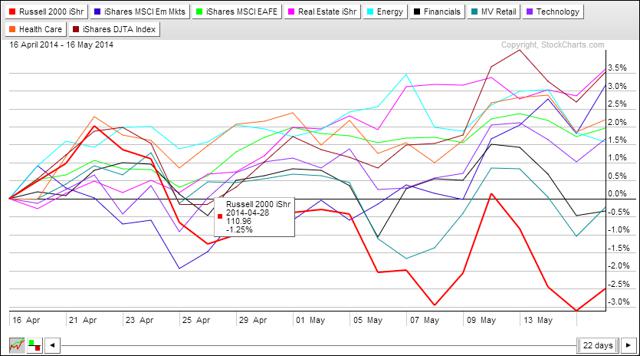 IWM is the weakest of the core sectors; REITs (NYSEARCA:IYR) is the strongest, followed by transportation (NYSEARCA:IYT) and emerging markets (NYSEARCA:EEM). None of these ETF's is in an uptrend. Due to limited time this week and a negative market, I have deferred the best relative strength chart.
Trades Last Week
Bought and sold SMH.
Conclusion and Action
Overall, the U.S. economy is mildly positive, mixed reports have been coming out of Europe, and China is slowing. Ukraine seems to be stabilizing at least temporarily, as Putin has slowed efforts at agitation. None of this seems to matter while IWM is correcting. Barring news, I think the IWM will drop some more, bringing the S&P 500 along. If a bottom forms, a modest rally will follow. I continue to be extremely cautious (and out of the market) until I believe the bottom is in. I am following IYR, IYT, and EWZ, in addition to IWM.
Have a great week!
Disclosure: I have no positions in any stocks mentioned, and no plans to initiate any positions within the next 72 hours.