Market Moving News (Summary of 19 Articles)
Consumer spending was off somewhat during the Memorial Day holiday and prior week. Personal spending and income fell back slightly. Personal income & spending, up 0.3% and down 0.1%, fell back in April. Wages & salaries slowed to plus 0.2% vs a 0.6% surge in March. Spending fell 0.3% following the prior month's 0.8% surge. Price data remain muted, up 0.2% overall and up 0.2% ex-food and energy. Year-on-year price rates are at plus 1.6% and 1.4% for the core.
Manufacturing data continue to be leading positives for the economy. Durables orders for April came in higher than expected, advancing 0.8%, following a 3.6% jump in March. The transportation component gained 2.3% in April, led by a 13.1% increase in defense aircraft orders.
The Richmond Fed reported growth, but slowing new orders. Texas factory activity increased in May but at a softer growth rate and the new orders index fell sharply to 3.8, but remaining in positive territory. The Chicago economy is very strong with the composite index far over breakeven 50 at 65.5 vs 63.0 in April.
Real GDP growth for the first quarter was revised down to an annualized minus 1.0% from the advance estimate of plus 0.1% and compared to the fourth quarter's 2.6%. Final sales of domestic demand gained 0.6% after a 2.7% boost in the fourth quarter. Final sales to domestic purchasers actually were nudged up to 1.6%, matching the pace in the prior quarter. This is lagging information, to which the market has already reacted. Overall growth was negative due to less robust inventory growth. Final demand was little changed, and the second quarter is gaining strength.
Service sector growth is accelerating strongly as the Markit's composite index jumped to 58.4 vs 55.0 in final April. New business is very strong, at 58.7 vs 55.1.
First quarter Corporate profits were weaker, at $1.880 trillion vs. $1.905 trillion for 4Q, declining an annualized 5.1% after 7.9% in 4Q.
Home prices are rising, and Mortgage applications are down, in spite of lower rates. Supply shortages continue to put upward pressure on FHFA home prices, which increased 0.7% in March on a seasonally adjusted basis, following a 0.6% boost the prior month. Case-Shiller's 20-city adjusted index up a higher-than-expected 1.2% in March. Mortgage applications remain flat, down 1.0% in the May 23 week. Refinancing applications also slipped 1.0% in the week. Mortgage rates continue to edge lower, down 2 basis points for 30-year conforming loans ($417,000 or less) to 4.31%, the lowest average since June last year. Pending home sales rose 0.4% in April, building slightly on top of March's 3.4% surge.
Jobs continue to improve. Jobless claims fell sharply in the May 24 week, down 27,000 to 300,000. The 4-week average is down 11,250 to a new recovery low of 311,500. Continuing claims are also down, falling 17,000 in lagging data for the May 17 week to a new recovery low of 2.631 million. The 4-week average is down 33,000 to 2.655 million, also a recovery low.
Sentiment
The Conference Board's Consumer measure is holding steady at moderately positive levels up 1.3 points to 83.0, the third straight plus 80 reading. The Bloomberg Consumer Comfort Index fell to 33.3 in the period ended May 25 from 34.1 the prior week. A measure of personal finances retreated for the third time in four weeks, and a gauge of whether this is a good time to buy goods and services dropped to the lowest point since mid-February. Sentiment among full-time and part-time workers slipped to six-month lows.
In contrast, North American institutional investors' appetite for risk remains strong, at 119.5 this month, well over the breakeven level of 100 vs 119.0 in April.
The VIX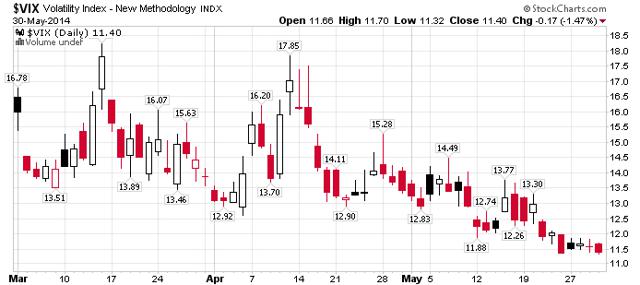 Reflecting strong investor confidence, the VIX stayed steady all week and closed at the same level as on the previous Friday, near its annual low. Institutions are not protecting their portfolios with options on the S&P 500 index.
The Market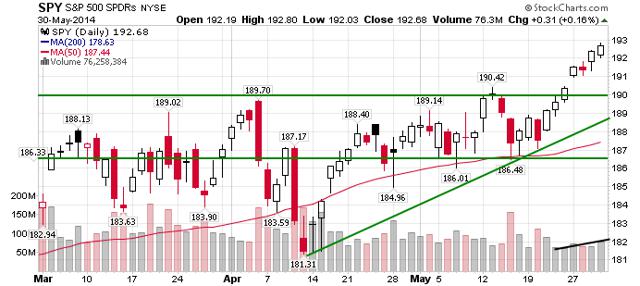 Large-cap stocks soared to a new all-time high during a strong week, on moderately higher volume. This trend looks sustainable with the primary trend at 24%/year and the secondary trend (beginning on the 20th) at 89%/year; however the market could be held back by the small caps.
Small Caps (NYSEARCA:IWM)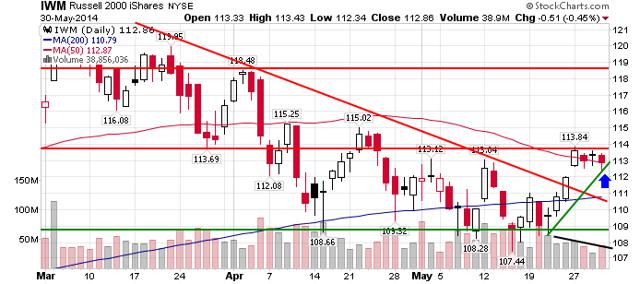 After a nice rally last week, the small caps went sideways after a nice rise on Monday and Tuesday, appearing to be limited by resistance at the 114-115 level. I will be cautious until I see a breakout.
Core Sectors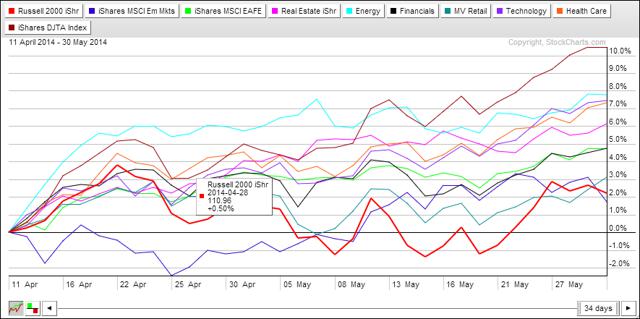 The core sectors chart shows the strength in transportation (NYSEARCA:IYT) technology (NYSEARCA:XLK) and energy (NYSEARCA:XLE), as well as a nice rise in the usually less volatile healthcare sector (NYSEARCA:XLV). The Russell 2000 (IWM) remains weak after the nice move earlier in the week. Real estate (NYSEARCA:IYR) is relatively flat, as is retail (NYSEARCA:RTH), emerging markets (NYSEARCA:EEM).
Best Relative Strength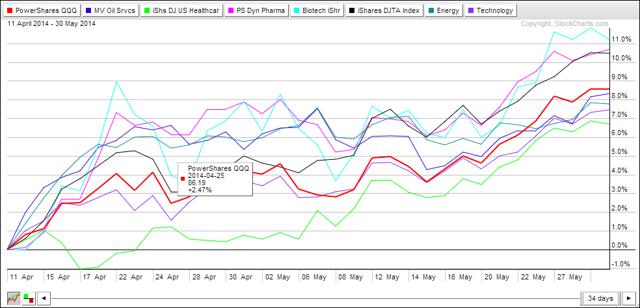 Surveying the 36 ETF's I follow, I compared the best with QQQ, the strongest index. Funds that beat it are pharmaceuticals (NYSEARCA:PJP), transportation (IYT), and biotech (NASDAQ:IBB). Biotech is somewhat volatile and I find it hard to stay in it with tight stops.
Trades Last Week
Bought: XLK, XLV, IYT, IBB
Sold: IWM, IBB
Conclusion and Action
The economy is not running wide open, suggesting the possibility of sideways movement or a split market, where large caps are moving higher, while small caps lag. I'll watch AAPL next week during their developers' conference, which could generate substantial volatility. Because it is an over-weighted component, the Q's could also be volatile. I will buy or add to positions in XLV, IYT, XLK, and/or XLF.
Disclosure: I am long XLK, XLV, IYT.