Market-Moving News (Summary of 24 Articles)
Spending is up. According to the latest Gallup survey of consumer spending, U.S. consumers' daily spending spiked in May, averaging a six-year high of $98. May's figure represents the best spending average for May since 2008. Construction outlays gained 0.2 percent after a 0.6 percent boost in March. Unit motor vehicle sales rose 4.4 percent to a 16.8 million annual rate, the highest level since July 2006.
Manufacturing is increasing. Markit's PMI final manufacturing reading for May was 56.4, vs. 55.4 in April. Output was 59.6, a 1.4 point gain vs. April. Growth in employment was 53.7, unchanged from April. The ISM PMI, came in at 55.4 in May, a month-to-month acceleration. Factory orders rose a higher-than-expected 0.7 percent in April.
1st Quarter Productivity fell. Productivity in the first quarter fell an annualized 3.2 percent, following a 2.3 percent gain in the first quarter. Severe winter weather is blamed for the first quarter performance and is heavily discounted. Unit labor costs spiked a revised 5.7 percent after slipping 0.6 percent in the fourth quarter.
Services are strong. The ISM non-manufacturing composite index rose to 56.3 vs April's 55.2. Business activity is exceptionally strong at 62.1 for a 1.3 point gain and new orders gained 2.3 points. Backlog orders are also strong, moving out of contraction with a 5.0 point gain to 54.0 vs April's 49.0. Growth in employment is lagging at 52.4, but is up from April's 51.3. Markit's business activity index finished the month at 58.1 vs 55.0 in April.
Jobs continue to improve. Job growth moderated a bit in May, with nonfarm payroll jobs advancing 217,000 in May after a 282,000 boost in April and a 203,000 increase in March. Initial claims edged higher in the May 31 week, up 8,000 to 312,000, but the 4-week average is down 2,250 to a new recovery low of 310,250, which is down about 10,000 from the month-ago trend. Continuing claims, in lagging data for the May 24 week, continue to move lower, down 20,000 to 2.603 million and a new recovery low. The 4-week average, also at a recovery low, is down 18,000 to 2.635 million. Gallup's U.S. Job Creation Index reached a new high, registering +27 in May. The prior high had been +26 in the initial monthly measurement of January 2008.
Housing remains the problem. Despite the decline underway in mortgage rates, mortgage applications continue to move lower. Purchase applications fell 4.0 percent in the May 30 week for a year-on-year decline of 15 percent. Refinancing applications also fell, down 3.0 percent. The average 30-year mortgage rate for conforming loans ($417,500 or less) fell 5 basis points to 4.26 percent.
Sentiment
The Bloomberg Consumer Comfort Index rose for the first time in five weeks to 35.1 from 33.3 a week earlier.
The VIX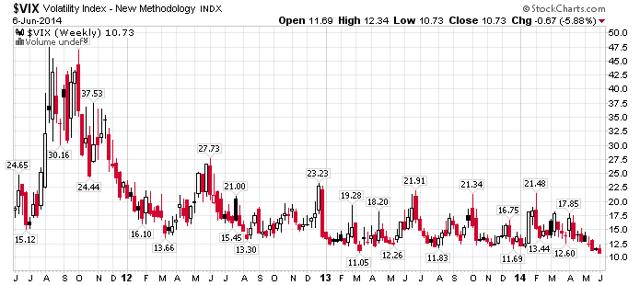 The VIX closed at a 3-year low, as shown in the chart above, an indication of complacency that had Janet Yellen publicly worrying and traders predicting a massive sell-off. Just what a very low VIX indicates is vague.
The Market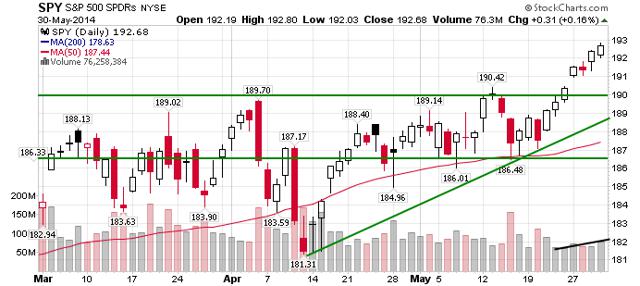 Large caps are on a two-week tear, as the SPY broke resistance (now support) at 190 and surged to close at 192.7, on increasing volume. Daily volatility has fallen, and there is strong support at 186.5. While the chart is strong, it does not suggest a bubble. The long-term mean P/E ratio of the S&P 500 is 15.5, and the current reading 19.6. Just before the 2000 crash, the value was 44. The two-week trend is moving at a rate of 66%/year, and the primary trend is rising at 30%/year. I consider a trend in excess of 100%/year to be unsustainable. These trends could last many weeks.
Small Caps (NYSEARCA:IWM)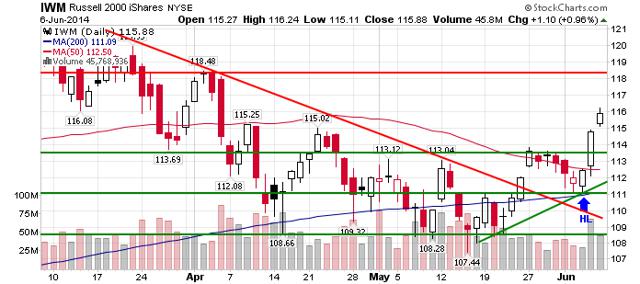 The small caps couldn't stay down with the surging S&P 500, and after a dip, broke higher to close at 115.9. The chart shows the "three strikes" that confirm a trend reversal: trend break, a higher low (NYSE:HL), and a resistance level break. I expect this indicator to rise to resistance in the vicinity of 118.
Core Sectors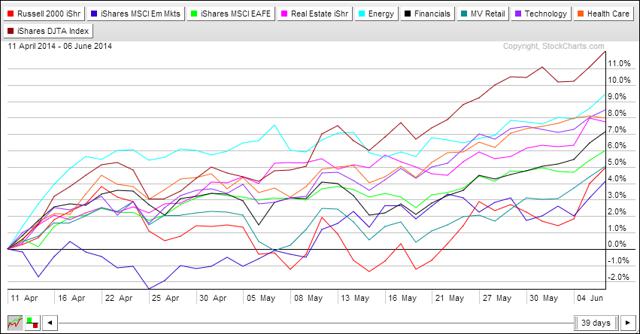 Among the ten core sector ETF's, transportation (NYSEARCA:IYT) maintains its lead, followed by energy (NYSEARCA:XLE), and tech (NYSEARCA:XLK). Real Estate (NYSEARCA:IYR) is maintaining its level. Of note are finance (NYSEARCA:XLF), which increased strength, and small caps (IWM), which has the largest change in its strength, shown by its move above emerging markets (NYSEARCA:EEM).
Best Relative Strength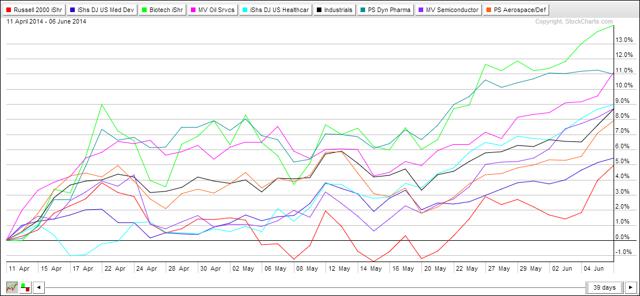 Among the 36 ETF's I follow, the standout is the volatile biotech (NASDAQ:IBB) sector, which is followed by pharma (NYSEARCA:PJP). Oil services (NYSEARCA:OIH) is on a 98%/year uptrend that could break shortly. Semiconductors (NYSEARCA:SMH) and Aerospace (NYSEARCA:PPA) have recently gained relative strength.
Trades Last Week
Bought: XLV, INTC, BA, IYR, SMH, QQQ
Sold: XLK, IYT as tight stops were hit
Holding: BA, QQQ, SMH, IYR, INTC, AGNC, XLV
Conclusion and Action
The market is strong and the news is supportive of higher levels. With a rally underway, I am looking at sectors that are gaining relative strength, and will focus on finance (XLF), Small caps (IWM), and aerospace (PPA). Although they are so volatile that they often hit my generally tight stops, I will continue to watch IYT and IBB.
The current trends could break when the IWM hits the 118 area. Watching the S&P 500 P/E is also useful, as it will gather more attention as the rally continues.
Have a great week!
Disclosure: I am long BA, QQQ, SMH, IYR, INTC, AGNC, XLV.