Market-Moving News (Summary of 18 Articles)
Consumer store spending is strong. Redbook year-on-year same-store sales pace is right in line with the recent trend at plus 3.5%. Chain-store sales were steady in the June 14 week, at a plus 3.1% same-store year-on-year rate.
Manufacturing is accelerating. The Empire State index firmed slightly to a 4-year high of 19.28. Growth in new orders is exceptionally strong, at another 4-year high of 18.36. . Industrial production posted a strong 0.6% rebound in May after a 0.3% dip the month before. May topped analysts' expectations of a 0.5% gain. The manufacturing component jumped 0.6% after slipping 0.1% in April. The general business activity index of the Philly Fed's manufacturing region rose 2.4 points to 17.8 to signal the strongest rate of monthly growth since October last year. Inventories are being drawn down as shipments, at 15.5, move higher. Employment gained 4.1 points.
The trade balance is worsening. The nation's current account deficit shot back higher in the first quarter, to $111.2 billion from a revised $87.3 billion in the fourth quarter. The rise in the gap reflects a softening in exports, a rise in imports, and a dip in income from overseas holding companies. Separately, foreign accounts were heavy sellers of long-term Treasuries in the month, but solid buyers of US equities.
Consumer price inflation was higher in May. Energy and food were particularly strong. Overall CPI inflation posted at 0.4%, following 0.3% in April. Energy spiked 0.9% in May, following 0.3% in April. Gasoline rose 0.7% after spiking 2.3% in April. Food jumped 0.5%, following 0.4% the month before. The Atlanta Fed business inflation expectations for report showed that costs rose marginally in June, nudging up to a year-ago pace of 2.0%, compared to 1.9% in May.
The FOMC acted as expected, pulsing market higher. The Fed is still concerned about the labor market; however, the taper remains on schedule, despite reports of increasing inflation. Essentially, the Fed says to ignore Q1 due to adverse weather and that the recovery is improving. Taper is still on gradually. But policy rates are not likely to rise until in 2015.
Housing remains sluggish. The new home sales index remains below breakeven 50, at 49 in June, but is the best reading since January. Starts fell a monthly 6.5% but followed a strong 12.7% spike in April. The 1.001 million unit pace was up 9.4% on a year-ago basis and fell short of expected 1.036 million units. Permits fell 6.4% after a 5.9% rise in April. Permits posted at 0.991 million units and were down 1.9% on a year-ago basis. A move higher in interest rates drove down demand for mortgage applications, according to the Mortgage Bankers Association whose purchase index fell 5.0% in the June 13 week and whose refinancing index fell 13.0%. The average rate for 30-year conforming mortgages rose 5 basis points in the week to 4.32%.
Jobs are stronger. Initial jobless claims data show a 6,000 dip in the June 14 week to 312,000. The 4-week average, at 311,750, is down 11,000 from mid-month May. Continuing claims for the June 7 week fell 54,000 to a new recovery low of 2.561 million. The 4-week average, down 21,000 to 2.601 million, is also at a recovery low.
Sentiment
The consumer comfort index is at recovery highs, rising to 37.1 in the June 19 week vs 35.5 in the prior week. The latest reading is well up from the 2014 average of 35.2 and just off the 2014 recovery high of 37.9 in late April. The index of leading economic indicators rose 0.5% in May, accelerating from a revised 0.3% gain in April.
The Market (S&P 500)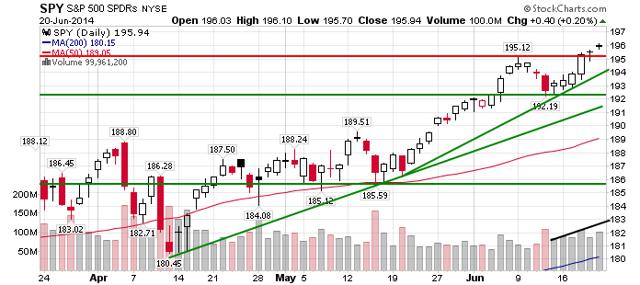 The S&P 500 reached new highs in a confirmed uptrend, having moved to a higher high from a higher low marked on June 13. Volume is higher. The primary trend is running at 32%/year and the secondary is 39%/year; both are sustainable numbers.
Small Caps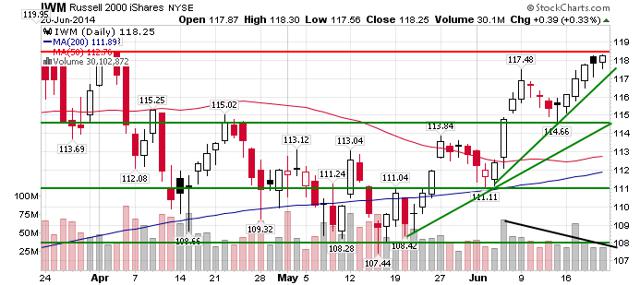 The Russell 2000 is in a stronger secondary trend running at 107%/year, off a primary trend of 85%/year. Small caps are now supporting the rally, although volume was somewhat lower last week. This index is in an area of congestion going back to last March and April, and could level off and consolidate.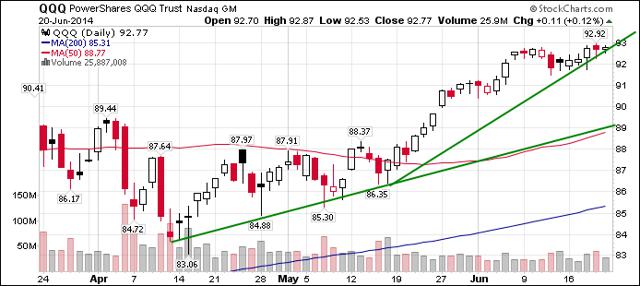 The strongest index by relative strength is QQQ, which has consolidated somewhat, but remains well above a primary trend of 45%/year. (The lower rates of gain of the trend lines don't account for the strong surge in late May that is covered in the 47-day relative strength charts.)
Core Sectors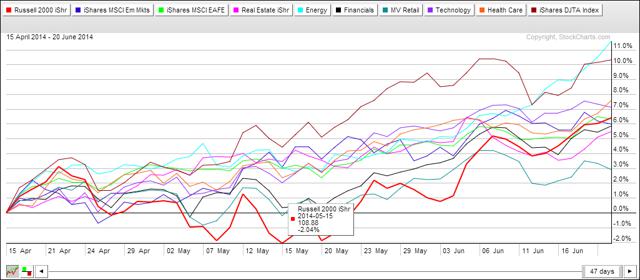 The gains of IWM are shown over the past 47-day rally, where the index moved from lowest relative strength to the fifth highest. Geopolitics has driven energy (NYSEARCA:XLE) into strong relative gains. Transportation remains volatile but strong. Healthcare (XLE) turned higher last week, beating tech (NYSEARCA:XLK). Emerging markets (NYSEARCA:EEM) comes in just below IWM, as does finance (NYSEARCA:XLF) and real estate (NYSEARCA:IYR). Retail (NYSEARCA:RTH) is the worst performer at 3%.
Best Relative Strength (vs. QQQ)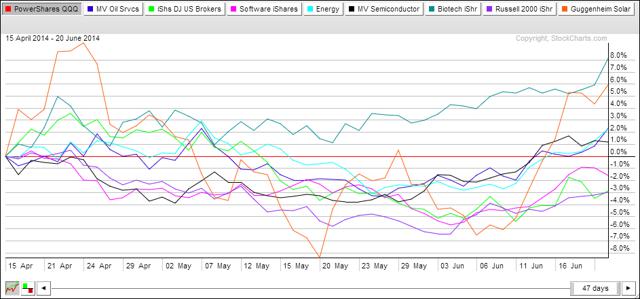 In my list of 36 ETF's, I have added robotics (NASDAQ:ROBO), replacing the chemicals index, which does not have a corresponding ETF. ROBO does not appear on the best relative strength list, but is an interesting sector to follow.
This week's relative strength is compared to QQQ, since its relative strength is higher than IWM. The list is "bifurcated" into sharp recent movers, and such as biotech (NASDAQ:IBB), which ticked up last week, solar (NYSEARCA:TAN), which surged over the last two weeks, and several steady gainers, such as energy (XLE), semiconductors (NYSEARCA:SMH), and oil services (NYSEARCA:OIH). Note the underperformance relative to QQQ for most of the period, of IWM. All of these ETF's are candidates for purchase.
Trades Last Week
Bought XLV, IWM, ROBO
Holding: IBB, XLE, SMH
Conclusion and Action
The economy is showing classic signs of growth: increases in manufacturing, some pressure on inflation, fewer unemployed, a growing trade deficit, and improving sentiment. Absent geopolitics, the market could move higher at moderately rising trends that we see in the charts. Unfortunately, Putin is again moving tanks, and the situation in Iraq is quickly becoming unstable, although flow of oil has not yet been interrupted. World oil prices remain heavily dependent on Mideast production, and are rising.
If QQQ breaks out above 93.3, I am a buyer. I will probably add to existing positions, and may buy OIH, which is in a sharp uptrend. Solar is rapidly becoming a much larger business, although individual stocks have been volatile and TAN has been hard to stay in. Higher oil prices should push solar to new levels. I plan to get into TAN maintain a stop below the level of its volatility. Another buy candidate is software (NYSEARCA:IGV).
Disclosure: The author is long XLV, IWM, ROBO, IBB, XLE, SMH.