Market Moving News (Summary of 19 Articles)
Spending was mixed. Chain-store sales rose 0.1% for a very strong year-on-year rate of plus 4.5% in the July 12 week, one of the strongest year-on-year rates of the recovery. Retail sales posted a 0.2% rise in June, following a 0.5% increase the prior month. Motor vehicles declined 0.3% in June after jumping 0.8% the month before.
Manufacturing is strong in some regions. The Empire State index was 25.60 in a strong July reading. New orders were 18.77, up from an already strong 18.36 in June, as are shipments at 23.64. Employment was 17.05 vs 10.75 in June. The Philly Fed index jumped 6.1 points to 23.9 for the highest reading since March 2011. New orders soared 17.4 points to 34.2. Unfilled orders were up, at 9.1 following an 11.5 rise in June. However, as suggested by production worker hours, industrial production was soft in June, slowing to a rise of 0.2%, following a jump of 0.5% in May. The manufacturing component decelerated to a modest 0.1% gain vs. 0.4% the prior month.
Inflation is controlled. Import prices rose only 0.1% in June while export prices fell 0.4%. The PPI for total final demand rebounded 0.4%, following a decline of 0.2% the prior month. Total final demand excluding food & energy gained 0.2% after slipping 0.1% in May. Excluding food, energy, and trade services, the index increased 0.2% in vs. no change in May. Energy jumped a monthly 2.1% after dipping 0.2% in May. Foods declined 0.2% in both June and May.
Housing is weak, but somewhat mixed. The purchase index fell 8.0% in the July 11 week, reversing a prior 4.0% gain. The refinance index was down 0.1%. Rates were little changed in the week with the average 30-year rate up 1 tenth to 4.33%. Starts in June disappointed sharply (at 0.893 million units annualized, up 7.5% on a year-ago basis), declining 9.3% after a 7.3% drop in May. An exception is new home sales, which surged in May. The housing market index rose 4 points to 53 in July, its best level since January.
The labor market continues to improve. Initial claims fell 3,000 in the July 12 week to 302,000. The 4-week average is down 3,000, to 309,000 which is a new recovery low. The 4-week average is down 3,250. Continuing claims in data for the July 5 week fell 79,000 to a recovery low of 2.507 million. The 4-week average is down 13,000 to 2.559 million, also a recovery low.
Other economic factors are positive: Foreign accounts were active buyers of US Treasuries and equities in May making for a $19.4 billion net rise in long-term investment inflow. In the other direction, US accounts bought $15.2 billion of foreign securities. Foreign account Treasury holdings rose incrementally China, at $1.27 trillion, and Japan, at $1.22 trillion. The latest Beige Book reported that overall growth is improving moderately while inflation is somewhat subdued. Permits declined 4.2% after decreasing 5.1% in May. June's 0.963 million units annualized was up 2.7% on a year-ago basis.
Sentiment
The year-ahead inflation expectations of businesses were 1.9% in July, according to the Federal Reserve Bank of Atlanta's most recent business inflation expectations survey. The Bloomberg Consumer Comfort Index was little changed at 37.5 in the week ended July 13 compared with 37.6 in the prior period, a report today showed. The buying-climate gauge climbed to its second-highest reading in more than six years, offsetting a decline in views on the economy and finances. The comfort index has been hovering close to the 2014 high of 37.9 reached in April.
The Michigan Consumer Sentiment report was mixed, down 1.2 points to 81.3, but the current conditions showed strength, up 5 tenths to 97.1, indicating steady incremental growth in consumer activity. The expectations component was weak, down 2.4 points to 71.1.
The Index of Leading Economic Indicators rose a lower-than-expected 0.3% in June, due to housing; otherwise, the report is mostly positive with 7 of 10 components posting gains.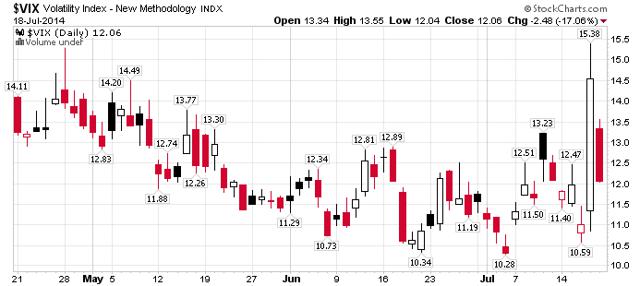 The VIX popped on geopolitical concerns on Thursday, but settled back as the overall market rebounded on Friday. The market reacted to Ukraine and Gaza news initially, but quickly settled down when the world didn't end.
The Market (S&P 500)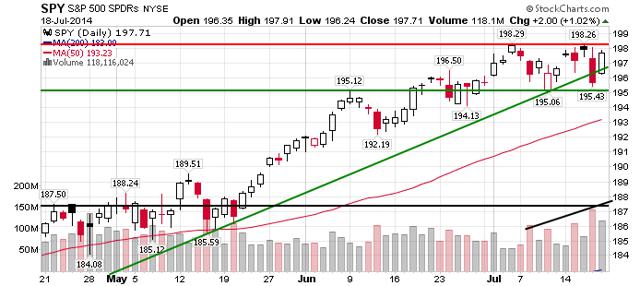 The S&P 500 was impacted more by geopolitical events than usual last week, which otherwise would likely have been flat, as summer vacation and lack of eventful economic news dominated. The index could remain between 195 and 198 until late August when vacationers return.
Small Caps (NYSEARCA:IWM)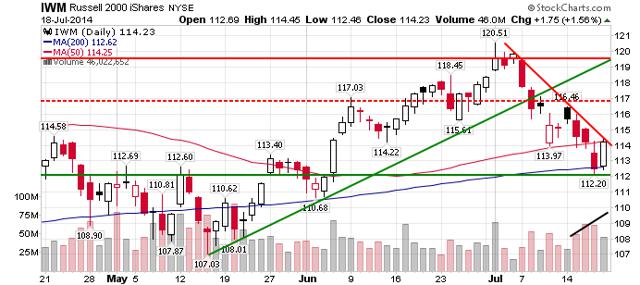 The small caps remained in a sharp downtrend (-114%/year) most of the week; however it was the strongest index during Friday's rebound, which, technically, was almost a bullish engulfing candlestick. I will continue to only nibble at the strongest funds until this indicator reverses direction.
Core Sectors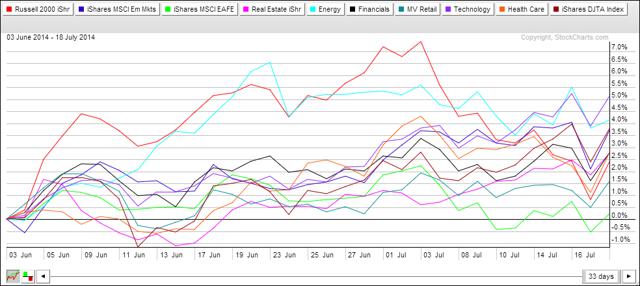 On a 33-day scale, the core sectors seem to be tech (NYSEARCA:XLK), energy (NYSEARCA:XLE), and emerging markets (NYSEARCA:EEM).
Core Sectors vs. IWM (13 Days)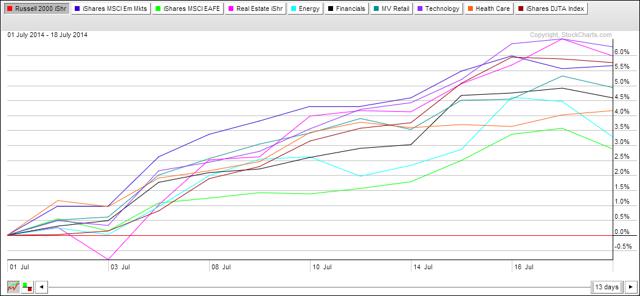 To ferret out the most recent strength, I zeroed out the weak Russell 2000 (IWM, red line) and compared strength over a 13-day period. Tech (XLK), real estate (NYSEARCA:IYR), transportation (NYSEARCA:IYT), and emerging markets (EEM) stand out.
Best Relative Strength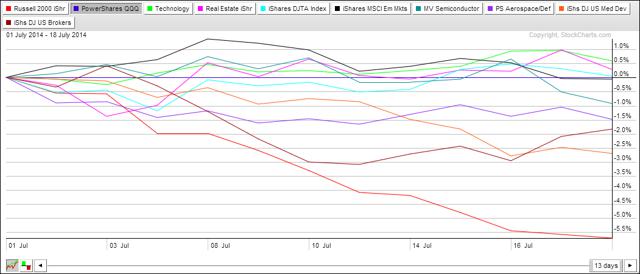 In the above chart, I selected the strongest of the 36 ETF's I follow, and compared relative strength to the Nasdaq 100 (NASDAQ:QQQ), which has been much stronger than the Russell 2000. Again, the leaders are tech (XLK), real estate (IYR), transportation (IYT), and emerging markets (EEM). Semiconductors (NYSEARCA:SMH) dropped slightly during the last two days, but held up during the last two weeks.
Trades Last Week
Sold and Repurchased: AAPL, XLV
Sold: QQQ, XLK
Bought: EEM, FDN, INTC, IYR
Holding: AAPL, AGNC, EEM, FDN, INTC, IYR, SMH, XLV
My stops on QQQ and XLK were somewhat loose, at the second support level below the price, but triggered, after several down days. Since these are two of the strongest indices, I will get back in on their next breakout.
I have replaced the Internet ETF (NASDAQ:PNQI) with the First Trust Dow Jones Internet (NYSEARCA:FDN) fund, because it trades at about three times the volume and looks less choppy on the charts.
Conclusion and Action
Last week was a reminder to me that when the small caps are not tracking the same trend as large caps, the market is not likely to go far, and is more sensitive to bad news. Nevertheless, economic news remains positive, and I'm looking to the following ETF's as potential buy candidates:
QQQ>96.5, XLK>39.5, IYR>73.25, EEM>44.75, SMH>51, PPA>32.7, IAI>38
Some of these funds are in sideways trends, and I will wait for breakouts coinciding with a strong market move before buying.
Have a great week!
Disclosure: The author is long AAPL, AGNC, EEM, FDN, INTC, IYR, SMH, XLV.