The market suffered its worst week since June last week. Was it a much-needed capitulation that will clear the decks for bullishness (finally)? Or, was it a microcosm of the bigger market mood right now? There are a lot of variable in play right now - some sentiment related, and some economic-based. Here's a look at the whole picture.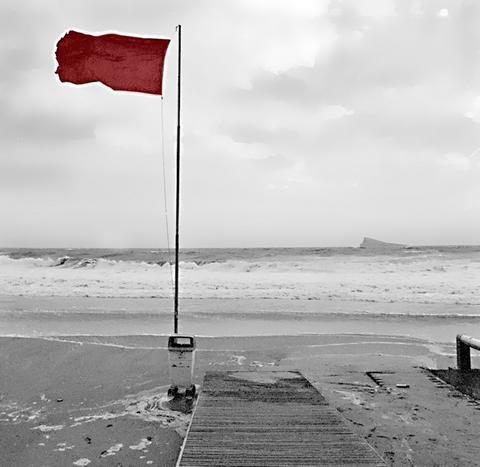 Economic Calendar
Fortunately, it was a light week last week in terms of economic data, giving the market a chance to continue digesting hurricane Sandy, and focus on digesting the Presidential election's outcome. Still, there were a couple of major items worth noting.
Take consumer credit for instance. For nearly two years now, we've seen consumer credit grow by tens of more than $10 billion per month (and reach $20 billion a few times). Granted, a huge chunk of that is student loans - unemployed and underemployed people are taking the time and opportunity to add skills and credentials to their resume. Yet, even the student loan-created surge in loan levels has its limits, and new laws enacted a few months ago to limit government-funded student loans hasn't exactly stifled the monthly growth in consumer credit levels. A decent chunk of the increases is also car loans, and other loans too. It doesn't exactly scream that consumers are in pain here.
The only other item of real interest was Friday's preliminary Michigan Sentiment Index score, of 84.9. This is only the first of three readings for November [the third is 'the' final one], but we're already well above October's final level of 82.6. That's the fourth straight increase, and leaves the optimism score at its highest level since July of 200...before economic Armageddon struck. Again, it doesn't really jive with the "consumers are worried" chatter.
Economic Calendar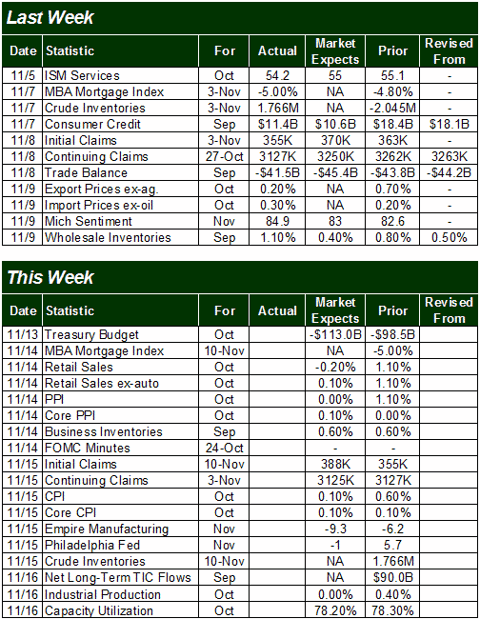 The coming week is a little more loaded, with some biggies. The items of most interest are:
* Wednesday: October's retail sales are expected to be off by 0.2% counting cars, but up 0.1% excluding automobiles. Neither number is all that dramatic.
* Wednesday: The first half of the inflation picture will be unveiled with October's producer prince inflation figure. The pros expect flat inflation overall, but a 0.1% uptick in inflation on a core (excluding energy and food) basis.
* Thursday: We saw a decent-sized dip in new unemployment claims last week (to 355K), but economists don't think that move lower will become a trend; those same economists are expecting a move back to 388K for this week. The continuing claims number is barely budging.
* Thursday: The inflation picture will be rounded with the consumer inflation rate; experts are looking for a midst increase of 0.1%, on a core as well as a non-core basis. As of the last look, 'the' inflation rate is 1.99%… a little on the low side compared to the long-term norm.
* Friday: One of the biggest red flags we've seen for the market of late has been waning industrial production growth and capacity utilization. Though neither is sinking, both are slowing, if not flat-lining. Though only a downtrend in both would likely mean we're headed into another bear market, all downtrends start as slow-downs of uptrends. That could be what where seeing now. Either way, the pros say industrial production growth was likely stagnant (0.0%) last month, and capacity utilization probably fell from 78.3% to 78.2% for October.
S&P 500, with Capacity Utilization and Industrial Production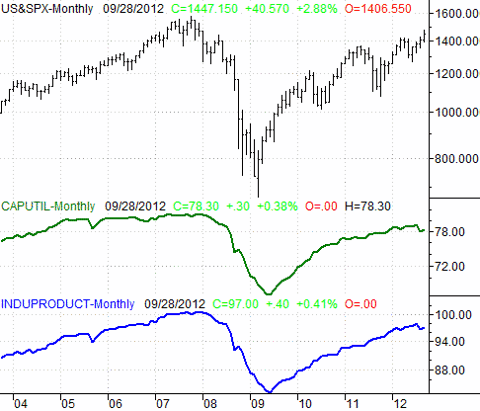 Stock Market
Apparently dissatisfied with the Presidential election's outcome, Wall Street started to dump stocks (NYSEARCA:DIA) (NASDAQ:QQQ) (NYSEARCA:IWM) right out of the gate on Wednesday. Though the bleeding seems to have stopped by Friday - at least temporarily - the damage had already been done. The S&P 500 (SPX) (NYSEARCA:SPY) lost 34.35 points last week (-2.42%) to close at 1379.85… the lowest close since the middle of July.
That sharp move lower, however, is the least of the market's worries. What the bulls and buy-and-hold investors need to worry most about is the fact that the S&P 500 is dancing with a crossunder of the key 200-day moving average line. It's already moved below all the other key averages. In fact, the 20-day line's move under the 50-day average line in the first part of last week confirms the strength and direction of the current downtrend. If the S&P 500 closes below the lower 20-day Bollinger band at 1377 anytime this week, that's it - that's the last of any potential technical floors.
There's something else troubling about the chart of the S&P 500 as well, though it's clearer on the weekly chart than it is on the daily chart (though you can see it in both timeframes) - the CBOE Volatility Index (VIX) (NYSEARCA:VXX) is starting to trend upward. We've already seen the VIX's 20-day average move above the 50-day moving average line on the daily chart, and we're close to seeing the VIX move above its 52-week moving average on the weekly chart. If the VIX makes its way above 18.90, that's going to represent a major change in market's undertow.
We can also get a little more perspective on the market's breakdown with the weekly chart, and it's with that perspective we can see there's not another major support area anywhere nearby, if things take the slightest turn for the worst on the daily chart.
The next likely floor based on the weekly chart is the lower 26-week Bollinger band at 1286. That's still 93 points below where we are now (about 6.8% below). Thing is, a move to 1286 from the October peak would still only be about a 12.5% pullback from the apex. That's a tad bigger than the average bull market corrective move, but nothing way out of the ordinary. Besides, the lower 26-week band is still apt to creep higher between now and the time it's tested.
Third Quarter Earnings
With earnings season nearly over (91% of the S&P 500′s companies have reported), we've got a pretty good grip on just how well the market did as a whole last quarter - the S&P 500 is going to earn $24.40 for Q3. That's even worse than the $24.93 the pros were expecting at the end of the third quarter, and the initial outlook was pretty weak to begin with. There were fewer beats than usual as well, and a few more misses than the average. Analysts also dialed back their earnings estimates through the end of 2013.
In simplest terms, though not an outright disaster, it would be impossible to call third quarter earnings a success story.
S&P 500, with Per Share Earnings & P/E Ratio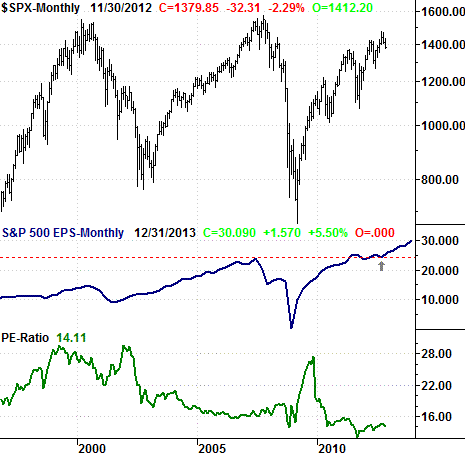 Disclosure: I have no positions in any stocks mentioned, and no plans to initiate any positions within the next 72 hours. I wrote this article myself, and it expresses my own opinions. I am not receiving compensation for it. I have no business relationship with any company whose stock is mentioned in this article.
Additional disclosure: BigTrends Rapid Options Income clients have an open SPY options position.