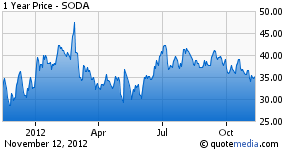 Last week was a big week for SodaStream (NASDAQ:SODA) as the company continues to fire away at the fad theory. The company reported Q3 2012 earnings of $.80 cents on revenues of $112.5 million. These results blew away street estimates yet again as the company has now beaten analysts' expectations each and every quarter since its IPO in 2010. In light of the company's achievement during Q3 2012, management has effectively raised guidance for a 3rd consecutive quarter.
The

company now expects 2012 revenue to increase approximately 46% over 2011 revenue of $289.0 million, up from its previous guidance of 40%.

The

company now expects 2012 net income to increase approximately 59% over 2011 net income of $27.5 million, up from its previous guidance of 55%. This guidance assumes full year gross margin of approximately 54.5% and includes a share-based expense of approximately $5.6 million.

Gross margin for the fourth quarter 2012 includes a higher mix of third party manufacturing and additional transportation expenses in order to meet the high demand for several new product launches scheduled for the holiday season.
Investors continue to be very nervous with holding onto SODA as the stock continues to underperform the company's general performance and the company's growth in earnings and revenues. Most recently, shares of SODA fell on the news that Primo Water Corp (NASDAQ:PRMW) was partnering with Cuisinart to provide CO2 for the new Cuisinart sparkling beverage maker. Cuisinart's entry into the business segment has been initially viewed as net negative for SodaStream International as evidenced in the stock's sharp dive ahead of yesterday's earnings release.
During SodaStream's conference call with analysts and investors, the company addressed the threat of competition by Cuisinart. SodaStream's CEO Daniel Birnbaum spoke of the company's desire for greater participation in this newly developing market segment and stressed that the company thrives on competition and has continued to succeed in the face of competition. He gave examples of past and present competition in the marketplace and what the results of this greater market participation produced. In all cases of competition, both in the U.S. and abroad, SodaStream has emerged as the clear winner and has even accelerated its sales as competition came into the marketplace. SodaStream's library of patents and first mover advantage has effectively created a moat or barrier to entry with success in this specific market segment. "This is what we do and all we do", said the CEO with regards to the at home carbonation business.
Taking a closer look at the Cuisinart entry into home carbonation, their new machine seems to be able to meet the market's needs. It is simple in design, composition and functionality. The device is easy to use, much like the SodaStream machine units. Unlike the newer SodaStream machines, the Cuisinart machine does not offer the snap-n-lock technology which adds to the consumer's greater ease of use. This is a patented feature of the SodaStream Source and Revolution machines. The Cuisinart machine does offer the same BPA, hermetically sealed bottle technology that the SodaStream bottles offer. Another distinguishing feature that separates the Cuisinart system from a SodaStream system is the CO2. The Cuisinart has a snap on CO2 while the SodaStream machines all have screw on CO2 attachments. It is in the CO2 that the two companies differ greatly and this is very important as the CO2 may be what drives consumer adoption to a far greater degree for a SodaStream machine offering. SodaStream's CO2 spare cylinder sells at most retailers for $29.99 per 14.5oz. spare cylinder. The gas exchange for the same cylinder, which can be purchased at over 9,700 points of sale in the U.S., is sold for $14.99 at most retailers. The Cuisinart machine and CO2 can only be purchased, presently, at Bed Bath and Beyond's (NASDAQ:BBBY) 1000+ stores in the U.S. The machine sells for $99. The CO2 is only offered in a 4oz. size for $19.99. If we do the math, this amounts to nearly triple the cost of a SodaStream cylinder on a per ounce basis. Most importantly, a consumer who purchases the Cuisinart machine is limited to where they can do the CO2 exchange, which will undoubtedly have to be performed more frequently than a SodaStream CO2 exchange, given the relative meager size of the CO2 unit. Since the launch of the Cuisinart machine, Capital Ladder has tracked sales of this new product offering and here is a link to the results. Capital Ladder Advisory Group, LLC. a leading market research firm providing sales data and analysis on SodaStream products, believes that this new competitive offering by Cuisinart will lead to further consumer awareness of this market segment and greater sales for SodaStream International as has been proven in the past. Ok, enough Mr. Nice Guy, let's get to the nitty gritty of this development and analyze it with the gloves off!
Cuisinart has to overcome several factors to be successful and show sustainable sales with its new product.
Obstacle #1: First Cuisinart's products have to show value to the consumer and presently it does not given the CO2 unit capacity and cost. As we stated before, the size of the CO2 unit will force a heavy user to either make more trips to the one retailer currently offering the product or buy more CO2 spares initially; either way, this does not appear to be value added or convenient for the consumer.
Obstacle #2: Cuisinart's products have to compete with the current technology which is patented in SodaStream's product offerings. In other words, the Cuisinart products can't lag behind SodaStream's products. The Cuisinart machine has a screw in bottle mechanism which is also employed by SodaStream's older model machines which are priced below and equivalent to the Cuisinart machine. The new Source and Revolution SodaStream machines have a snap-n-lock, easy-to-use bottle attachment which can also be easily used by younger children if desired and under the appropriate supervision. Based on

SodaStream's patent protection, it does appear that Cuisinart will be locked into its current bottle attachment mechanism for some time to come.

Obstacle #3: The first mover advantage has awarded SodaStream the opportunity to dominate this market segment at the upper end of the consumer bracket and the lower end of the consumer bracket. With distribution worldwide and retail partnerships offering

SodaStream products in over 60,000 doors, creating shelf space for a lagging technology product that shows little if any value to the consumer may prove too much for Cuisinart to overcome.

Obstacle #4: It gets worse for Cuisinart. The home carbonation market is still advancing toward the next phase of technology as SodaStream is developing a single serve solution. SodaStream's patent pending Soda Caps are the next advancement in this market segment and the pure technology behind the SodaStream name will be hard to duplicate for Cuisinart. We don't believe that Cuisinart will be looking to match

SodaStream's market share, but others have tried to simply participate and found themselves out of the home carbonation business in less than 18 months.

Obstacle #5: Time is not a friend for new participants in this market segment. As SodaStream acquires more and more retail distribution partners who adopt the gas exchange process, it makes it darn near impossible for another competitor to achieve retail distribution partners alongside SodaStream that will commit to a second gas exchange process. Primo Water Corp. attempted to compete with SodaStream over the last 18 months and during Q2 of 2012 they announced their concession to SodaStream and departure from the home carbonation business. Primo Water has partnered with Cuisinart to operate the gas exchange process, but this may prove to be another losing venture for the

company which is looking to unload inventory in order to pay back a $10 million dollar credit line meant for Primo's Flavor Station distribution in the U.S. which failed to gain traction.
I think the picture is pretty clear. Cuisinart has to show value and convenience and presently their product offerings simply and objectively don't exhibit these characteristics. The money is in the gas exchange which can have upwards of 90% margins, but without a value added CO2 product, the consumer may try the Cuisinart and discover the SodaStream value by default; it's a win-win situation for SodaStream. Did I forget to mention that Cuisinart won't be selling flavored syrups any time soon? So guess what Cuisinart consumers will be buying from SodaStream? I would expect a few other retailers to adopt the Cuisinart product, but only a few until Cuisinart can produce a value added and more convenient product line for the at-home carbonation consumer.
Our last and most important point with regards to the Cuisinart competition is simply rate of sales per linear foot. Look folks, the home carbonation machines aren't coffee brewers and sales don't generate at the same rate obviously. SodaStream with its first mover advantage still only sells on average 1.36 soda machines per week/retail door. Don't expect retailers to give much more linear footage to this product category than they already have any time soon. Bed Bath and Beyond, Cuisinart's only retailer in this product category, is a special case as the retailer employs a very dominant merchant and merchandising strategy that allows them to break all the rules of retail dollar per square foot merchandising. Ever wonder why the retailer has nearly every linear and square foot in its buildings mapped with a product and why it's so difficult to navigate a shopping cart around the main race track? The company tends to be the launching pad for new consumer household goods and can afford to make a purchasing mistake here and there with the amount of goods the retailer carries. BBBY was the first mainstream retailer to launch the Keurig in 2003 and we all see how that turned out for the coffee industry.
Outside of BBBY it is not very likely that the Cuisinart machine will find many more retailers that can dedicate shelf space for another home carbonation system and deploy the gas exchange at the same time.
As we move forward with our summary and recap of last week's earnings, we come to future expansion for SodaStream International. While the company recently expanded into markets such as Singapore, Russia and Chile, there are many more markets the company sees ahead in 2013. During the conference call, the company gave further clarity on efforts to expand into Mexico, India and China in 2013. The ground work has already been laid for Mexico and India as these countries will likely come ahead of China. Mexico is the second largest carbonated beverage market in the world according to Beverage Digest and Consumer's Reports. Soda is establishing an office in Mexico presently as the company wants to grow the market via a wholly owned subsidiary. This is in part due to the relative cost of goods and offerings in an otherwise lower income society. SodaStream is expecting to see direct sales from Mexico early in 2013.
Greece, Poland and Argentina are also slated for global expansion in 2013. SodaStream has already entered Poland to a small degree via a handful of retail establishments as it tests consumer adoption for its product line here in Q3 and Q4 of 2012. Capital Ladder Advisory Group is willing to extend to the market place that SodaStream will achieve its expansion goals in 2013 with regards to Greece, Argentina and Poland as the company has already filed for Trademark protection within these respective countries, an important step when introducing goods to a nation.
Heading into the 4th quarter, SodaStream continues to feel confident about sales growth and outlined for investors that it continues to see strong sales throughout its distribution channel. All regions of the world continue to show sharp increases for sales of SodaStream products on both the sell-in and sell-out sides of the equation. Note that where Soda sells products through wholly owned subsidiaries, these are considered sell-in markets, all others are sell-out markets where SodaStream contracts to sell goods through distribution partners. On August 31, 2012, the company acquired the SodaStream related assets from its Canadian distributor and started operating its products' distribution in Canada as a self-distribution unit. This had no material impact on the results of operations. The main asset acquired in the transaction was inventory of $5.9 million. The inventory and cash balance at September 30, 2012 reflect this transaction. This strategic investment by the company should serve to increase margins in the region in the near future. The acquisition of the Canadian assets come at a time when SodaStream has seen its retail distribution in Canada grow by 50+% during 2012 and as the company began selling products to Canadian Tire's 380 stores during Q3 2012. Canadian Tire is one of Canada's largest retailers with stores throughout the nation. Additionally there still remains the opportunity for SodaStream to see its product line sold in Costco Canada (NASDAQ:COST) stores. Wholly owned markets, single distribution partners, tend to have higher margins for sales.
Since we mentioned this retail expansion in Canada which was not detailed by management on its latest conference call, we will advance the topic a step further. In the U.K., which showed retail expansion during Q3 2012, the company added 145 Staples U.K. doors, 10 Cochran Stores, 115 Dunelm stores and a variety of other small business stores resulting in nearly 400 additional doors in the U.K. during the quarter. In Japan, SodaStream expanded its retail doors by over 200 doors. In Ireland the company expanded by 20+ doors. In France, the company expanded by 80+ doors. In the U.S. the company expanded by nearly 800 doors by adding 400 Staples doors, 73 Bi-Mart doors, 200+ Costco doors, 27 Lewis Drug doors, 7 Giant Food stores, 5 Carson Pairie doors and a host of other small business retail doors during the quarter. While many may believe that there is little room to grow in the U.S., they continue to overlook the opportunities that lay ahead for SodaStream via the grocery store channel and hospitality industry which SodaStream participates in through its commercial division trademarked as SodaStream Professional.
Giant Foods has recently discovered the benefits of the SodaStream system and began selling SodaStream products during the quarter as a test roll-out in 7 stores. However, should the test prove to show strong sales, Giant Foods could expand its distribution of SodaStream products to over 100 of its grocery stores along the east coast of the United States. Wait, it gets even better. Ever heard of Wegmans? That's right investors and consumers; you can now get all your SodaStream supplies at this northeast coast U.S grocery chain. Soda entered 75 Wegmans grocery stores in October. Both Giant Foods and Wegmans began their distribution relationship with SodaStream in October by accepting and instituting the gas exchange program. While SodaStream maintains that it doesn't foresee greater grocery channel expansion in the U.S. until 2014, they may curtail this forecast should demand create the need and apparently the grocery channel is anxious to see SodaStream products in their respective stores.
One last piece of information investors may have been speculating about since SodaStream began selling products in Wal-Mart (NYSE:WMT) is whether or not Sam's Club would eventually sell SodaStream machines as well. In Sam's Club's most recent Holiday Catalogue the SodaStream Fizz machine is featured to include 2 60L CO2 canisters for $129.99. It is still not clear as to whether or not the machine will be available in stores or only on-line, but we will surely find out in the near future and update investors at capitalladders.com.
The takeaway from the latest quarterly results is quite simple, the company continues to see great demand for its product line and small appliance makers and beverage producers are taking notice. Margins contributing to net profits are continuing to show expansion as YOY profits continue to climb at what has been an accelerated pace. Additionally, most of the speculative projections for co-branding deals and expansion are still on the table. What will make headlines for the company during Q4 as the company launches its largest television ad campaign today in the United States For those who have walked by a Wal-Mart end cap and wondered what that SodaStream package was all about, the new ad campaign may very well serve to explain this package more clearly and thusly drive more sales for the company.
Another key takeaway that is more closely related to the SODA stock was the commentary surrounding current cash on the balance sheet and projected cash on the balance sheet moving forward. The company currently has over $50 million in cash and cash equivalents on the balance and no debt. It's amazing that a company growing so rapidly and on an international level has accrued no debt. Funny how a high margin razor/razor-blade business model works when a Harvard alum is at the helm. During yesterday's conference call, SodaStream's CEO did outline that the company continues to evaluate the potential for a buy back plan in the future depending on stock price and company needs juxtaposed with its cash position.
In spite of some exceptional one-time expenses related to transportation costs accrued during the quarter, results were stellar across all key metrics. The razor/razor-blade business model is proving itself to be a lucrative one for the company as indicated in the chart below.
Units Q3 2012 Q3 2011 Increase Increase %
| | | | | | | | | | | |
| --- | --- | --- | --- | --- | --- | --- | --- | --- | --- | --- |
| Soda Maker Starter Kits | | 941,000 | | | 717,000 | | | 224,000 | | 31% |
| CO2 Refills | | 4,337,000 | | | 3,636,000 | | | 701,000 | | 19% |
| Flavors | | 7,747,000 | | | 4,399,000 | | | 3,348,000 | | 76% |
Data provided by SodaStream International
Disclosure: I am long SODA. I wrote this article myself, and it expresses my own opinions. I am not receiving compensation for it (other than from Seeking Alpha). I have no business relationship with any company whose stock is mentioned in this article.