BB&T Corporation operates as the holding company for Branch Banking and Trust Company that provides banking and trust services for small and mid-size businesses, public agencies, local governments, and individuals in the United States.

BBT is a dividend aristocrat as well as a component of the S&P 500 index. It has been increasing its dividends for the past 37 consecutive years. From the end of 1999 up until September 2008 this dividend stock has delivered an annual average total return of 3.60 % to its shareholders. The stock has gained about 12% so far in 2008.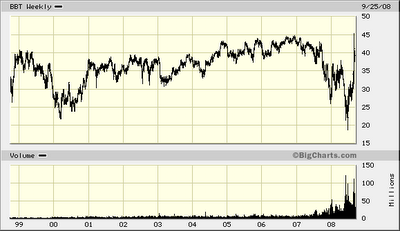 At the same time company has managed to deliver a 7.00% average annual increase in its EPS since 1999.

The ROE has decreased from its highs in the lower 20% to the mid teens.

Annual dividend payments have increased over the past 10 years by an average of 11.80% annually, which is much higher than the growth in EPS. A 12% growth in dividends translates into the dividend payment doubling almost every six years. If we look at historical data, going as far back as 1990, BBT has indeed managed to double its dividend payment every six years on average.

If we invested $100,000 in BBT on December 31, 1998 we would have been able to purchase 2787 shares. In January 1999 your quarterly dividend income would have been $488. If you kept reinvesting the dividends though instead of spending them, your quarterly dividend income would have risen to $1810 by July 2008. For a period of 10 years, your quarterly dividend income would have increased by 169%. If you reinvested it though, your quarterly dividend income would have increased by 271%.


The dividend payout has fluctuated above and below 50% during out study period. Currently this indicator is above my 50% threshold. I consider a lower payout as a plus, since it leaves room for consistent dividend growth minimizing the impact of short-term fluctuations in earnings.
BBT does look attractively valued with its low price/earnings multiple of 11, as well as attractive yield at 5.50%. One warning sign is the payout ratio – I would consider entering a position there only at lower levels. In addition to that I would also wait to see what damages has the current financial crisis created for this company. The recent 4% dividend hike was also much lower than prior year's hikes.
Disclosure: Author does not own shares of BBT.