By: Brendan Gilmartin
Cisco Systems (CSCO) is slated to report 1Q 2013 earnings after the close of trading on Tuesday, November 13. The results are typically available at 4:05 p.m. EST and will follow with a conference call at 4:30 p.m. Given its size and influence, Cisco has the potential to impact the broader market gauges, including the index futures and large-scale ETFs.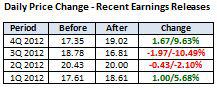 In the previous conference call, Cisco said 1Q 2013 Non-GAAP EPS is expected to range from $0.45 to $0.47 per share. The current consensus is $0.46 (Source: Yahoo! Finance).
Revenues are the next most important measure for Cisco. Cisco previously said it expects 4Q 2012 revenues to increase 2% to 4% year over year. Based on the 1Q 2012 revenue figure of $11.260 bln, the projected range would equate to $11.481 bln to $11.706 bln. The consensus is $11.79 bln.
Note that Cisco typically provides upcoming quarterly guidance in the ensuing conference call following the earnings release. CEO John Chambers tends to be conservative in his outlook, resulting in a share price reversal. For the 2Q 2012 period, estimates are for Non-GAAP EPS of $0.48 on revenue of $12.07 bln.
Last quarter, CEO John Chambers stated in the conference call there were three primary concerns facing Cisco:
Sympathy Plays: Juniper Networks (JNPR), F5 Networks (FFIV), Riverbed (RVBD), Radvision (RVSN) & Cavium (CAVM).
Cisco continues to aggressively repurchase shares. At the end of the 3Q period, Cisco repurchased 27 million shares of common stock under the stock repurchase program.
Recent News

Technical Review
Cisco Systems shares are off nearly 14% from the September highs, breaking key support near $17.00. From here, there is downside risk to $16.50, followed by $16.00 and the July nadir close to $15.00. But with the Relative Strength Index (RSI) near 30, the shares are technically oversold near-term, implying the shares may bounce so long as earnings are either above or at the high end of the guidance provided last August. (Chart courtesy of StockCharts.com)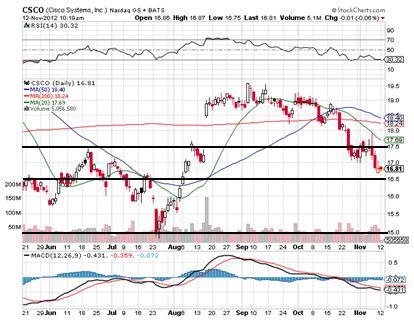 Summary
Cisco Systems shares have come under heavy pressure in recent weeks amid concerns over slower spending both in North America and abroad, coupled with an uncertain picture for 2013. But with the shares down 14% from the recent highs, technical indicators reflecting oversold conditions, a single-digit forward P/E multiple, and hefty 3.33% dividend yield all suggest the market has priced in the anticipated weakness and dour outlook headed into fiscal 2013.
DISCLAIMER: By using this report, you acknowledge that Selerity, Inc. is in no way liable for losses or gains arising out of commentary, analysis, and or data in this report. Your investment decisions and recommendations are made entirely at your discretion. Selerity does not own securities in companies that they write about, is not an investment adviser, and the content contained herein is not an endorsement to buy or sell any securities. No content published as part of this report constitutes a recommendation that any particular investment, security, portfolio of securities, transaction or investment strategy is suitable for any specific person.
Disclosure: I have no positions in any stocks mentioned, and no plans to initiate any positions within the next 72 hours. I wrote this article myself, and it expresses my own opinions. I am not receiving compensation for it (other than from Seeking Alpha). I have no business relationship with any company whose stock is mentioned in this article.