Hello readers, in this article I will focus on the advantages that weekly options offer to option sellers. This one is aimed at short-term traders who can keep up with the intra-day fluctuations of the market.
As you may know, the most liquid stocks and ETFs offer the possibility of trading options that expire every Friday of every week (at 4 p.m. Eastern) called "weeklies," instead of the third Friday of the month.
What you might have figured is that this trading style is "conservative" because it looks for low-possibility price movements, and I will focus solely on selling put and/or call spreads that are deep out-of-the-money, which means they are further away from the current stock or ETF price at the start of the trade.
It is very important to choose your stock or ETF correctly for this trading style, which is spread option selling. To be able to get into the trade -- and, if things do not go your way, getting out or closing your trade -- you must look for highly-liquid option volume stocks and ETFs, such as the SPDR S&P 500 Trust ETF (NYSEARCA:SPY), PowerShares QQQ Trust ETF (NASDAQ:QQQ), and my favorite targets: Apple (NASDAQ:AAPL) and Google (NASDAQ:GOOG).
There are two reasons the latter are better for selling weekly options:
Lower commission costs: Since most brokerages charge commission based on number of option contracts traded, you will need a lower number of contracts to get an equivalent return on your investment.
Time value is higher: Since the bid/ask spread on the triple-digit stocks is higher, you might be able to sell either a put spread, a call spread, or an iron condor, which is a combination of both.
There are several advantages that I have seen in these weekly trades, and one of the most powerful is the compounding effect. A seemingly small ROI of 8-12% sounds boring, but remember that these trades can be done every week. Rinse and repeat.
The compounding effect of a six-month $1,000 investment looks very interesting. You earn larger and larger returns every week if you re-invest your initial investment plus profits, and the compounding effect of a 9% weekly return can be seen in a graphical way in the following chart:
(click images to enlarge)
Of course, this is chart assumes all of your trades will make you the most profit -- in this case, a 9% weekly profit for six months -- but the point is to exemplify the compounding effect we are looking for with this style of trading.
Also consider that every trade expires every Friday at the close, so if you were to place a weekly trade in the following manner:
Example A
Sell to Open Apple puts at the 530 strike price and Buy to Open the same number of 525 strike price Apple puts; you are essentially saying "this week, Apple will not close on Friday below $525."
Example B
If you Sell to Open Google calls at the 700 strike price and Buy to Open the same number of contracts for the 705 strike price, you are thinking "Google will not rise above $700 by this Friday."
These kinds of trades consider macro factors for setting up your trades, but focus mostly on short-term price movements regarding important technical chart levels and the release of economic data that happens every day, and the market's reaction to it.
The most important factor of this strategy is very valuable: time.
With this strategy, time is always on your side, and as each day passes by and your short option spread is still out-of-the-money, time decay (also known as theta) will make you earn money every day by reducing the value of the option spreads, and will accelerate greatly as Friday comes.
Since you are selling the option spreads and they are far from the current stock price, you are either acting as "insurance" to option buyers, who are hedging their long stock positions with options, or playing with traders' "greed" by selling weekly option buyers a low-probability/high-reward trade -- also known as "gamblers" -- who hope for a major price change in a matter of days.
While selling weekly options might look obviously profitable, you have to be very aware that if the trade goes against you and a very big price movement does happen that week, you will be forced to buy back either your short put or call spread at a huge loss. That´s why you should start trying out new strategies by trading small or better yet, Virtual Trading, so you learn to remove emotion before, during and after the trades.
Setting Up The Trade:
For this week, I chose my favorite victim for this strategy: Apple.
Considering how well this strategy has performed over the past months for Apple, even with the huge drop from its $700 peak, Apple appears to be either forming a bottom or making a strong snapback rally before heading lower. Both of these options make selling an out-of-the-money weekly put spread very attractive.
Considering a $1,000 trade (to be consistent with the compounding-power graph shown above), the Profit and Loss at expiration graph for:
Selling 2 weekly Apple 520 strike price put contracts and
Buying 2 weekly Apple 515 strike price put contracts
looks like this: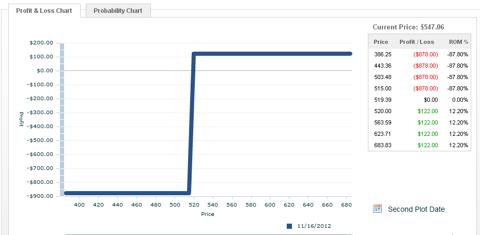 This trade offers a 12.2% return in a week minus commissions, which should reduce the real return to around 9.2%. This assumes a $15 commission for entering the trade and a $15 commission for buying back your short spread, or "closing" the trade on Friday.
You can play with the amount of contracts and strike prices depending on your risk profile, but I consider anything over 7% a week worth selling if I expect no major fundamental factors to affect the stock that week (such as earnings or a major product announcement), and the technical factors have a major support or resistance at certain price point.
Currently, Apple´s daily chart looks like this: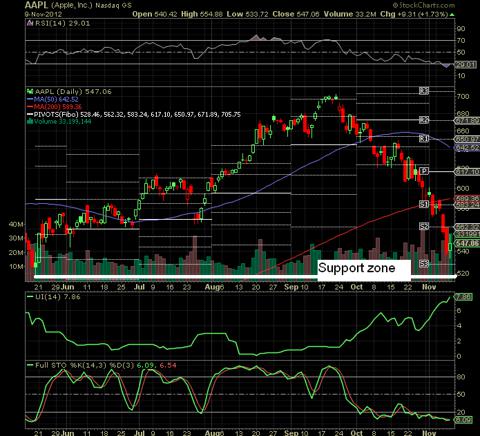 The May 18th low currently offers support in the $520 area, and the third Fibonacci support above this area (shown as S3). The other technical factors such as RSI, Full Stochastic and Ulcer Index indicate an oversold condition for Apple, so this trade should turn out just fine. Apple will have to fall more than 5% this week in order for this trade to be in-the-money, presenting the option seller with losses.
Feel free to ask anything if you have any doubts regarding the method or specific trade. If time allows, I will be posting these new series of articles each week. Regarding trade adjustments, I will post them at Stocktalks if there are any adjustments and Apple does resume falling greatly.
Disclosure: I am long AAPL via short put spreads. I wrote this article myself, and it expresses my own opinions. I am not receiving compensation for it (other than from Seeking Alpha). I have no business relationship with any company whose stock is mentioned in this article.