When Windstream (NASDAQ:WIN) reported earnings last week, investors took the stock down to 52-week lows over concerns the company wouldn't have the ability to pay the dividend going forward. The local telecommunications provider missed earnings yet again, but more disappointing is that capital expenditures continue to creep higher.
In order to maintain that juicy 12% dividend, the company must produce enough free cash flow to cover the cash distribution. Lately that equation has come into question even with an increasing revenue base as capital expenditures have soared.
Q3 Highlights
Below are the highlights from the Q3 earnings report:
Business service revenues were $906 million, a 3 percent increase year-over-year
Consumer broadband service revenues were $115 million, a 4 percent increase year-over-year
Strategic revenues grew 2.7 percent year-over-year and now represent 69 percent of total revenues
Total revenues and sales were $1.55 billion, a decrease of less than 1 percent year-over-year
Adjusted OIBDA was $603 million, a decrease of 1 percent year-over-year
The company reported adjusted earnings of $0.12 compared to analyst estimates of $0.13. The company has slightly missed analyst estimates the last four quarters. Currently analysts expect $0.14 for both Q4 2012 and Q1 2013. Assuming those levels hold, the company would finally break a downtrend in earnings.
Capital Expenditures
With revenue stabilizing and expenses under control, the biggest question remains whether capital expenditures are peaking or continuing a trajectory higher. Windstream has dramatically increased expenses over the last year to meet capital initiatives for Fiber to the Tower (FttT) and consumer broadband stimulus. The combined initiatives added $93M to the core capex of $197M.
Based on the financial statement below, the company has been able to maintain solid free cash flow even with the higher capital expenditures: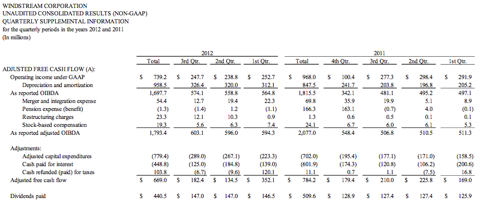 The FttT initiative has completed 2,100 towers so far with the expectations of adding at least 1,900 more that are already in process.
The consumer broadband plan will increase consumer speeds in 87 markets to 24Mbps. This initiative appears more core than the others and questionable to not include in long-term core plans. AT&T (NYSE:T) just announced initiatives to increase broadband speeds up to 100 Mbps in select markets suggesting that the plans of Windstream will need to be expanded to match the competition.
A real key to this sector is the balance between free cash flow and capital expenditures. Increased network investments will improve long-term growth, but hurt short-term cash flows. Though reduced investments will eventually cause and exodus of customers leading to negative cash flow.
Competitors
CenturyLink, Inc. (NYSE:CTL) investors reacted better to the Q3 earnings report as the company generated strong free cash flow of $905M. While the company is still seeing a declining revenue base, the company has been keeping capital expenditures low. It though forecasts higher investments in 2013.
Frontier Communications (NYSE:FTR) continues to report strong free cash flow with $215M in Q3 and $753M for the year to date. Capital expenditures of $195M have declined this year and remain considerably below the level of Windstream. The current 9% dividend amounts to only a 40% payout of free cash flow.
Both companies have declining revenue bases suggesting maybe the level of expenditures might not be high enough to maintain the revenue base. Are these two companies under spending on network upgrades?
Stock Valuation
The stock is probably fairly valued considered the earnings expectations and high payout of free cash flow. The current dividend provides a solid total return for investors. The one-year chart shows a severely over sold stock.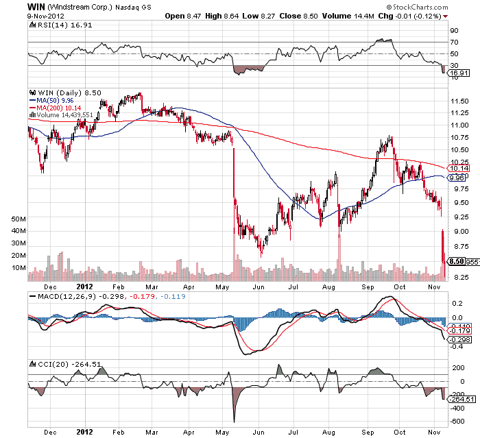 Conclusion
Based on the recent stock reactions in the telecommunications sector, investors appear more concerned about short-term free cash flow without considering the potential of under investment.
Windstream appears set to continue paying a solid dividend. As long as the company can pull back on capital expenditures in 2013, the stock will reward investors from these levels. The biggest concern remains that a spending war breaks out based on the news from AT&T. Outside of that, Windstream investors should continue enjoying a large dividend.
Disclosure: I have no positions in any stocks mentioned, and no plans to initiate any positions within the next 72 hours. I wrote this article myself, and it expresses my own opinions. I am not receiving compensation for it (other than from Seeking Alpha). I have no business relationship with any company whose stock is mentioned in this article.
Additional disclosure: Please consult your financial advisor before making any investment decisions.