My future dividends are at stake and now that the post election furor is settling down I am shifting my gaze into 2013 and asking myself "What next?" There are legions of dividend investors still agonizing over the looming fiscal cliff. Republican leadership are posturing a "no new tax" position while Democrats thump for a "tax-the-rich" approach. The current investor-friendly dividend taxation rates are likely to increase at least some, for example. What to expect? And what to do about those expectations?
I personally expect Washington to do much of what it has in recent times: the parties will play a protracted game of brinkmanship; they will finally yield to societal and market reality and cobble some compromise together before something truly nasty happens; the compromise will not be great and it merely kicks many of the problems down the road. Still, a deal will get done.
Writing on CNBC, Justin Menza talked with a number of CEOs who believe that a compromise will be reached. After all, in the words of United Continental (NYSE:UAL) CEO Jeff Smisek on CNBC "They don't really have a lot of choice, do they?"
And in fact I believe that Republicans and the Obama administration will find a lot of common ground on budget reform. Second term presidents begin to look hard at their legacy. In my mind that means all sides will be looking hard at taming the massive budget deficits since no one wants a legacy of bankrupting the government on their watch. I expect the fiscal cliff will be avoided, but most importantly, 2013 will result in the start of meaningful movement on reforming the budget crisis and modernizing the tax code over the next three years.
Menza also quoted AT&T (NYSE:T) CEO Randall Stephenson:
"If we could get this fiscal situation addressed, get a tax code that is more modern and competitive with the rest of the world, I think that with what's happening with energy in this country and what people are prepared to invest in technology, I think we ride a wave in this country for three or four years that's going to be very exciting," he said.
True, there are others who believe that even a resolution to the fiscal cliff and budget reform will not prevent a 2013 recession. They believe that spending cuts and increased taxes from any compromise will push the fragile US and world economies into a new cycle of painful recession. I believe these pundits are seriously overlooking the strong balance sheets and record cash positions of many companies.
A large reason that unemployment in particular and the economy in general has been sluggish has been the reluctance of corporate America to invest until management sees which way the winds from Washington will blow. Once corporations feel confident that they know which direction the wind lies they have up to $3 trillion to invest. That is an economic stimulus even the Fed cannot match.
I targeted a cross section of companies that I think will thrive better than others in a 2013-2014 recovery. They are CSX Corp (NYSE:CSX), AstraZeneca PLC (NYSE:AZN), Cisco Systems, Inc. (NASDAQ:CSCO), Dover Corporation (NYSE:DOV) and International Business Machines Corporation (NYSE:IBM). All offer a dividend, but I believe they also offer an outstanding growth opportunity over the next 3-5 years.
CSX Corp.
CSX Corporation provides rail-based transportation services. The company transports a wide range of basic products with a particular emphasis on coal for national and export use. It also provides intermodal transportation services through a network of approximately 50 terminals in the eastern United States.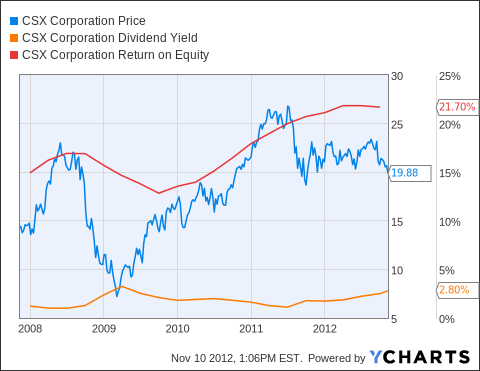 CSX data by YCharts
CSX 3Q results were a mixed bag. While most revenue areas were up a dip in coal activity dragged down the overall earnings. In fact there was a sharp 26% decrease in domestic coal volume. While coal will probably drag for the next few quarters, I think we are at the bottom.
Meanwhile in my theory rail goods should start to significantly pickup in the first two quarters of of 2013, as traditional transportation stocks are among the first to do well in an economic recovery. This would be an excellent time to begin accumulating shares as I expect CSX to perform strongly beginning 2Q 2013.
| | |
| --- | --- |
| Share Price | 20.59 |
| 52 week Range | 19.87-23.71 |
| Market Capitalization | 21.23B |
| Price Earnings Ratio | 11.47 |
| EPS | 1.79 |
| Div & Yield | 0.56 (2.60) |
| Forward P/E (fye Dec 30, 2013) | 10.72 |
| PEG Ratio (5 yr expected) | 0.88 |
| 5 Year Average Dividend Yield | 1.90% |
| Payout Ratio | 29.00% |
AstraZeneca PLC
AstraZeneca PLC is an international bio-pharmaceutical company. I expect most drug companies to do well in the final four years of the Obama era based on his emphasis on developing near universal health insurance coverage.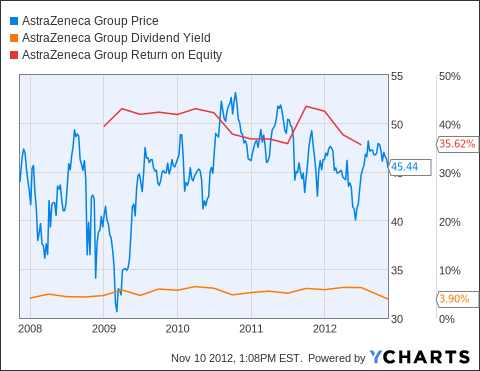 AZN data by YCharts
AstraZeneca is another company that suffered a disappointing 3Q 2012, mostly due to the patent expiration of several of its brand drugs. However, for a drug company the future is always based on its development of new drugs. Here, it has 86 pipeline projects, which include 79 projects in various clinical phases of development and 7 approved or launched projects. This should put it in excellent position to ramp up its brand base as health care flourishes.
| | |
| --- | --- |
| Share Price | 46.09 |
| 52 week Range | 39.72-49.95 |
| Market Capitalization | 58.80B |
| Price Earnings Ratio | 7.44 |
| EPS | 6.28 |
| Div & Yield | 1.80 (3.90) |
| Forward P/E (fye Dec 30, 2013) | 8.11 |
| PEG Ratio (5 yr expected) | -2.29 |
| 5 Year Average Dividend Yield | N/A |
| Payout Ratio | 45.00% |
Cisco Systems, Inc.
Cisco Systems (CSC0), Inc. is the mature technological powerhouse that has expanded beyond IP networking and now is involved in a blizzard of products including networking smartphones and information infrastructure security.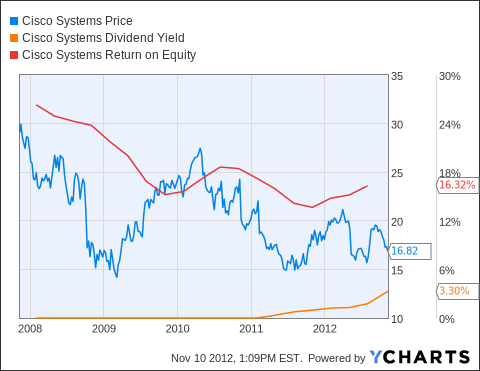 CSCO data by YCharts
Cisco lives off corporate spending and its revenue and share price has been considerably weakened since global corporate spending is tight. Again, if I am right that corporate spending should expand beginning 2013, then Cisco should be one of the first to see ramped up revenues.
| | |
| --- | --- |
| Share Price | 17.38 |
| 52 week Range | 14.96-21.30 |
| Market Capitalization | 90.99B |
| Price Earnings Ratio | 11.54 |
| EPS | 1.49 |
| Div & Yield | 0.56 (3.10) |
| Forward P/E (fye Dec 30, 2013) | 8.23 |
| PEG Ratio (5 yr expected) | 1.14 |
| 5 Year Average Dividend Yield | N/A |
| Payout Ratio | 19.00% |
Dover Corporation
Dover Corporation operates in four segments: Communication Technologies, Energy, Engineered Systems and Printing & Identification. The Printing & Identification segment provides integrated printing, coding, and testing solutions for the fast moving consumer goods, food, pharmaceutical, industrial, electronics and alternative energy markets.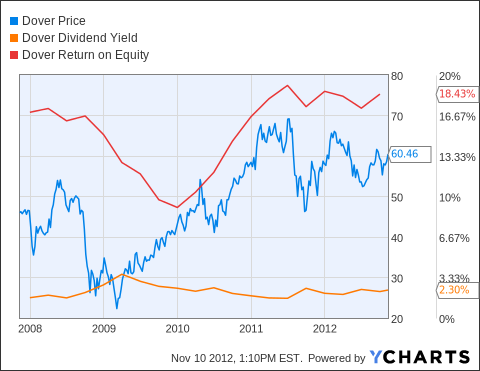 DOV data by YCharts
This is another play on basic materials and consumables. If the economy is strong then companies need the coding, tracking and testing systems to track their inventory and sales. That is outstanding for Dover.
| | |
| --- | --- |
| Share Price | 57.52 |
| 52 week Range | 50.14-67.20 |
| Market Capitalization | 10.42B |
| Price Earnings Ratio | 11.67 |
| EPS | 4.99 |
| Div & Yield | 1.40 (2.40) |
| Forward P/E (fye Dec 30, 2013) | 11.13 |
| PEG Ratio (5 yr expected) | 1.34 |
| 5 Year Average Dividend Yield | 2.30% |
| Payout Ratio | 26.00% |
International Business Machines Corporation
International Business Machines Corporation, Old Blue, is far removed from being just a copy machine company. The company operates in five segments: Global Technology Services, Global Business Services, Software, Systems and Technology, and Global Financing.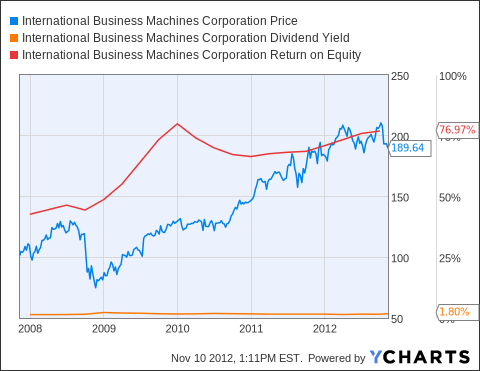 IBM data by YCharts
IBM's stock price has heroically advanced the last three years despite lagging corporate spending and global recession. It is a testament to Big Blue's commitment to "Smart Grid" technologies. In a world were efficiency and Green approaches are important, IBM has been developing new niches, especially in corporate and big utility information infrastructures. With low debt and massive free cash flow, whenever the economy does recover IBM will be practically printing money.
| | |
| --- | --- |
| Share Price | 190.72 |
| 52 week Range | 177.06-211.79 |
| Market Capitalization | 216.51B |
| Price Earnings Ratio | 13.77 |
| EPS | 13.91 |
| Div & Yield | 3.40 (1.80) |
| Forward P/E (fye Dec 30, 2013) | 11.51 |
| PEG Ratio (5 yr expected) | 1.29 |
| 5 Year Average Dividend Yield | 1.80% |
| Payout Ratio | 23.00% |
Disclosure: I have no positions in any stocks mentioned, and no plans to initiate any positions within the next 72 hours. I wrote this article myself, and it expresses my own opinions. I am not receiving compensation for it (other than from Seeking Alpha). I have no business relationship with any company whose stock is mentioned in this article.