Scrap prices have increased marginally because scrap demand has increased and mills are trying to build up inventory before the winter season. However, overall steel demand remains depressed and we believe AK Steel (NYSE:AKS) is facing a double-edged sword as costs increase and demand remains depressed. We maintain our sell rating on AKS.
Since the last time we wrote on AK Steel, the steel manufacturer has announced that it will increase prices of some of its flat rolled products, (200, 300 and 400 series flat rolled stainless steel products) effective from shipments on December 30, 2012. This was AK Steel's second price increase in one week. On November 5th, AKS announced, with immediate effect, a $50 per ton increase in spot market base price for carbon flat-rolled steel products, mainly used in automobiles and appliances industries.
According to Bridget Freas, a Morningstar Inc. analyst, steel producers are forecasting a rise in scrap costs and this could very well be one of the reasons for the price increase by AK Steel.
Seasonality could be another factor since steel prices are typically higher during the December to March period.
Steel demand, on the other hand, has not increased, despite the seasonal trend and increase in scrap prices.
Investment View
Our ratings remain unchanged on AK Steel. We still have a sell rating for AKS. We believe AKS will continue to see pressure on its margins. The company's balance sheet is highly levered, with total cash of $47 million, total debt of $1.4 billion and negative CFO of $213 million. As mentioned in our previous article, AK Steel's year to date net debt has surged by ~$500 million. Depressed stainless steel market conditions and weakness in the historically lucrative electrical steel market is adding to AKS' woes.
The company has a mean recommendation of 3.1. According to the data provided by Briefing.com, 5 out of 19 analysts have an underperform rating on the stock, 2 have a sell rating, and 7 analysts have a hold rating.
Company Overview
AK Steel produces flat-rolled, tubular, stainless and electrical sheets as its primary operations, in the U.S. and internationally. Construction, automotive, power distribution and appliances, and industrial machinery and equipment serve as AKS' primary markets.
The distribution and converters industry is the largest customer of the company, accounting for 40 percent of 2011 revenue. The automotive industry is the second largest customer of AK Steel.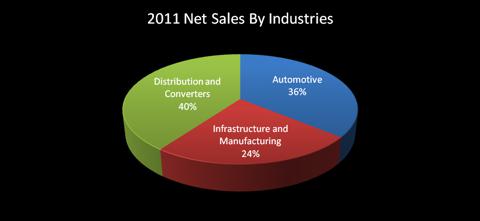 Company Documents and Qineqt Calculations
As you can see from the chart below, a majority (82 percent) of the company's shipments in 2011 were of value-added products. Half of the shipments of value-added products were of coated steel. Out of the non-value-added products, a majority were hot-rolled coil.
Company Documents and Qineqt Calculations
Among the company's three product lines, carbon products account for almost two-thirds of the revenue (2011). Most of the remaining revenue came from the stainless and electrical steel segments.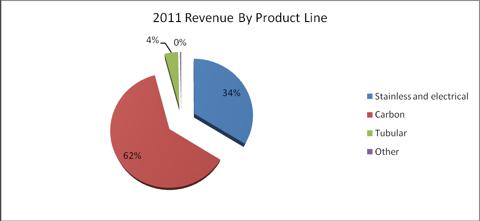 Company Documents and Qineqt's Calculations
Financials
The company is the most expensive among its peers and is trading at a forward P/E of 13.2x. It has a negative PEG ratio and negative profit margins of 16.5 percent. AK Steel's stock has lost 37 percent of its market value year to date. AKS also has cash flow issues. The company has a total debt of $1.4 billion and total cash of $47 million. Its operating cash flow is negative $213 million and levered free cash flow is $250 million.
| | | | |
| --- | --- | --- | --- |
| Comp Sheet | AKS | (NYSE:X) | (NASDAQ:STLD) |
| Forward P/E (1 year) | 13.2 | 11.41 | 10.15 |
| PEG ratio (5 year expected) | -0.74 | 3.35 | 2.4 |
| EV/EBITDA (NYSE:TTM) | 8.7 | 7 | 7.9 |
| Profit Margin: | -16.5% | -1.45% | 1.80% |
| Operating Margin: | 0.27% | 1.31% | 5.20% |
| Dividend yield | N/A | 0.90% | 3.00% |
| Long-term earnings growth rate | 16.53% | 6.50% | 8.30% |
| Share price Performance (YTD) | -37.00% | -25.00% | -5.30% |
Source: Yahoo Finance
Steel companies continue to operate in challenging environments and we maintain our ratings on the other steel companies under our coverage (X: Neutral and STLD: Long-term bullish). We believe STLD is in a good position to benefit from a rebound in steel prices because of its high operating margins, diversified product mix, growth projects in the pipeline and vertical integration. The company also has an attractive dividend yield. However, in the case of X, we believe the company faces headwinds ahead due to the uncertainty in the European market, weak tubular segment and price concerns regarding its flat-rolled segments. We maintain our neutral rating on X.
Disclosure: I have no positions in any stocks mentioned, and no plans to initiate any positions within the next 72 hours.
Business relationship disclosure: The article has been written by Qineqt's Basic Materials Analyst. Qineqt is not receiving compensation for it (other than from Seeking Alpha). Qineqt has no business relationship with any company whose stock is mentioned in this article.