Energy Transfer Partners LP (NYSE:ETP) is an MLP owning and operating one of the largest and most diversified portfolios of energy assets in the United States. ETP has 24,000 miles of gathering and transportation pipelines, treating and processing assets, and storage facilities. ETP also owns general partner interests and 100% of IDR's in Sunoco Logistics Partners (NYSE:SXL), as well as about 32% of Sunoco Logistics' common units, since ETP recently acquired Sunoco (NYSE:SUN). SUN operates a portfolio of crude oil and refined products pipelines and marketing assets.
ETP's recent 3rd Quarter is a mixed bag:
Revenues: $1,420.5 M, a YOY decrease of 16.5% from $1,701.5 million, due to "low natural gas

sales

."
Cash Distribution: Unchanged at $.089375 per quarter.
EBITDA & Operating Income: EBITDA was $481.7 million compared with $404.2 million in the year-ago quarter, amounting to 19% growth. Operating income of $291.9 million was up 6.6% from this same period as well.
DCF: $339.5 M, up from $266.1 million or 27% in the prior-year quarter.
Although these results were unimpressive for the most part, management stated the full integration of Sunoco's assets and SXL assets, as well some other smaller projects/acquisitions have not fully taken hold and hit the bottom line. As per the recent conference call:
Martin Salin - CFO and PAO, said
"Out of the large portfolio of growth projects expected to come online over the next 6 to 12 months, we expect our Midstream segment to grow significantly and represent a larger portion of our overall business mix....we also expect our volumes and margins at our NGL segment to continue increasing significantly, as the new projects I mentioned earlier contribute to the already solid platform of NGL services we provide our customers."
So, it may be some time before ETP fully realizes the SUN acquisition and others, and becomes genuinely accretive to ETP unit holders. Can we rely on management to deliver? The answer is debatable. In recent years, DCF has grown modestly, and at a measurable cost in debt and new offerings. Nonetheless, DCF has enjoyed over 8% CAGR sequentially since 2008: (click to enlarge)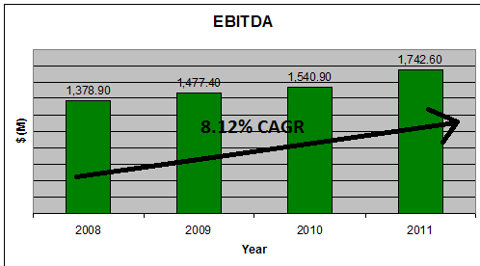 Although 2012's figures are not yet whole, judging from recent performance this trend should continue. Once the major Sunoco and other acquisitions become accretive through 2013, I expect DCF growth to increase even more than the past. Why do I think so? ETP is becoming more diversified, evolving into a well rounded player with additional exposure to oily infrastructure - an important asset which ETP was formally lacking. After acquisitions take hold, ETP's total footprint looks something like this: (Note the Red Assets on map are Sunoco's)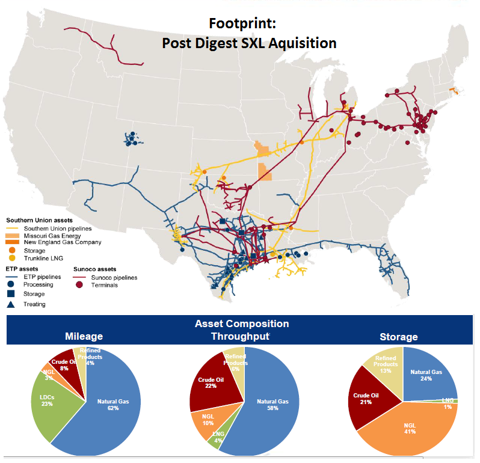 Source: Barclays CEO Energy Conference Presentation, Slide 6
Sunoco's assets give ETP fresh exposure to the Northeast region. But more importantly, ETP had virtually 0% exposure to oil before recent acquisitions. Now, about 20% exposure will be to Crude/Refined products, and another decent slice of their business pie will come from marketing, thanks to SUN/SXL and other acquisitions. Here is a useful representation of ETP's total exposure, which has become more diversified over the years: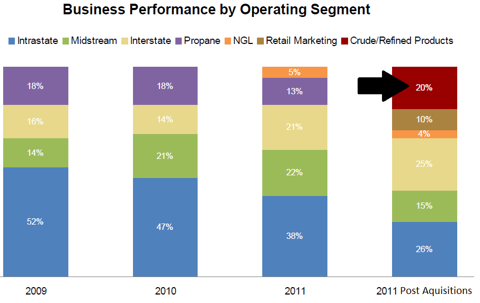 Source: Barclays CEO Energy Conference Presentation, Slide 7
In my opinion, there may be something worth waiting for with ETP. New acquisitions hold some promise, and judging from the past several years, management has increased DCF, and is currently paying out most of it to shareholders in the form of a 8.6% yield. Also, ETP offers a DRIP program in which reinvested distributions receive a 5% kicker, effectively equaling a 9% yield when utilized.
It may be some time before new acquisitions take hold and ultimately become fully accretive to unit holders. In addition, new unit issuance/debt offerings are a cause of some concern. ETP's current yield, although juicy relative to other MLPs in the space, is not totally safe since it is only secured by a 1.05x distribution coverage ratio. Management stated they are shooting to maintain this ratio, which could be a benefit if DCF rises after acquisition integration takes root. However, it could simultaneously be a significant weakness, because any shortfalls on project integration and/or DCF, could prove the payout at risk by this metric.
Overall, ETP's 8.6% yield is paying unit holders to "wait," and I see no major cause of concern why management will not successfully merge and "synergize" acquisitions and ultimately deliver accretive results to unit holders. New investors looking to gain exposure to ETP's footprint could also investigate Energy Transfer Equity (NYSE:ETE) as another way to play ETP.
ETE owns GP interests of ETP and approximately 52.5 million ETP units, offering significant exposure to ETP's performance. In addition to ETP exposure, ETE also owns the GP of Regency Energy Partners (NYSE:RGP) and 26.3 million RGP units. ETE is also 60% owner parent of Southern Union Company. In total, the ETE basket owns about 45,000 miles of natural gas and natural gas liquids pipelines. ETE offers significant exposure to the ETP network, and also RGP and Southern Union Company. These complex relationships could be somewhat daunting at first, but this company slide does assist: (click to enlarge)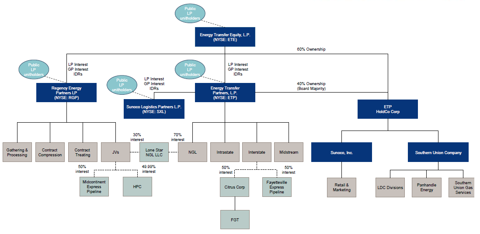 Source: Barclays CEO Energy Conference Presentation, Slide 16
Both ETP and ETE are fair investments. ETE offers less direct exposure to the success of ETP and its pending accretive acquisitions than ETP itself, of course. Thus, ETE may be somewhat safer than ETP, but can also offer less upside potential if ETP enhances DCF upon successfully digesting the huge Sunoco business as anticipated. Also something to consider is ETE's distributions. Although directly linked to ETP's distributions via GP and IDR interest, it is lower and is currently yielding around 5.6% versus ETP's 8.6%.
Disclosure: I am long ETP. I wrote this article myself, and it expresses my own opinions. I am not receiving compensation for it (other than from Seeking Alpha). I have no business relationship with any company whose stock is mentioned in this article.