Bear Market – an 18-to-24 month period when the kids get no allowance, the wife gets no jewelry, and the husband gets no sex. -- Investor's Glossary
October 9, 2008 marked the one-year anniversary of the bear market in U.S. equities. This seemed like a good occasion to review the performance of all the portfolios presented in Ben Stein's and my book, Yes, You Can Supercharge Your Portfolio. The book was published in December 2007 and the portfolios it contains were devised in sunnier times, during the preceding summer. Our goal was to popularize Modern Portfolio Theory among retail investors, and we relied heavily on Geoff Considine's Quantext Monte Carlo simulator [QPP]. Had we known the stock market would decline almost 50% after constructing the didactic portfolios in the book, we would have titled it Yes, You Can Put Brakes On Your Portfolio's Descent into Hell.
Here follows a performance update on the portfolios discussed in the book over the market's decline this past year.
Apple Pie
We called our initial portfolio the "Apple Pie" portfolio [70 percent total U.S. Stock Market (VTSMX), 25 percent MSCI EAFE Index (FSIIX), and 5 percent MSCI Emerging Markets Index (VEIEX)] because it looked like the sort of standard pie-chart portfolio recommended to expense-conscious, indexing investors. 
We omitted bonds since (following Nobelist James Tobin) we held that the primary role of bonds is to limit volatility. As this would have to be decided on a case-by-case basis depending on the risk tolerance of the individual investor, we confined our discussion to the equity side. 
Noting that all these assets classes were highly intercorrelated, leading to a portfolio that was underdiversified despite covering the globe, we proposed that a very basic way to enhance a very basic portfolio like this – to increase returns while lowering risk on a forward-looking basis -- would be to add exchange-traded funds with a low-correlation to the basic global equity mix. Toward this end, we mixed in 5 percent each of commodities (NYSEARCA:DJP), utilities (NYSEARCA:XLU), REITs (NYSEARCA:VNQ), and Malaysia (NYSEARCA:EWM), and called the result the "Apple Pie a la Mode" portfolio. Add one bear market for one year, and the results were shaken, not stirred, as shown in Table One.

The "a la Mode" version was not designed to rock the world, but to be a simple, small enhancement. The portfolio was projected to provide an extra 0.8 percentage points annually in returns and subtract 1 percentage point from the standard deviation (S.D.). This year, it added 2.9 percent in returns and subtracted 1.5 percent in S.D.
The Glob Portfolio
The "Glob" portfolio is a capitalization-weighted portfolio of global stocks: 46 percent Total U.S. Stock Market (VTSMX), 44 percent Total Developed Foreign Market (VGTSX), 7 percent Emerging Markets (VEIEX) and 3 percent Canada (NYSEARCA:EWC). Going one step further in terms of complexity, we attempted to "supercharge" this portfolio by adding 16 individual stocks with a low correlation to it at 1 percent/each. We called this modified version the "Glob Portfolio with Fries." The stocks we added were: First Energy (NYSE:FE), AFLAC (NYSE:AFL), PepsiCo (NYSE:PEP), FTI Consulting (NYSE:FCN), Lockheed Martin (NYSE:LMT), Chesapeake (NYSE:CPK), Southwest Gas (NYSE:SWX), The Southern Company (NYSE:SO), Northwest Natural Gas (NYSE:NWN), WGL (NYSE:WGL), United Utilities Group (OTCPK:UUGRY), General Mills (NYSE:GIS), Johnson & Johnson (NYSE:JNJ), ENGlobal (NASDAQ:ENG), Municipal Mortgage (MMA), Clorox (NYSE:CLX). The results of both portfolios one year into the bear market are shown in Figure 2.

With the larger international weighting to the baseline "Glob" portfolio, the portfolio did worse than the U.S. market during the year, when foreign and especially emerging market stocks were hard hit. The "with Fries" iteration was projected to add 0.9 percent in returns and subtract 1.8 percent in S.D. This year it added 4 percent in returns 1.3 percent in S.D.
Six Ways from Sunday   
Our third allocation was Scott Burn's "Six Ways from Sunday" portfolio, which had the best performance among the canned portfolios we examined.  This was due to its overweighting two of the top performing sectors of the previous three years: REITs (VGSIX) and energy (VGENX). The rest of the portfolio is allocated to Total U.S. Stock Market (VTSMX), Total International Stock Market, (VGSTX) Treasury Inflation-Protected Securities (MUTF:VIPSX), and Foreign Unhedged Bonds (MUTF:BEGBX) – all at an equal 16.66% weighting.  
As before, we threw out the bonds and just looked at the equity side. Then we tried to diversify it further by adding ten low-volatility individual stocks at 2 percent/each: FCN, LMT, AFL, Anheuser Busch (NYSE:BUD), JNJ, Kellogs (NYSE:K), GIS, iPath Agriculture ETN (DJP), DTE Energy (NYSE:DTE), and Northrop Grumman (NYSE:NOC).
The performance of the two portfolios is shown in Table Three.
The energy stocks and REITs in the core "Six Ways" portfolio regressed to the mean – a cautionary tale for those who simply extrapolate recent returns into the future to build their portfolios. Forward-looking models like the Quantext simulator can compensate for this tendency. The diversifying stocks we added dampened the losses. The "supercharged" portfolio was projected to add 0.4 percentage points to the returns while subtracting 2.5 percentage points from S.D.; during this year it added 7.8 percentage points in returns while subtracting 2.5 percentage points from S.D.  
Replacing Bonds with Low-Volatility Stocks
Our next daring venture was to propose replacing roughly half of the bonds in a standard 60/40 stock/bond (VFINX/VBISX) portfolio with low-volatility stocks, in the hope that we could get better returns (by increasing the allocation to stocks) without increasing the downside risk from which the bonds were protecting us. The eighteen stocks we added (2.1 percent/each) were: HBSC (HBC), NWN, Procter & Gamble (NYSE:PG), SO, K, SCANA (NYSE:SCG), Wisconsin Energy (NYSE:WEC), General Dynamics (NYSE:GD), Wells Fargo (NYSE:WFC), JNJ, Consolidated Edison (NYSE:ED), AGL Resources (ATG), Torchmark (NYSE:TMK), DTE, Provident Financial (NYSE:PFS), PG&E (NYSE:PCG), Southwest Gas (SWX), and BUD. Results are shown in Table Five.

The "low volatility stocks-for-bonds" substitution was slated to deliver an extra 2 percentage points of returns at the same S.D. In practice, it delivered an additional 1.6 percent of returns at 2.9 percentage point's higher S.D. The basic premise – that using low-volatility stocks instead of bonds could protect capital during a bear market -- held up remarkably well. 
Homegrown Hedge Fund
We tried to create a long-only portfolio of ten stocks whose past performance was largely uncorrelated to the U.S. market: GIS, Pacific Capital (OTCPK:PCBC), Wesco Financial (NYSEMKT:WSC), British American Tobacco (NYSEMKT:BTI), CPK, AmerisourceBergen (NYSE:ABC), Ball Corporation (NYSE:BLL), Constellation Brands (NYSE:STZ), Novartis (NYSE:NVS), and Enbridge Energy Partners (NYSE:EEP), at 10 percent each. We proposed that such stocks could be mixed with an S&P 500 index portfolio to improve its risk-adjusted returns, as shown in Table Six:

The market-neutral fund was projected to provide an extra 2.3 percentage points of return and 1.6 percentage points less of risk. In practice, it delivered 20.5 points of improved return and 0.9 points decrease risk. It was not truly market-neutral, as many of the stocks selected for their low correlation mean reverted. The overall effect was directionally correct and the effort was salubrious. 
Diving for Dividends
We devoted a chapter to investing for income. We proposed a portfolio devoted 60 percent to assorted bond funds (VBMFX, DPGIX, GMDFX and VWEHX), 20 percent to ten individual dividend stocks (American Capital (NASDAQ:ACAS), Verizon (NYSE:VZ), ED, Empire District Electric (NYSE:EDE), Great Plains Energy (NYSE:GXP), TrustCo (NASDAQ:TRST), FirstMerit (NASDAQ:FMER), KeySpan (KSE), Nicor (NYSE:GAS), and UUGRY) and 20 percent to ten individual REITs (One Liberty Properties (NYSE:OLP), iStar Financial (SFI), UMH Properties (NYSEMKT:UMH), Hospitality Properties Trust (NYSE:HPT), Universal Health Realty (NYSE:UHT), Colonial Properties Trust (NYSE:CLP), First Industrial Realty (NYSE:FR), National Retail Properties (NYSE:NNN), BRT Realty Trust (NYSE:BRT), and Equity One (NYSE:EQY)). Table Seven benchmarks this portfolio against a matched set of index funds: Lehman Aggregate Bond Index (NYSEARCA:AGG), Dow Jones Select Dividend Index (NYSEARCA:DVY), and the MSCI U.S. REIT index (VNQ).

The "Supercharged" Income portfolio delivered a more livable income stream of 5.6%, (2.8 percentage points better) but at the price of being down more for the year overall (1.6 percentage points worse). Interestingly, the QPP Monte Carlo simulator forecast that this portfolio might be down 19 percent in a bad year. Retirees living off the coupons and dividends would not have pleased, but neither should they have been surprised, to find their portfolio down 20.8% over a terrible year. This was reassuring during a year when we repeatedly read about how Wall Street Value at Risk models had come unhinged.
Individual Stock Portfolio
We assumed that most readers would be using mutual funds and exchange-traded funds to core out their portfolios, and then diversify ("supercharge") those using individual stocks. However, we also wanted to show that it was possible to construct a well-diversified portfolio using a limited number of individual stocks. 
This was in response to those who claimed that unless you bought an index fund holding thousands of securities, your portfolio was not truly diversified. We argued that this was not the case: since most stocks move in tandem with each other, a conventional portfolio of index funds necessarily contains a great deal of faux diversification under the hood.
To show how a diversified portfolio could be assembled using 20 stocks instead of five thousand, we devoted 80 percent of a portfolio to only ten positions (8 percent each) employing global-dominating companies from varying industries: Berkshire Hathaway (NYSE:BRK.A), General Electric (NYSE:GE), Nestle (OTCPK:NSRGY), NVS, PEP, PG, Total (NYSE:TOT), Toyota (NYSE:TM), Wal-Mart WMT, and WFC. We then diversified these with ten more positions (2 percent each for 20 percent of the portfolio total): CPK, DTE, FE, FCN, GIS, NOC, SO, UUGRY, WGL, and Wyeth (WYE). Its performance during the downturn is shown in Table Eight.

By building a portfolio from the ground up using individual stocks instead of working backwards trying to diversify a portfolio of market indexes, the returns were 14.9 points better during the bear market.
Summary
Table Nine shows the relative improvement to the baseline portfolios afforded by our exercise in "Yes, You Can Supercharge Your Portfolio"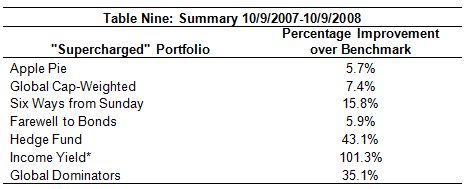 * Total return was 5.1% worse
In general, the greater the portfolio real estate given to diversification via individual stocks, the better the margin of improvement. Portfolios designed from scratch tended to give the greatest scope for the diversification benefit, as opposed to portfolios that were 80 percent a canned pie-chart portfolio and 20 percent an attempt to leaven it with ETFs and stocks. One might say that the pie-chart index fund portfolios presented a nod to diversification through a strategy of owning "one of everything," but that the Monte Carlo-created portfolios allowed for a greater measure of fine-tuning and were more efficient at delivering returns for a given level of risk.
The inherent danger in the forward-looking Monte Carlo approach is that fine-tuning can become overtuning to the noise present alongside the signal in the data. The index fund solution assumes that there will be plenty of noise along with the signal, but argues that further efforts to tune will be counterproductive. Their arguments are buttressed by efficient market theory and the sub-par performance of most active managers. During this bear market, however, the tuning here appears to have added value.
Planning for Low-Probability Scenarios
The events of this past year raise an interesting question for portfolio design. Should we prepare for the worst of times, or for average times?
Preparing for the worst of times is not unproblematic, because no matter how bad things get, they can always get worse. Consider Nassim Taleb's personal "Black Swan" portfolio – 90 percent global government bonds and 10 percent speculations. Or the original Harry Brown permanent portfolio: 25 percent each of stocks, gold, long bonds and T-bills. Even these portfolios are not risk-free. Over long periods of time, they are likely to underperform more conventionally-allocated portfolios, and so increase our risk of running out of money during retirement, if that is a risk factor. On the other hand, they might not be risk-averse enough. In the event of social breakdown, all paper holdings might become worthless. We would be better advised to own defensible farmland by a river not downwind of radioactive fallout from a nearby city, and to have a large family amply provisioned with livestock, seeds and shotgun shells.
How worthwhile is it to prepare for such extreme events? Most of us would not smoke two packs of cigarettes a day. Yet we might do so in preparation for a statistically unlikely event – that we will be one of the lucky ones whose health and longevity is unaffected by our habit. Or, we might place our life savings on a number on a Keno card. No one would call this rational planning, however. The same logic would seem to apply at both ends of the risk tail.
Planning means preparing for scenarios in rough correspondence to their likelihood of occurring -- their anticipated probability density. This brings us back to the much-maligned normal distribution curve. We can argue about the exact shape of this curve and how far the tails lie from the center, but until someone constructs a better approach, it seems to provide a reasonable basis for planning under conditions of uncertainty. Even Benoit Mandelbrot concludes in The Misbehavior of Markets, "I urge that [Monte Carlo simulation] become a standard tool of portfolio construction." (p. 267).