One of the best times to write a bull put spread is after a stock has experienced a strong correction, the overall long-term outlook is still bullish and the stock is trading in the oversold to extremely oversold ranges. Apache Corp (NYSE:APA) fulfils these requirements. With a bull put spread you simultaneously sell one out of the money put and purchase one put that is farther out of the money for a net credit. The long put serves as a hedge in the event things do not work out as planned. The great benefit of this strategy is that your risk is defined from the onset and there is no guess work in terms of how much you might potentially lose if the trade does not work out. Your total risk is equivalent to the spread between the two strike prices. This would only occur if the stock closed at or below the lower strike price.
Benefits associated writing a bull put spread
It limits your losses if the stock suddenly plunges. Your loss is limited to the total differences between the strike prices of your short put (the put you sold) and long put (the put you purchased).
The ability to profit even if the stock barely budges in price.
The risk is significantly lower than writing a naked put as your maximum downside is limited by the put option you purchased.
The capital requirements are significantly less. With a

cash

secured put you would need to have enough cash in your account to back the sale of the put.
In the event the stock declines, an investor can buy to close the short put position and continue to lock in gains from the long put as the price of the underlying stock drops.
Reasons to consider Apache Corp
A very low payout ratio of 10%
A strong interest coverage ratio of 13.00
The recent BP (NYSE:BP) acquisitions, the purchase of a portion of Devon Energy's (NYSE:DVN) GoM (Gulf of Mexico) assets, and the deal to acquire Marin Energy will help compliment the company's asset base and contribute to earnings going forward.
It had

a sales

growth rate of 4.6% per annum for the past five years and analysts are projecting growth rates of 5.2% per annum for the next five years.
A strong positive levered free cash flow of $972 million.
Zacks

has

a estimated 3-5 year EPS growth rate of 5.2%
Five sales growth rate of 11%
Strong institutional support. Institutions have an 83.5% stake in the company
An operating margin of 43%
A manageable long term debt to equity ratio of 0.36
Sales are expected to grow by 8.10% in 2013
Cash flow should improve from its operations in Australia, which it has been growing steadily over the past few years.
A very high retention rate of 90%
Zacks

has

an estimated EPS growth rate for 2013 of 6%. EPS is projected to increase from $9.86 in 2012 to $10.54 in 2013.
The Technical Picture
The stock has a strong layer of resistance that comes into play in the $90.00-$91.00 ranges. It is now trading at a key point of support ($77.80-$79.00) and if it fails to close above $79.00 soon (as in the next few days), there is a good chance it will end up testing its two-year lows which fall in the $73.00-$74.00 ranges. Another short term negative is that it's trading below its 30 day moving average ($84.07). As the short term trend is still negative we would wait for a test of the $73.00-$74.00 ranges before putting this strategy into play. The long-term outlook will remain neutral to bullish as long as it does not close below $73.00 on a weekly basis. A close above $84.00 will be a short term bullish development, and a weekly close above $86.00 will signal that the stock is ready to trade past $90.00 and potentially as high as $97.00 before pulling back.
How does Apache hold up against the competition?
Apache will be compared with its competitors using several key metrics such as P/E, quarterly revenue growth, operating margins, PEG, etc. This will give you further insight into the company, and it could also help you determine if Apache is the right play for you. Its gross margins and operating margins are well above the industry average while its P/E is well below the industry average of 19.00. It also sports a very good interest coverage ratio of 13.00.
| | | | | | |
| --- | --- | --- | --- | --- | --- |
| | APA | (NYSE:APC) | BP | (NYSE:XOM) | Industry |
| Quarterly Revenue Growth | -0.04 | -0.03 | -0.05 | -0.08 | 0.14 |
| Revenue | 16.76B | 13.44B | 371.81B | 426.25B | 13.60M |
| Gross Margin | 0.83 | 0.80 | 0.14 | 0.28 | 0.64 |
| EBITDA | 12.45B | 7.41B | 37.48B | 64.88B | -92.50K |
| Operating Margin | 0.44 | 0.09 | 0.06 | 0.12 | -0.20 |
| Net Income | 2.45B | 1.82B | 17.65B | 44.33B | N/A |
| EPS | 6.28 | 3.63 | 5.53 | 9.46 | N/A |
| P/E | 12.45 | 19.50 | 7.39 | 9.24 | 19.06 |
| PEG (5 yr expected): | 1.55 | 4.98 | 4.94 | 1.77 | 0.74 |
| P/S | 1.83 | 2.63 | 0.35 | 0.93 | 4.63 |
M= Million B= Billion
Charts and Data of value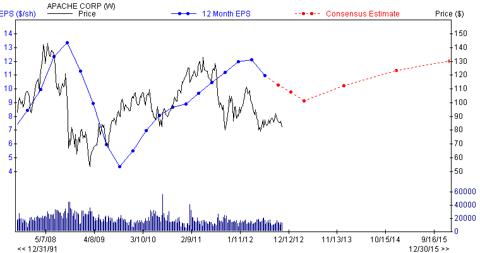 When the stock is trending above the EPS consensus line, it tends to indicate higher prices, and historically, the stock performs better. Apache is trading below the EPS consensus line, and this in a way explains why it has been laggard for the past 12 months. However, the EPS line has started to trend upwards, and the analysts are projecting growth rates of 5.2% per annum for the next five years. These two developments should help arrest the downward trend and help the stock eventually trade above the EPS consensus estimate line. Contrarians could be rewarded nicely for establishing an early position.
$100K invested 10 years ago would have grown to $206K. We simply multiplied the result by 100 to arrive at our figure. The table below uses a starting value of $1K.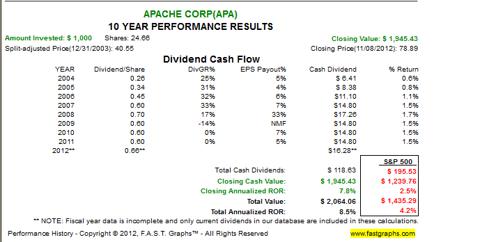 Zack's estimates that the EPS will come in at $10.54 per share in 2013. This represents an increase of 6% over its 2012 estimate of $9.86.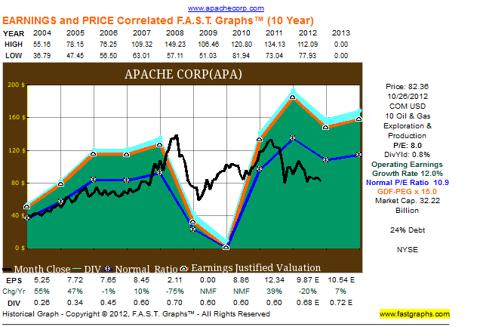 The orange line represents the valuation growth rate line. Generally speaking, when a stock is trading below this line and in the shaded green area, it represents a good long term entry point. Apache is trading well below this line, so from a long-term perspective it makes sense to start establishing a position now.
The bull put strategy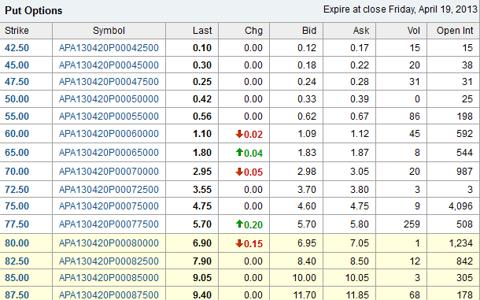 The April 2013, 75 puts are trading in the $4.60-$4.75 ranges. If the stock pulls back to the $73.00-$74.00 ranges, these options should trade in the $6.50-$7.00 ranges. We will assume that these puts can be sold for $6.50 or better.
The April 2013, 70 puts are trading in the $2.98-$3.05 ranges. If the stock pulls back to the stated ranges, these puts should trade in the $4.00-$4.50. We will assume that the puts can be purchased for $4.50 or better.
Transaction Details
After the sale and purchase of the respective puts you will have a net credit of $200.00.
Your maximum risk is $300 (the spread of $500 is subtracted from the credit of $200).
Your maximum profit is $200 per spread for a possible return of t 66%.
Your breakeven point is $73.00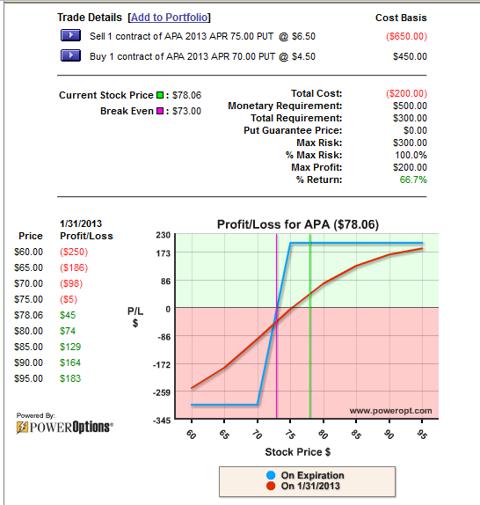 Conclusion
The short term trend is down, and the stock is currently trading at a key level of support ($77.80-$79.00). If it closes below $77.80, there is a good chance it will test the $73.00-$74.00 ranges. Consider waiting until it tests $74.00 before putting this strategy into play.
This strategy provides you with the potential to lock in very nice gains without having to tie up too much capital. Do not abuse this strategy as there is a chance the shares could be assigned to your account if the stock trades below the strike pricey you sold the puts at. You can always turn around at sell the shares if they are assigned to your account, but you will need to have the money in place to cover the cost of buying these shares before you can sell them.
If you write too many spreads, you could be asking for trouble if you do not have the money to pay for the shares in the event they are put to your account. If you find yourself in this position, you can either close the position out when the stock is trading at your breakeven point, or roll the put you sold. To do this you would simply buy back the put you sold and sell a new out of the money put.
Zack's consensus estimates, EPS charts obtained and some of the research/historical data were obtained from zacks.com. Profit loss tables obtained from poweropt.com. Options tables sourced from Yahoofinance.
Disclaimer
It is imperative that you do your due diligence and then determine if the above play meets with your risk tolerance levels. The Latin maxim caveat emptor applies-let the buyer beware.
Disclosure: I have no positions in any stocks mentioned, and no plans to initiate any positions within the next 72 hours.
Business relationship disclosure: This article was prepared for Tactical Investor by one of our analysts. We have not received any compensation for expressing the recommendations in this article. We have no business relationships with any of the companies mentioned in this article.