Stop me if you've heard this before. Facebook (NASDAQ:FB) was down again. Shares of Facebook saw a late fall on Friday, dropping 3.9% to close at $19.21. It is Facebook's lowest close in a few weeks, and the stock has erased all of its post-earnings day rally, as seen in the chart below. Part of the recent decline in shares has to do with the overall market coming down, but some investors are troubled with some key executives, including COO Sheryl Sandberg, selling their shares.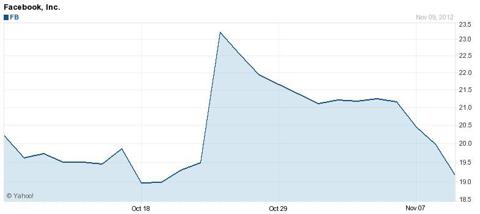 (Source: Yahoo! Finance)
Just two weeks ago, a lockup expiration allowed 234 million Facebook shares to be available for sale. That might seem like a lot, but consider the following. This week, on November 14th, another lock-up period will expire, allowing another 777 million shares to possibly be sold. That's more than three times the amount of shares in the October expiration, and more than a third of the total number of outstanding shares. Facebook is about to face its biggest test.
One thing that might ease concerns for those potentially looking to sell was the fact that Facebook's third quarter results showed some promise. Facebook beat on both the top and bottom line, and a number of metrics showed strength. That led to a series of analyst upgrades and estimate raises. Facebook shares rallied 19% the day after earnings, but maybe it was just a bunch of short covering. Shares are down $4 since that day, erasing all of the earnings gains and then some.
Even with all of the analyst hope, I still stated that now was not the time to jump on the Facebook train. Since that article, analysts have continued raising revenue estimates for Facebook. The 2012 revenue consensus has risen from $4.98 billion to $5.00 billion, and the 2013 revenue number has risen from $6.36 billion to $6.41 billion. However, analysts have not raised earnings estimates since, with the two yearly expectations still standing at 52 and 64 cents, respectively. The following table shows a recent history of Facebook's 2013 average estimates.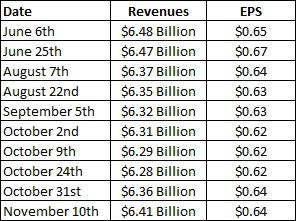 Facebook is not the only name in the space to have fallen recently. Here are some other names that have struggled:
LinkedIn (LNKD) shares rallied about 10% initially after beating analyst estimates. The company increased its user base by 13 million users over the prior quarter, now up to 187 million. Also, ad prices were rising, and revenues per customer was growing. However, shares did not hold their gains, finishing up less than half of one percent the day after earnings. Shares have since fallen about 10%, and closed on Friday at their lowest point since the beginning of August.
Groupon (NASDAQ:GRPN) shares plunged 30% to a new low on Friday after reporting a dismal quarter. The international and daily deals businesses are still weak, leaving many to question when things will start to stabilize. Groupon shares have now dropped 90% from their 52-week high. Trading for less than $3 now, Groupon's future is in doubt, as gross billings continued their quarter over quarter decline. Groupon investors might find solace in the company's $1.2 billion cash position, but that is offset by more than $600 million in accrued payables and expenses.
Zynga (NASDAQ:ZNGA) shares are also close to a new low. Zynga reported a third quarter that was okay, but that is only because they had previously warned. Along with earnings, Zynga announced a $200 million buyback that represented 11% of shares at that time. Zynga soared on the news, up over 17% at one point to $2.50, but since then, like Facebook and LinkedIn, it's been all downhill. Zynga closed Friday at $2.12, and hit a new intra-day low during the session.
Now, you might ask what any one of these names has to do with any other, because they aren't really competitors. But even though that is true, they tend to trade together. All are grouped in the "social media" class, and most went public within a few months of each other, with Facebook being a little later in that respect. When one of these names reports bad news, the others get hit because people see the valuations as unreasonable. Facebook currently trades at 30 times expected 2013 earnings, and LinkedIn fetches 75 times earnings. You compare that against a more established name like Google (NASDAQ:GOOG) trading for about 14 times 2013 earnings, and you see why investors get disappointed quickly. High valuations mean high expectations, and other than LinkedIn, most of these names have not met those lofty goals. That's why most of them are at new lows and well below their IPO prices.
Facebook is only $1.66 from its 52-week low, and that's not that far, given that the stock has lost about $2 in the past three trading sessions. That low could easily be taken out this week, when the largest of Facebook's lock up expirations hits. More than three quarters of a billion shares will be eligible for sale, and given the increased uncertainty in this space, as well as the overall market, there may be more than a few willing to bail, especially if they have a chance to lock in some gains. This will be Facebook's biggest test, and unfortunately, most investors don't see Facebook holding up very well through it, given how shares have performed at past lock ups.
Disclosure: I have no positions in any stocks mentioned, and no plans to initiate any positions within the next 72 hours. I wrote this article myself, and it expresses my own opinions. I am not receiving compensation for it (other than from Seeking Alpha). I have no business relationship with any company whose stock is mentioned in this article.
Additional disclosure: Investors are always reminded that before making any investment, you should do your own proper due diligence on any name directly or indirectly mentioned in this article. Investors should also consider seeking advice from a broker or financial adviser before making any investment decisions. Any material in this article should be considered general information, and not relied on as a formal investment recommendation.