Supervalu Inc. (NYSE:SVU) is one of those operations that look like it should do well, but somehow it continues to disappoint. While the company tries to keep the wolves away it is actively looking for a private equity firm or a white knight to come to its rescue. If one does, then shareholders will be rewarded. Otherwise it looks like the company's earnings will continue to drain the value away.
Supervalu: Is salvation in the form of an outside investor in the cards? Should I stay or should I go?
Supervalu operates retail and wholesale food stores in the United States. The company conducts its retail operations under a wide variety of brand names, including Acme, Albertsons, Cub Foods, Farm Fresh, Hornbacher's, Jewel-Osco, Lucky, Save-A-Lot, Shaw's, Shop 'n Save, Shoppers Food & Pharmacy, and Star Market. It also operates in-store pharmacies under the Osco and Sav-on banners. the store numbers as of September 05, 2012 were approximately 4,400 stores comprising 1,101 traditional retail stores, including 798 in-store pharmacies; 1,336 hard-discount stores consisting of 939 operated by licensee owners; and 1,950 independent stores serviced primarily by its traditional food distribution business.
Its basic numbers:
| | |
| --- | --- |
| Recent Price | 2.77 |
| 52 week trading range | 1.68-8.57 |
| Dividend | 0 |
| Dividend Yield | 0% |
| Payout Ratio | N/A |
| Price Earnings Ratio | 53.37 |
| Cash/Share | 0.69 |
| Return on Equity | -169.14% |
| BV/Share | -0.13 |
| EPS | -5.87 |
The company has been caught up in market locations with fierce competition. Most of its offerings are discount markets where there is little if any brand loyalty. As the general economy has struggled, so too has Supervalu.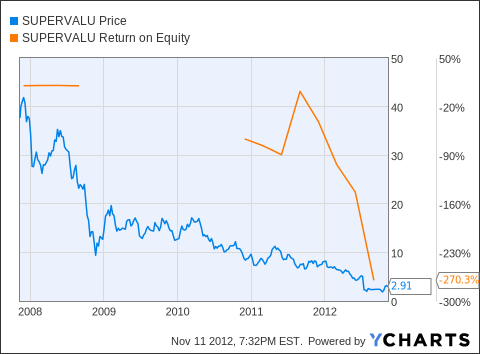 Supervalu went away from its formula of discount stores in 2006 when the company purchased a part of the failing Albertsons, a full price, branded grocery chain.
Ironically, in the 1990s Albertsons was much in the same place as Supervalu is now. Albertsons had accelerated an acquisition campaign and had fallen into severe financial problems. Albertsons put itself up for sale and in time it was sold off into three parts to Supervalu, Cerberus Management and CVS Pharmacies, now CVS Caremark (CVS).
While reports indicate the units that went to CVS and Cerberus have been nicely profitable, Supervalu and their Albertsons units never did integrate well. Followed by the economic shocks of the last few years the company has been on a steady death spiral down. It now stands with bloated debt, squeezed margins and iffy revenues.
Its most recent earnings report is typical. Overall revenue was up an anemic 0.1% while same-store sales dropped 3.7%. Worse, its core retail units saw a drop of 54% in earnings year-over-year.
The stalking white knight is the very same Cerberus Capital Management, which has operated their parts of the Albertsons chain under the Albertsons LLC moniker. Recent reports indicate they are talking with Supervalu over a $5 billion cash purchase. Evidently the sticking point is that Cerberus only wants the remainder of the Albertson brand and locations, and possibly a few other viable units. Supervalu management, evidently, is holding out for a complete buyout, not willing to be left with the dregs of a business that has no viable future.
The purchase from Cerberus would work out to slightly above $5.00 a share, a nice premium to the current price near $3.25. This is a risky venture, because if the Supervalu board holds out too much Cerberus always has the option of purchasing the assets they want out of a bankruptcy's winding up. That would delay Cerberus ability to get on with their own plans for Albertsons, but private equity firms are nothing if not patient and with an eye for the bottom line.
Investors with an eye for profit and a high tolerance for risk could take a flyer here. For me, there is too much uncertainty and I have sold my Supervalu shares.
Disclosure: I have no positions in any stocks mentioned, and no plans to initiate any positions within the next 72 hours. I wrote this article myself, and it expresses my own opinions. I am not receiving compensation for it (other than from Seeking Alpha). I have no business relationship with any company whose stock is mentioned in this article.