Could Cummins Inc (NYSE:CMI) be the best long-term investment in the natural gas arena? Let's take a look at this company and find out.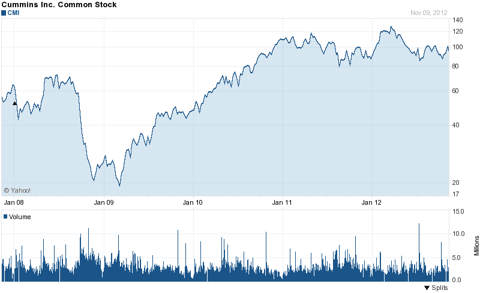 CMI = $97.10
Mkt Cap = $18.30 billion
P/E ((ttm)) = 10.12
EPS ((ttm)) = $9.59
Div (Yield) = $2.00 (2.10%)
Cummins Inc. designs, manufactures, distributes, and services diesel and natural gas engines, and engine-related component products worldwide. It operates in four segments:
Engine - offers a range of diesel and natural gas powered engines under the Cummins and other customer brand names for the heavy-and medium-duty truck, bus, recreational vehicle, light-duty automotive, agricultural, construction, mining, marine, oil and gas, rail, and governmental equipment markets
Components - supplies filtration products, turbochargers, after treatment systems, intake and exhaust systems, and fuel systems for commercial diesel applications.
Power Generation - designs and manufactures components that make up power generation systems, including engines, controls, alternators, transfer switches, and switchgear; also offers power generation systems, components, and services, including diesel, natural gas, gasoline, and alternative-fuel electrical generator sets for use in recreational vehicles, commercial vehicles, recreational marine applications, and home stand-by or residential applications.
Distribution - provides parts and services, as well as service solutions, including maintenance contracts, engineering services, and integrated products.
Cummins Inc. was founded in 1919 and is headquartered in Columbus, Indiana.
In my early years of natural gas transportation research, I tended to focus on natural gas producers and companies like Westport Innovations (NASDAQ:WPRT) and Fuel Systems Solutions (NASDAQ:FSYS) who were working on essential technology for enabling the coming natural gas transportation revolution. Now and then someone would ask me what I thought of Cummins Inc and I didn't know enough about the company to offer an opinion. However, after my last Seeking Alpha article China Vs. U.S.: Who Is Leading The Natural Gas Transportation Race?, user adamnb asked an excellent question "What Chinese company is the largest producer of nat. gas car engines?" Despite my article's investment advice of going with producers who would satisfy China's natural gas demand, Chinese natural gas engine manufacturers certainly deserve some attention! So, I Googled "Chinese NGV engine maker" and got a list of companies on alibaba.com, which I hope you can view here. While poking around a bit further on alibaba.com, the name "Cummins" kept popping up here and there and got me thinking: since China has enacted policies to doubled-down on natural gas transportation, there are going to be a lot of NGV engines being made - many of these being for large trucks, busses, and fleets. I wondered - how Cummins Inc. was positioned in China?
I got the answer from CMI's East Asia website. You can view that here. Highlights from this page:
Cummins China is headquartered in Beijing and was established in 1979.
Cummins China has more than 9,000 employees.
In 2010, Cummins China had over $3 billion in sales.
Cummins China has 15 manufacturing sites, 12 regional service centers, and over 300 authorized dealers across the region.
In 1981 Cummins signed its first license agreement with China National Heavy Dutry Truck Corporation (CNHTC).
In 1995 Cummins formed a JV with China's heavy duty industry and is working with Chinese companies Dongfeng Motor, Shaanqi Group, Beiqi Foton.
So Cummins has a rich history in China - going back over 20 years. It also has substantial operations and sales there. Looks good to me.
Back here in North America, Cummins Westport is a JV between CMI and WPRT. On Friday WPRT announced it was going to start limited production of the new Cummins Westport ISX12G (a 12-litre heavy duty natural gas engine) in early 2013. Shares of Westport Innovations closed up 9.38% on Friday on the news. That said, the company posted another big loss in the quarter ending in September. I owned WPRT a few years back and got tired of watching the losses mount up and "waiting for tomorrow". However, I am sure many of the trucks re-fueling on Clean Energy Fuels' (NASDAQ:CLNE) "Natural Gas Highway" in the coming years will be powered by Cummins Westport engines.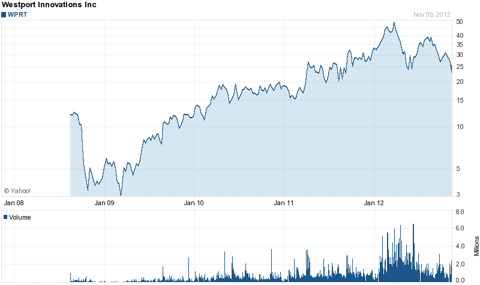 On the other hand, CMI is very profitable. Cummins Inc. earned $1.85 billion on sales of $18.0 billion in 2011. It also sports a 2% dividend. The company announced Q3 results on October 31. You can read the company's press release here.
Third quarter revenue of $4.1 billion decreased 11 percent from the same quarter in 2011. Revenues in North America grew 2 percent while revenues from international markets declined 21 percent. Earnings before interest and taxes (EBIT) were $496 million or 12.0 percent of sales compared to $640 million or 13.8 percent of sales in the third quarter of 2011. Net income attributable to Cummins in the third quarter of 2012 was $352 million ($1.86 per diluted share) compared to $452 million in the same period a year ago ($2.35 per diluted share).
CMI Chairman and CEO had this to say:
Demand has dropped sharply over the last three months, reflecting a high degree of uncertainty among customers in most geographic markets. We have been responding to the conditions by delaying or canceling projects, flexing production at some of our manufacturing plants, reducing discretionary expenses, and reducing our workforce by 1000 to 1500 people by the end of this year. We are continuing to fund projects that are important for future growth and meeting commitments to customers. We are working to respond to the conditions now to ensure the long term strength of the company and to best serve the many stakeholders who rely on Cummins long term success.
Obviously, the company is being affected by the worldwide economic slowdown as well as the high degree of uncertainty prevalent in most markets. Therefore, I would not advise buying the stock at this time. However, I am definitely keeping an eye on CMI. If there is a big selloff in the U.S. market prior to fiscal cliff resolution, and if economic indicators from China keep looking better, CMI might make it into the Fitzman's portfolio. The stock had a big run from 2009-10 and has spent the last two years consolidating those gains. It's going to take increased worldwide economic expansion, as well as some pragmatic policymaking here at home, in order for CMI to take another leg up. That said, it is beautifully positioned in China to take advantage of that country's new energy policy priority: natural gas transportation.
Disclosure: I have no positions in any stocks mentioned, and no plans to initiate any positions within the next 72 hours. I wrote this article myself, and it expresses my own opinions. I am not receiving compensation for it (other than from Seeking Alpha). I have no business relationship with any company whose stock is mentioned in this article.