VIX - Market Sentiment:
If you are reading this article make sure to thank a veteran. S&P futures Monday drifted slightly higher moving from a low of 1375 to a high of 1381. Unfortunately, when the markets opened futures holders had other thoughts as the slight rise was met with fairly heavy selling across the board. The NYMO Oscillator closed with a reading of -42.91 a 2.53 increase from the day before. This reading again tells investors the markets are still nowhere near oversold or due for a dead cat bounce.
The SPX closed under the 200DMA for the second day in a row. Because the 200 DMA is rising the bulls really need to step in and defend the 1382 level. Another sign of market weakness was the bond market. Bond ETF (NYSEARCA:TLT) grinded higher as investors continue to look for safe yield. For those who follow me and my trades on Twitter know I went long Apple (NASDAQ:AAPL) last week after several technical bounce levels were met. AAPL Monday did not hold the 547 level as I had expected so I pared some of my position. I did however set a hard stop of last weeks low of 537 as a break below there could send us to test 525 technically. Investors should stay nimble as the news and earnings coming this week could really move the market.
The spot CBOE Volatility Index (VIX) moved down again as S&P (SPX) hedges and volatility continue to be sold. This move again crushed volatility ETF (NYSEARCA:VXX), 2x ETF (NASDAQ:TVIX), and alternative 2x ETF (NYSEARCA:UVXY) as front month futures traded lower. As I pointed out in last week's sonar report (here) the only support holding up the futures was a large buyer of the Jan 23-39 call spread. Monday saw VIX options pretty clear cut. Calls overall were sold and puts were bought. This continues to show little to no fear in terms of downside fear from large institutions. VIX futures are below.
Friday
· November VIX futures 18.40
· December VIX futures 19.35
· January VIX futures 20.73
Monday
· November VIX futures 17.10
· December VIX futures 18.28
· January VIX futures 19.90
Options Paper
In a perfect world we would not have inside trading or insider information when it comes to securities. Friday, however, gave us another perfect example as to what should not be legal but is all too common. Titanium Metals (TIE) saw large option volume just minutes after I posted the sonar last Friday. (here) A small yet very interesting trade on TIE January calls went off and was followed by much bigger blocks just 40 minutes before the close of trading. 100 January 15 strike calls were bought for .10 which is just a simple 1K bet. This activity is nowhere near enough options to get me interested in the stock. Now look at the screen capture below provided by Trademonster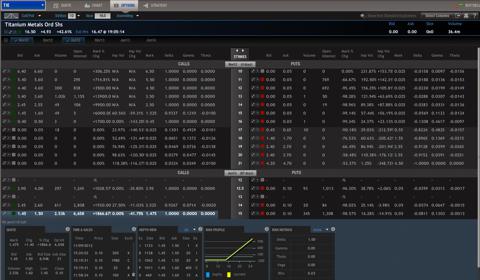 This strike traded 2,200 options costing the trader just 22K in total option premium. Monday TIE received a takeover offer offering sending the stock soaring. This proved extremely beneficial for the simple 22K option position from last week. The position is now worth more than 330K after the stock soared. This is exactly the reason why I follow options so closely as those who were fortunate enough and quick enough to act got paid big time.
Monday saw options activity was average but one name did light up as bulls went the Gap (NYSE:GPS). GPS overall saw puts were sold and calls were bought with the largest block was a buyer of the November 33.50 calls were bought more than 2,700 times. This sent option premium higher moving the ask from .85 to 1.03. Although not huge in a name as large as GPS this is a fairly large bet considering the position expire on Friday and earnings come out on Thursday. Almost 300K in options premium was taken home Monday but has a lot of theta (time decay) heading into options expiration on Friday. Calls outnumbered puts more than 3.5 to 1 Monday.
Popular ETFs and equity names with bullish / bearish paper:
Bullish Option Flows -
Loral Space (NASDAQ:LORL) 44x Average call volume
Eli Lilly (NYSE:LLY) Heavy call buying more than 26x average
Rovi (NASDAQ:ROVI) Large call volume
SM Energy (NYSE:SM) Energy calls have been very heavy of late
Marathon Oil (NYSE:MRO) Large put volume more than 18x average but they were sold
Bearish Option Flows -
Dynavax (NASDAQ:DVAX) 35x put volume most bought
Kinder Morgan (NYSE:KMI) 19K puts traded vs just 718 average
Williams Ord (NYSE:WMB)
Unitied Tech (NYSE:UTX) 12x average but puts mostly bought
As always happy trading and stay hedged.
Remember equity insurance always looks expensive until you need it!
Disclosure:
I am long: AAPL, AGNC, APC KERX, WLL
I am short: FE, FXE, FXY, HES,
Trades Monday:
Trimmed AAPL calls
I have no positions in any stocks mentioned, and no plans to initiate any positions within the next 72 hours. I wrote this article myself, and it expresses my own opinions. I am not receiving compensation for it (other than from Seeking Alpha). I have no business relationship with any company whose stock is mentioned in this article.
Disclaimer: The opinions in this document are for informational and educational purposes only and should not be construed as a recommendation to buy or sell the stocks mentioned or to solicit transactions or clients. Past performance of the companies discussed may not continue and the companies may not achieve the earnings growth as predicted. The information in this document is believed to be accurate, but under no circumstances should a person act upon the information contained within. I do not recommend that anyone act upon any investment information without first consulting an investment professional as to the suitability of such investments for his or her specific situation.