We recently launched our fully redesigned mobile web site, and are excited to let you know about the new features and improvements.
By way of background, Seeking Alpha now has over 1.3 million registered users, and every day about 500,000 people use Seeking Alpha. An increasing number of them are moving to mobile. For that reason, we recently launched apps for iOS and Android (to great reviews), and have one of the only apps optimized for the iPhone 5.
For the mobile website, we were tasked with giving Seeking Alpha users a best-in-class mobile user experience. So we focused on three important factors: speed, simplicity, and integration. Our mobile website loads quickly on all major mobile platforms. The interface is easy to navigate, helping readers find the content they want fast. And our mobile site syncs with our main website so that users can easily access their portfolios, and syncs across mobile platforms so that changes made on any device are available on all your devices.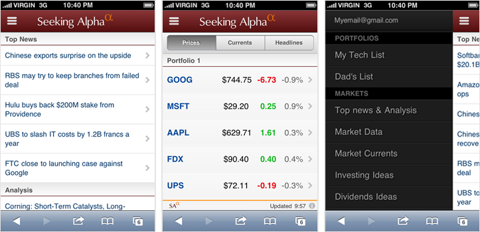 We think you'll like our redesigned article pages, which emphasize ease of reading for mobile users. Font sizes can be customized for readers who like larger or smaller text.
To try our redesigned mobile website, just pull up Seeking Alpha on any mobile device, log in using your standard SA username and password, and your portfolio will be synced. From this point on, whenever you access mobile Seeking Alpha you'll receive live intraday data, news, and opinion on the stocks you follow. In addition to syncing your existing SA portfolio on the mobile site, you are also able to add stocks to your portfolios as well as create new portfolios.
When you first arrive on our new mobile interface, you will arrive on our Top News and Analysis page. From here you may access the rest of the mobile site by tapping on the menu icon in the top left corner of the page. Once the menu slides open you may use the menu to navigate to the different SA dashboards you are already familiar with.
We are quite excited about our new mobile website. We hope you enjoy it as much as we enjoyed developing it. We welcome any feedback you may have on how we might make it even better. Please email us at product@seekingalpha.com, or direct message us on the website.
-- Yariv, Mobile Product Manager