Even though CenturyLink (NYSE:CTL) has always had the lowest dividend yield of the rural telecom trifecta (CenturyLink, Frontier (NYSE:FTR) and Windstream (NASDAQ:WIN), we believe it is the best-in-breed in the rural telecom space. Granted, this sector is dominated by CTL, FTR and WIN. We believe that investors in the rural sector shouldn't mind sacrificing 1-3% current yield to buy CenturyLink instead of Windstream or Frontier because we believe that investors are more likely to see the return of their money, as well as incremental growth on their seed capital by investing in CenturyLink versus Windstream or Frontier. We believe it is of the utmost importance to analyze how a company earns the money to pay us our quarterly dividends rather than merely grabbing the yield off MSN Money. Based on our analysis, we see that CenturyLink's operating performance continues to outpace Frontier and Windstream.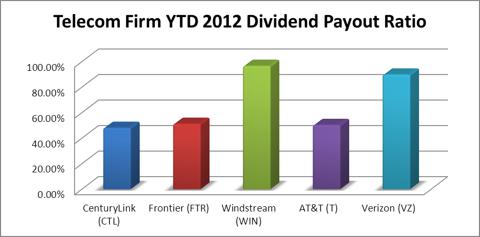 Source: Bloomberg LP
CenturyLink recently reported adjusted Q2 2012 EPS of $.66/share, which beat the $.59/share analyst consensus and was an increase from the $.61 adjusted EPS achieved in Q3 2011. We weren't surprised by CTL beating expectations. We weren't surprised by CTL's continued progress in stabilizing its revenue. We were particularly pleased to see that the company's last blockbuster acquisition was the Savvis deal and that deal closed in early Q3 2011. That means that this is the last quarter and last fiscal year that CTL has to report on a pro forma adjusted basis with regards to its financials. We are most pleased with the fact that the company's adjusted and reported EPS are finally increasing after steady declines since 2007. CenturyLink's reported EPS is influenced by the (non-cash) depreciation and amortization expenses it accrues as part of its blockbuster acquisitions of EMBARQ in 2009, Qwest Communications International (NYSE:Q) in April 2011 and Savvis in July 2011. CenturyLink incurs relatively high depreciation and amortization expenses because the assets it acquired in its trifecta of blockbuster acquisitions were valued at a stepped-up fair market valuation. The depreciation of these assets are accrued on this higher fair market valuation instead of its low cost original cost valuation and causes a depression in CTL's reported EPS.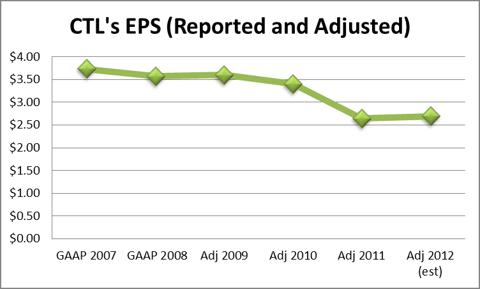 Source: CenturyLink's Q4 Releases (2007-2012)
CTL made a significant improvement in its adjusted pro forma revenue decline by reducing it to -1.3% for Q3 2012 versus the 4.6% decline in Q3 2011. CenturyLink's wireline access lines declined by 5.79% year-over-year in Q3 2012 and reflected an improvement from the 6.05% achieved in the linked quarter as well as the 7.11% achieved in Q3 2011. This decline was also better than the 8.03% year-over-year decline in wireline access lines by Frontier. Unlike Frontier, CTL improved its year-over-year access line decline in Q3 2012 while FTR saw its access line rate of decline creep up. CTL's wireline decline even compared favorably with the 10.7% decline in wireline customers at AT&T (NYSE:T) and the 6.8% wireline decline at Verizon (NYSE:VZ). CTL's wireline declines was mostly offset by a 4.1% year-over-year increase in the number of Broadband Internet customers served, which compared favorably to the 1.56% increase that Frontier saw, the 2.3% growth at Verizon and the 50bp decline at AT&T. We were especially pleased that excluding revenue growth from Savvis, CTL's pro forma revenue decline excluding Savvis improved to -1.4% in Q3 2012 on a year-over-year basis and we are excited that the company is expected to see incremental revenue growth starting next year.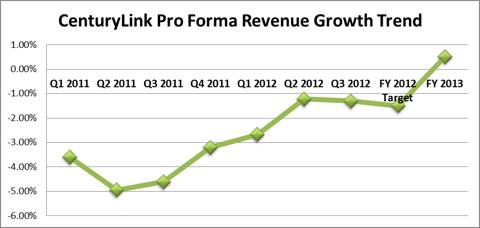 Source: CenturyLink's last six Earnings Releases
Evaluation of CenturyLink's Business Segments
Regional Markets Group: We were pleased to see strategic revenues for CTL's RMG segment to continue to make up a larger share of division revenues and to offset in wireline revenue declines. Q2 2012 strategic communication services revenues grew by $18M on a linked-quarter basis and $67M on a pro forma basis (7.9%) versus the prior year's levels and reached $912M in the quarter. Strategic revenues and data integration revenues now make up 39.6% of the division's revenues, versus 35% for pro forma Q1 2011 levels (Q1 2011 was the last quarter before CenturyLink acquired Qwest and Savvis). This helped the division partially offset a 6.75% decline in legacy services (primarily wireline) and resulted in a small 2.1% pro forma revenue decline. RMG's pro forma year-over-year revenue decline of 2.1% had narrowed by 50bp during Q3 2012 versus the 2.6% in Q2 2012. RMG also ended the period with over 104K Prism TV (advanced next generation fiber-optic television) subscribers, an increase from the 44K in Q2 2011. 90% of new Prism TV customers also subscribed to CenturyLink's broadband services and Prism TV is now in 10% of available homes in the CenturyLink service area.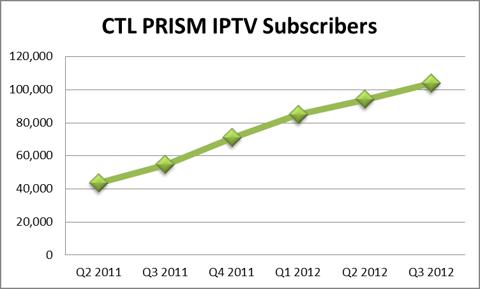 Source: CenturyLink's last six earnings releases
Wholesale Markets Group: WMG's strategic services revenues declined by 1% in the quarter versus prior year's quarterly period. This was driven by wireless carrier bandwidth expansion and Ethernet sales and was offset by declines in copper-based revenue. Legacy services revenues declined by 16.7% due to decreased wireline customers served and total revenues declined by 7.6% in the quarter versus the comparable quarter last year. Direct segment expenses excluding depreciation and amortization declined by 11% and this helped keep the segment income decline to less than 6%. Total revenue during the quarter was $908M and strategic communications revenues accounted for over 62.5% of division revenues. CenturyLink's Wholesale Markets revenue declines were narrower than the 9.6% that Windstream saw in Q3 2012. CTL's WMG segment completed approximately 1,335 fiber builds during the second quarter and over 3,300 year-to-date, ending the quarter with about 13,500 fiber-connected towers. WMG currently remains on track to complete 4,000 to 4,500 fiber builds in 2012. This effort is to position CenturyLink WMG to benefit from significant growth in wireless data demand.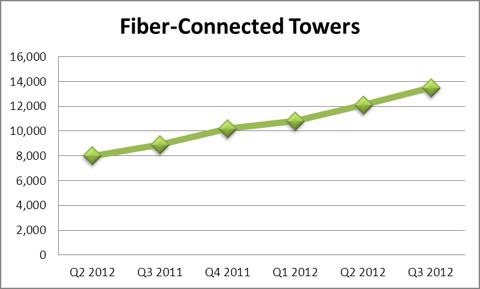 Source: CenturyLink's last six earnings releases
Enterprise Markets Group-Network Segment: We were satisfied that strategic revenues for EMG-NS increased by 7.2% pro forma for Q3 2012 and reached a quarterly record of $333M. This division shook off a 92bp pro forma revenue decline in its legacy services revenues and grew its revenues by 5.8%, thanks to a 17% increase in data integration revenues. Excluding the decline in private line services, strategic revenues grew nearly 13%. The segment benefited from positive operating leverage in that total segment expenses declined slightly versus the prior year period and this enabled the segment to post 34% pro forma growth in segment income (excluding depreciation and amortization expenses).
Enterprise Markets Group-Data Hosting (primarily Savvis): We were pleased that operating revenues reached $280M in the quarter and grew by 8.1% versus pro forma Q3 2011 levels. Colocation revenues were $113M and grew by 7.6% while managed data hosting revenues were $107M and grew 9.2% over the same period. The EMG-Data Hosting segment closed the acquisition of certain assets of Ciber's IT Outsourcing business in mid-October, which enhances and expands CenturyLink's capabilities in areas such as application-management services and help-desk support. EMG-Data Hosting also opened a new data center in Singapore and expanded its NY/NJ data center.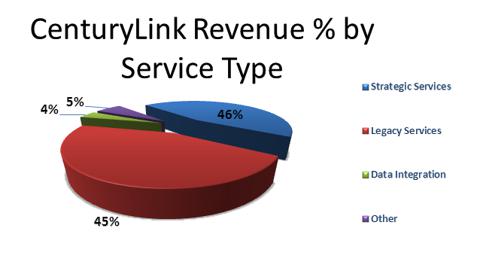 Source: CenturyLink Q3 2012 Earnings Release
CenturyLink generated over $1.9B in operating cash flows during the quarter ($4.7B YTD) and nearly $1.2B in free cash flows ($2.825B YTD). The company ended the quarter with an annualized operating expense synergy run rate of approximately $450 million from the Qwest acquisition. CenturyLink currently expects to exit 2012 with approximately $480 million in annual run-rate synergies related to the Qwest acquisition as operating expense savings are being achieved earlier than anticipated.
In conclusion, we continue to see our thesis validated with regards to CenturyLink as our top choice in the rural telecom sector. We continue to see the same factors justifying our thesis:
Although CenturyLink's dividend yield of 7.25% is lower than that of its rural telecom peers, it is still higher than the 5.1% yield from AT&T and the 4.7% yield from

Verizon.

CenturyLink is an investment grade company whereas Frontier and Windstream are high yield companies. That probably explains why CenturyLink's weighted average interest expense of 6.04% is lower than Frontier's 8.3% and Windstream's 7

%.

While Frontier's reseller agreement with AT&T allows it to generate fees for marketing AT&T Mobility's wireless service to its customer base, we already went into great detail about how CenturyLink is better at promoting its relationship with Verizon

Wireless.

CTL has five key markets that we are attracted

to

; Denver, Phoenix, Seattle, Portland and Las Vegas. Denver (17.9%), Phoenix (33.1%) and Las Vegas (36.6%) have seen strong population growth. Portland and Seattle have also seen above-average population growth over the last 10 years.
CenturyLink's wireline declines are narrower than AT&T, Verizon and Frontier and its broadband internet growth exceeds those other three companies.
We believe that these reasons explain why CenturyLink's stock generated a positive total return for 2012 while its rural telecom peers have seen negative returns. CenturyLink has even seen a slightly higher total return than Verizon.
Disclosure: I am long CTL, S. I wrote this article myself, and it expresses my own opinions. I am not receiving compensation for it (other than from Seeking Alpha). I have no business relationship with any company whose stock is mentioned in this article.
Additional disclosure: This article was written by an analyst at Saibus Research. Saibus Research has not received compensation directly or indirectly for expressing the recommendation in this article. We have no business relationship with any company whose stock is mentioned in this article. Under no circumstances must this report be considered an offer to buy, sell, subscribe for or trade securities or other instruments.