Valero Energy (NYSE:VLO) is one of the largest U.S. based refineries. Like much of the industry, the increases in oil prices have boosted Valero's margins, making the company more profitable.
For all its size, however, Valero is not getting as big a boost from overall industry trends as some others. For this reason, if one is looking for exposure to the rebound in refining, Valero might not be your best option. But if we take the comments made by Valero CEO William R. Klesse seriously - specifically those comments regarding the size of "sustaining capex" - then the company is undervalued significantly.
(Temporary) Geographic Disadvantage
Below is a map of the location of Valero's refineries: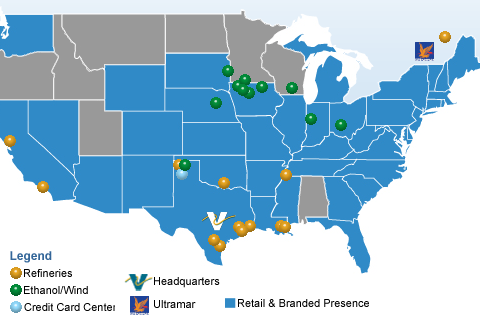 (The above map does not include its Arbuba Refinery, located on the island of Aruba in the Caribbean. The refinery was an impairment candidate at the end of last year and which they finally impaired this past quarter. The map also does not include the Pembroke Refinery, purchase August of last year, located in southwest Wales, U.K. Source: Valero Website, accessed 11/8/2012)
Valero has a presence in mid-continent, where about 14.9% of its refining capacity is located. Mid-continent has been experiencing the positive impact of favorable WTI-Brent spreads (see graph below):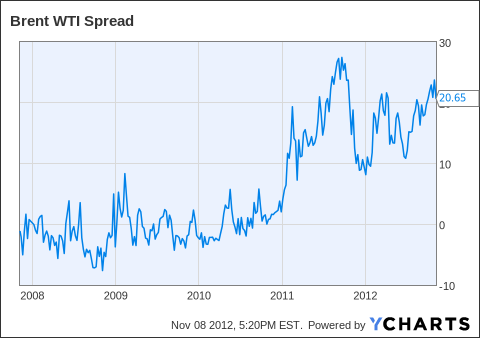 Brent WTI Spread data by YCharts
Some refiners -- specifically, Western Refining (NYSE:WNR) -- get a significant boost from this glut which is the result of the mid-continent oil boom. The chart above is the result of the boom -- lowering WTI prices, relative to Brent: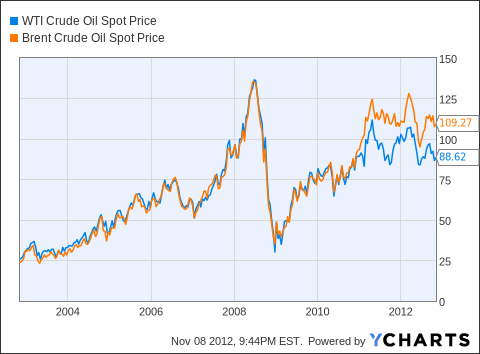 WTI Crude Oil Spot Price data by YCharts
One can also this the glut in the increasing the supply at Cushing, OK: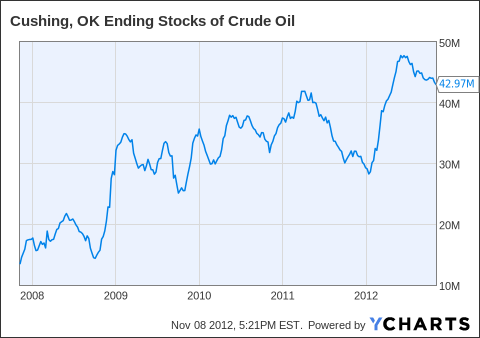 Cushing, OK Ending Stocks of Crude Oil data by YCharts
Of this mid-continent oversupply, Valero will get a boost -- yet, not as much as others given its limited exposure. Notice below how its mid-continent segment contributes to operating income nearly by the same amount as its Gulf Coast segment despite being 3.13 times smaller (compare the green lines):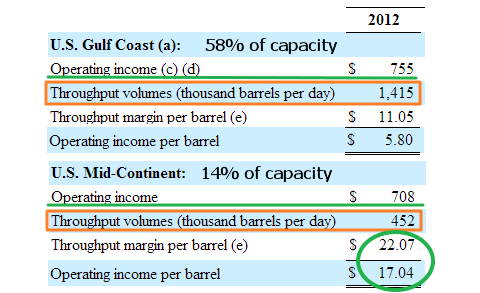 (source: Valero Energy 10-Q, dated September 30th, 2012, p. 43)
Given the present profitability of the mid-continent, there are more efforts to bring more oil from Cushing, OK to the Gulf by pipe. For instance, Valero stands to benefit from the completion of the second leg of TransCanada's (NYSE:TRP) Keystone pipe-line (the specific piece which goes from Cushing to the Gulf Coast). Therefore, 72% of capacity -- counting both the Gulf and Mid-Continent segments -- could prove to be well located.
Until such time as the Cushing supplies get relief and refiners on the Gulf Coast get a blessing, Valero is not best in breed. But, it should be obvious, that a time is coming when Valero and other Gulf Coast refiners get the benefit of passing Cushing prices onto the world market. It should be noted, too, that Klesse believes that it not in the interest of the shareholders to invest based on this temporary difference -- implying, I think, that he believes it to be too short lived to respond with construction within the mid-continent itself.
Other Advantages
As a large refiner, Valero also sports some of the most complex refineries -- a process of which I am inexpert. According to Valero's Annual Summary review, 70% of Valero's capacity can process feedstocks which typically sell at a discount to wareborne light-sweet crudes, and to both heavy-sour and West Texas Intermediate. That is, Valero claims to be more technologically advanced, resulting in the ability to use cheaper feedstocks than its competitors.
Lastly, Valero's Golf Coast refineries are located near the Eadgle Ford shale play. To quote the 2011 Annual Summary:
"Valero's Three Rivers Refinery, Bill Greehey Refinery (Corpus Cristi) East and West plants, and Houston Refinery are all positioned to process Eagle Ford oil. Processing grew from zero to 65,000 barrels per day in 2011 and is expected to rise to more than 100,000 barrels per day in 2012." (Annual Summary 2011, p. 10)
Valuation
In the most recent conference call last week (October 31, 2012) Klesse said "we think our stock is undervalued" three different times. Is it?
If we believe that the value of a security is the present value of its future cash flows, then we can say the following. First, let us define our future cash flows as free-cash-flow. And let use define free-cash-flow as:
FCF = Operating Cash Flow - Maintenance Capex
I much prefer the use of capital expenditures simply, including growth capex and everything, since if the company still looks attract on a cash flow basis even while subtracting any growth capital expenditures, the company would clearly be undervalued. It is a form of conservatism. In this case, we need to also include "deferred turnaround and catalyst costs" in capital expenditures since they recur. Let's also not use "operating cash flow," because there was a large change in working capital. Therefore, if FCF is defined as:
FCF = Net Income + Depreciation/Amortization + Non-Cash Charges - Capex - Deferred Turnaround costs
Then, looking at the most recent (nine-month) cash flow statement: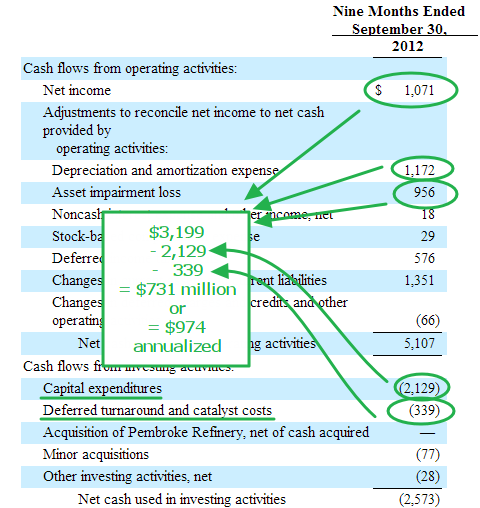 We would get a FCF of $974 annualized -- or, with a market capitalization of $16.2 billion [1], a current FCF yield of about 6%.
On the most recent conference call, however, Klesse was asked what portion of capital expenditures was maintenance capital expenditure -- or "sustaining capital." He replied:
"I think the sustaining capital is really in the $1.5 [billion], $1.6 [billion], and that's the number that I've given to people. $1.5 [billion], $1.6 [billion], $1.7 [billion] in all the past. Next year, we're finishing some projects, it might be a little lower next year. Turnarounds catalysts are $600 million a year for us. So I think this $1.5 [billion] to $1.7 [billion], the numbers we've given in the past, are the right numbers."
In theory, when calculating the "free" cash available to shareholders, one should only count the cash that is necessary to sustain the business. I've always had an aversion to this theory because there doesn't seem to be a way to be sure about whether the adjustments you are making are accurate or fair. But, I would like to point out that, if Klesse is to be believed -- and also if we assume that he is including turnaround costs in his maintenance projection -- then Valero would have a FCF of $2,565 million [2], which equates to a yield of 15.7%. Such a yield would be signifying that the company is undervalued. But if Klesse did not include the turnaround costs of $600 in his "sustaining capital" spending figure, then the FCF would still be about $1,965 million, or a FCF yield of about 12%.
Conclusion
Given Klesse's word, the shares are undervalued. However we ought to be skeptical of the word of a CEO, particularly when it favors the company. For a long term holder, it looks like there will be sufficient future advantages with the plan to ease the supply glut at Cushing. Or rather, it would be logical to think that eventually entrepreneurial businesses will seek to profit by arbitrage from the discrepancy between WTI and Brent.
And as Klesse put it on the last conference call:
"…refining is all about location today. And if you're in the right location, your cash flows are huge. But there is a forward curve or a forward expectation. And so you get into a conversation of what you could actually realize doing that today. We think that would not necessarily result in an advantage to our shareholders." (Emphasis Added.)
For me, the location based advantage of other firms (like Western Refining), makes those firms more attractive. For one thing, I am not so sure that any location based advantage is to disappear as fast as some others suspect -- mainly due to the increasing quantity of drilling in the mid-continent (e.g., Sandridge (NYSE:SD) sits on a huge acreage but won't be at peak production till 2019). For that reason, I would prefer some other names to Valero.
Yet, if we take Klesse at his word, then Valero is undervalued today. In terms of a FCF, defined by taking account only "sustaining" capex and ignoring so-called "growth" capex, Valero would have a 12% to 15% FCF yield.
Notes:
553,540,069 shares * $29.37 = $16,257,471,826
Free-cash-flow here would be: Net Income + Depreciation/Amortization + Non-Cash Charges or $3,199 million. We would then annualize that: $3,199 / 0.75 = $4,265, which would be the projected cash inflow in 2012 (slightly about the cash from operations figure of 2011). Then, less $1.7 billion in "sustaining capex," is equal to an estimated $2,565 million in "free-cash-flow" for 2012.
Disclosure: I have no positions in any stocks mentioned, but may initiate a long position in WNR over the next 72 hours. I wrote this article myself, and it expresses my own opinions. I am not receiving compensation for it (other than from Seeking Alpha). I have no business relationship with any company whose stock is mentioned in this article.