VIX - Market Sentiment:
Tuesday saw S&P futures continue to drift lower again as global economic fears continue to weigh on the markets. The move was somewhat contained trading to a low of 1365 and a high of 1378. This 13 handle move is around what we would expect as both positive and negative news headlines continue to roll off the press. The NYMO Oscillator closed with a reading of -42.19 . Again this reading tells us we are still nowhere near oversold or due for a dead cat bounce.
Today positive news out of Home Depot (NYSE:HD) sent shares rising in the pre-market after boosting future outlook on housing strength. Dicks Sporting Goods (NYSE:DKS) beat on both the top and bottom line and raised future guidance. Not all earnings news was positive though after both Xerox (NYSE:XRX) and Michael Kors (NYSE:KORS) both had weak guidance putting pressure on the stocks. Not everything was positive though as eurozone fears started to creep back into the market as German ZEW numbers were abysmal coming in at -15.7 versus an expected -7.
The spot CBOE Volatility Index (VIX) was up in early trading recovering slightly from yesterday's massive VIX futures selloff. This move higher was again met with volatility sellers coming into the market hot and heavy driving it down to levels not seen since mid October. Volatility ETF (NYSEARCA:VXX), 2x ETF (NASDAQ:TVIX), and alternative 2x ETF (NYSEARCA:UVXY) were trading down yet again as the structure and VIX futures continue to pound these ETF's. As I pointed out in Monday's sonar report (here) the VIX futures continue to be sold. Today the big moves were VIX call rolls as institutions continue to give up hedges in front months rolling them further out in time. A few large call buyers did step in but were way out of the money with more than 22K of the December 55 calls going off protecting against a huge meltdown. VIX futures are below.
Yesterday
· November VIX futures 17.10
· December VIX futures 18.28
· January VIX futures 19.90
Today
· November VIX futures 16.78
· December VIX futures 18.13
· January VIX futures 19.75
Options Paper:
Options paper was somewhat light to start the day, but at least one bear wanted to knock Finisar (NASDAQ:FNSR) down a peg. Today more than 7K of the December 11 puts were bought moving premiums from .65 ask all the way to .80. The first move came in buying 4K of the puts and then a large block came in buying almost an additional 3K of the puts just 8 minutes later. FNSR started to sell off after the morning bell and the price action accelerated after the option positions went off. More than 450K of puts were bought today and for those following me and my trades on Twitter already know I joined in buying puts on this name. Option activity was almost 4x average daily volume at the time of this writing with puts outnumbering calls almost 40:1.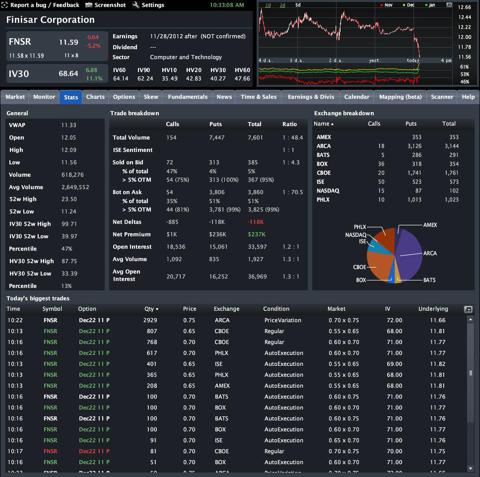 Statistics Provided By LiveVol
Healthcare option paper has been on fire of late and today someone stepped up buying Merck (NYSE:MRK) calls. The December 46 calls went off for 5.4K times and were bought for .23. Although not a huge position at only 125K it follows a common theme of bullish paper out of the healthcare sector. Volatility has rose in recent days MRK has traded lower with the rest of the market. IV currently sits around 16.8% with the 52 week low of 12.3% and high of 28.83. For those looking to not make directional bets a potential straddle or strangle could pay off big if one is willing to risk the premium. Calls outnumbered puts more than 7 to 1 as of the writing of this article.
Other bullish paper today came in long time sonar favorite Monsanto (NYSE:MON). Today large blocks of January and December calls appear to have been bought. The biggest buying strike was the December 82.50 strike calls for 3.65 which drove premiums from 3.65 to more than 4.45. Although I'm not inclined to chase up here, I do have some orders in to try to get into these calls and possibly spread the position out at a later time. Net premium in this name was more than 488K worth of calls bought on the ask versus just 59K of puts bought on the ask. Option activity was more than 2x average daily volume with calls outnumbering puts almost 6 to 1 in today's trading.
Bullish Option Flows - ISE & % OTM calls bought on offer
Hospira Inc (NYSE:HSP) 1,672 calls versus just 1 ISE put
Hertz (HTX) 2,411 calls versus just 2 puts
MGM Mirage (NYSE:MGM) 570:1
Altria (NYSE:MO) 100:1
Proctor & Gamble (NYSE:PG) 72:1
Power-One (NASDAQ:PWER) 67%
SandRidge (NYSE:SD) 66%
Toll Brothers (NYSE:TOL) 67%
E*Trade (NASDAQ:ETFC) 54% - More speculation on possible buyout?
Arch Coal (ACI) 41% - Has been destroyed after election looking for a bounce
Redhat (NYSE:RHT) more than 500K of calls bought on the ask
Apple (NASDAQ:AAPL) 4M of puts sold on bid and more than 1.2M of calls bought on ask.
Bearish Option Flows - ISE & % OTM puts bought on offer
SLM Corp (NYSE:SLM) almost 1,884 puts today traded on ISE versus just 7 calls
VistaPrint (VPRT) 77:1 put to call on ISE
Comcast (NASDAQ:CMCSA) 66:1
Broadcom (BRCM) 59:1
Green Mountain (NASDAQ:GMCR) 20:1
Sears Holdings (NASDAQ:SHLD) 19:1
Applied Materials (NASDAQ:AMAT) 90%
Questcor (QCOR) 83%
Williams Companies (NYSE:WMB) 45% of OTM bought on offer
BAIDU (NASDAQ:BIDU) Saw large put March 80-65 put spread bought after breech of 100.00 mark.
As always happy trading and stay hedged.
Remember equity insurance always looks expensive until you need it!
Disclosure: I have no positions in any stocks mentioned, and no plans to initiate any positions within the next 72 hours. I wrote this article myself, and it expresses my own opinions. I am not receiving compensation for it (other than from Seeking Alpha). I have no business relationship with any company whose stock is mentioned in this article.
I am long: AAPL, AGNC, APC, KERX, MTGE, WLL
I am short: FE, FNSR, FXE, FXY, HES,
Trades today:
Bought FNSR puts, MTGE common,
Disclaimer: The opinions in this document are for informational and educational purposes only and should not be construed as a recommendation to buy or sell the stocks mentioned or to solicit transactions or clients. Past performance of the companies discussed may not continue and the companies may not achieve the earnings growth as predicted. The information in this document is believed to be accurate, but under no circumstances should a person act upon the information contained within. I do not recommend that anyone act upon any investment information without first consulting an investment professional as to the suitability of such investments for his or her specific situation.