Much like a skipjack, a triggering mechanism that causes mine cars to dump loads of coal in a mine, traders have been dumping coal stocks since peaking in July.  However, the fundamentals of the industry are still intact and coal stocks are likely to provide huge investment returns over the next 3 to 5 years.
Yesterday, Peabody Energy (NYSE:BTU) announced earnings that absolutely shocked the Street, beating the consensus on EPS and Revenues easily, and raising guidance for the year.  When a major industry leader provides such a bright outlook, it is likely that the bottom in the industry has occurred.  The most important statement to come out of the earnings announcement was that "the easing of demand growth is likely to be offset by diminished global coal supply".  Demand is the key driver for coal stocks and worries about slowdowns in china have led investors to oversell all of the coal stocks.  However, emerging markets such as Russia, South Africa, and Indonesia are seeing robust demand for coal.
Pricing is strong and as seen below the US coal production rates are still near all time highs, and it is likely that China's insatiable demand for coal picks up in the near future.  Although there is a slowdown in steel production, which coal is a major raw material for, due to the slowdown in housing and auto markets, coal will pick up the slack in electricity generation, especially in the emerging markets.  Coal is also a cleaner fuel and is expected to become a larger player in energy.
Putting the macro-analysis aside, the individual stocks are trading at extremely low valuation metrics.  The table below highlights some of the more significant fundamental data from the most tradable coal stocks.  On simply a fundamental basis, Arch Coal (ACI) is the standout with a low multiple, high growth, sustainable leverage, and one of the most efficient operations of the group.  Alpha Natural (ANR) also looks solid, and could see significant price appreciation despite being in the middle of a takeover offer gone wrong.
Looking at the technical analysis Consol Energy (NYSE:CNX) looks like an oversold stock that is ripe for the picking, currently sitting at a triple bottom going back to 2005.  There has been huge selling volume recently likely due to margin calls and hedge fund redemptions, because hedge funds were overly exposed to commodity stocks.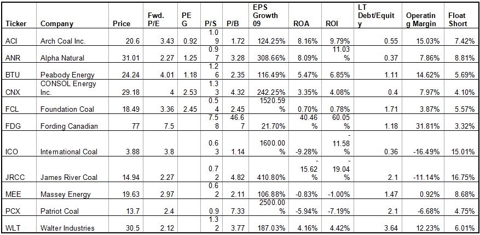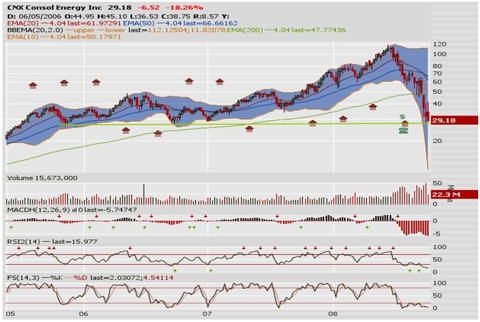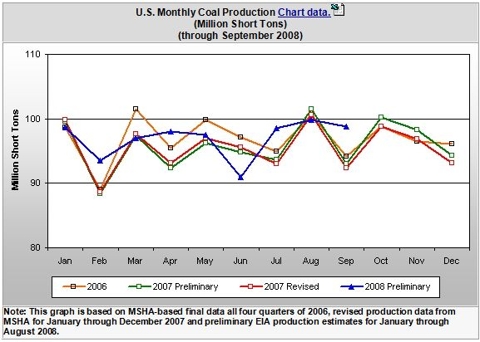 Disclosure: No position in any stocks or ETFs mentioned.