In an article I wrote in August regarding Clayton Williams Energy's (NASDAQ:CWEI) valuation, I noted the following:
1) As long as management pulls back capital spend to remain within cash flows from operations over the long-run, I'm comfortable with the increase in debt in 2012.

2) The security has been volatile and waiting for a lower price than the 8/10/12 COB price of about $46/share provides a better margin of safety. Waiting for a lower price is realistic considering CWEI recently traded hands below $40/share.
I will address the two points in order, with a valuation update included while addressing point 2).
CWEI has acquired leases in a couple of the most active U.S. basins - the Permian Basin in West Texas and the Eagle Ford Shale in Southeast Texas. In order to acquire the leases, the company had to raise a significant amount of debt, now totaling about $770MM as of 9/30/12. CWEI had a market capitalization of about $460MM as of 11/9/12. The asset base (proved reserves specifically) has grown by a three year CAGR of 19% from 2008 to the 2012 estimated production (see chart below). Such fast growth required an aggressive capital expenditure program which has left the company with a shortage of additional capital needed to develop and monetize its asset base. A company can only take on so much debt before stockholders see too much risk for the potential payoff. Like investors that fund a real estate developer (E&P company in this case), those same investors want to see cash flow generation from the invested capital (leases) to pay off the borrowed money and begin to generate a return through free cash flow to shareholders.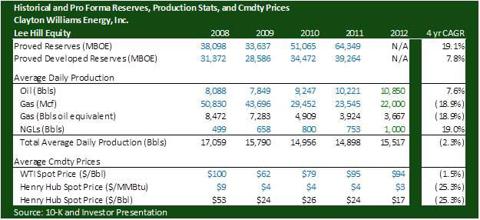 There is nothing wrong with investing in the business and it's a fine balance between investing capital for the future and reaping rewards from those investments today. But with all operating cash flow used to invest and no money left to pay off debt, the remaining (and consistently dwindling) liquidity from the debt (revolver) is forecast, in my model, to be about $130MM by FYE 2012. That seems like a lot of cash to me, but not for a company that is projected to spend capital totaling $450MM in 2012. The pace of investment cannot continue without a) raising more debt at a higher cost (assuming the banks are willing), b) reducing capital expenditures to remain with operating cash flow or c) liquidating assets.
As an investor in the company, I was relieved to hear the announcement during the 3Q12 earnings call that b) and c) were the chosen options. As the COO Mel Riggs noted during the call, CWEI "is going to get our capital spending more in line with our cash flow going through the first quarter of 2013. We're going to sell some properties that will have a pretty limited impact on our overall drilling inventory." The cash generated from the asset sale will be used to pay down short-term debt.
Although the properties that will be available for sale have not been disclosed, CWEI is inventory-rich so selling $400MM-$500MM of assets will not have a material impact on the company's drilling inventory. As noted by the CEO Clayton Williams, there are 1,500 proven or nearly proven drilling locations which equates to about $7.5B in future capital spending. Even at a pace of $450MM capital spend per year, it would take more than 16 years to drill the inventory. Of that inventory, 750-800 wells are in the Giddings area, about 200 are in the Wolfberry formation, about 200 are in the Cline Shale, and about 200 are in the Delaware Basin (Wolfcamp/Bone Springs formations). The below chart indicates where CWEI is focusing current efforts (yellow call-outs) in the Permian Basin.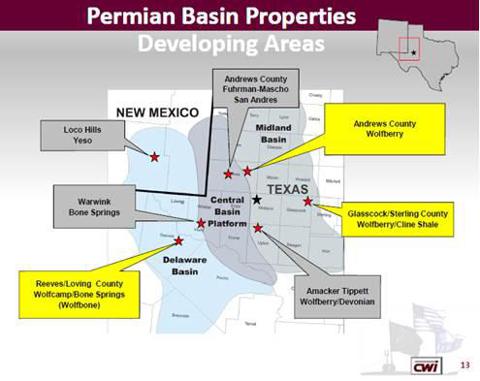 source: CWEI Investor Presentation
In addition to the asset sale, management is planning to cut spending to a rate of about $40MM per quarter in 2013 to maintain flat production until cash is available from the property sale. The result is a reduction in operating rigs from 17 to 4. The company will operate its four rigs with two in the Wolfcamp/Bone Springs formations, one in the Wolfberry formation, and one in the Eagle Ford Shale. This is an aggressive but welcome plan that will raise capital while remaining within cash flows and ultimately reallocating resources to its highest return drilling opportunities. Once the asset sale is complete, management intends to increase the rig count to 14-18 rigs, ramping up production. Paying down debt with the planned divestiture and reallocating resources to high growth assets should reduce risk by reducing debt and provide increased value to stockholders through free cash flow (FCF) generation by way of a more focused drilling effort.
Regarding point 2), I noted that it would be a better bet (increased margin of safety) to wait until the security price hits the low $40s/share. The price as of the COB on 11/9/12 was $37.80/share and I maintain there is value at this price (I purchased shares at just above $45/share).
Based on my DCF model, I calculate a revised target price of about $59.50 per share using futures settled prices from cmegroup.com as of 11/9/12. I view the planned scaling back of capital spend in order to remain within cash flows until the asset sale in 1Q13 favorably. The company has an excellent asset base in the Permian and Eagle Ford areas that are rich in oil and NGLs. Given the upside potential of the 120,000 acreage position in the prospective Eagle Ford with up to 800 drilling locations identified, I understand the consensus price target of $65.25/share per cnbc.com. I need to see more data on the Eagle Ford before increasing production projections, but expect growth above my currently modeled rate if the Eagle Ford is deemed commercial by management.
A note about 3Q12 EPS: CWEI reported EPS of ($0.59)/share and while a loss is a loss, it's important to understand the reason. As noted on the 3Q12 earnings call, the operating margin decreased from 33% in 3Q11 to 20% in 3Q12, due primarily to rising field services costs and increased DD&A attributed to high initial drilling costs in the Delaware Basin Wolfbone play. Management expects production costs to decrease by about $0.50 to $1.00/bbl in the 4Q12 across total production due to improved infrastructure in the Wolfbone. Both costs are something to keep an eye on.
A loss on derivatives of $21.9MM or about ($1.80)/share swung what would have been a $1.21 profit/share to a ($0.59) loss/share. It's a true loss and negatively impacts cash flow, but it's important to keep in mind that because CWEI does not account for derivatives as cash flow hedges, the effect of mark to market valuations on gains and losses on derivatives can cause significant volatility in earnings. In the 3Q11, the gain on derivatives impacted EPS favorably by $7.59. The 9/30/12 YTD EPS is $2.75, and a gain on derivatives accounts for $0.81/share.
A note about the planned divestiture in 1Q13: As management indicated on the earnings call, there is no rush or pressure from the banks to liquidate assets and pay off short-term debt. CWEI is doing this as a strategic move, much better than a forced sale with time constraints which would likely negatively impact the sale price of the assets in the sale.
CWEI was in compliance with its 2019 Senior Note totaling about $350MM and was in compliance with its revolving credit facility totaling about $420MM as of 9/30/12.
Disclosure: I am long CWEI. I wrote this article myself, and it expresses my own opinions. I am not receiving compensation for it. I have no business relationship with any company whose stock is mentioned in this article.