AT&T (NYSE:T) is the biggest communication provider in the United States by revenue and market cap. It is also, one of the most followed stocks of the Dow 30. The main reason for that is its 5.3% dividend yield. Here, we will evaluate how safe this $1.80 dividend really is, and "stress test" it for possible risks down the road.
The first place to go looking for clues, about the ability of a company to support its dividend, is the Cash Flow Statement. The company must generate enough cash from operating activities to cover at least its capital expenditures (MUTF:CAPEX). What remains is the Free Cash Flow (FCF) which in turn is used to cover dividend payments and other financial activities.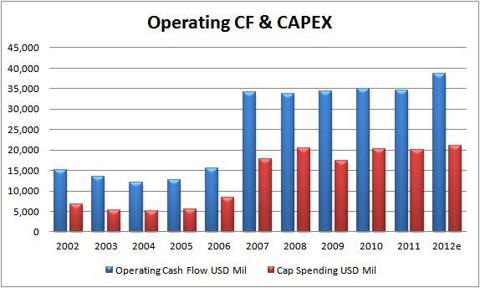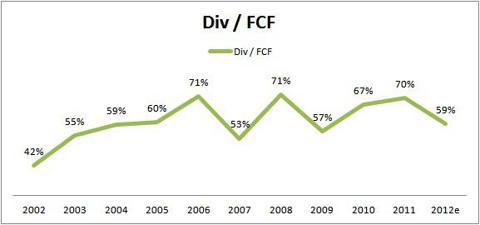 As you can see, over the last decade AT&T has generated ample free cash flows which were more than enough to cover its dividend. The highest FCF payout for dividend payments, has been 71% and if Q4 2012 goes as the previous three quarters, the FCF payout will fall to 59%. This can be interpreted not only as a sign of dividend security but also as a possible signal for a new dividend increase.
Another thing one has to check is debt. We have to be certain that debt maturities won't pose any risk of disruption to dividend payments. Below is a graph with AT&T's debt maturities.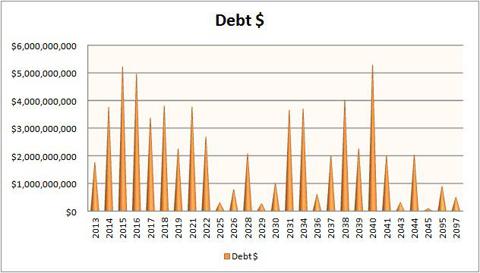 As you can see the highest ones to come are in 2015, 2016 & 2040 and are $5 billion each. From the graph below we can see, that for the last 6 years AT&T's Free Cash Flow after dividend payments, has been at least $4 billion with an average of almost $6 billion.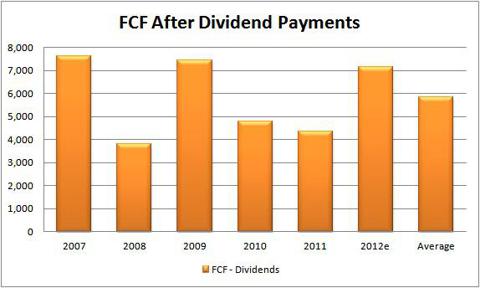 This means that AT&T is capable of covering its future debt maturities on its own, without adding any new debt. However, if done this way, this would strain the company's cash and leave it unprotected from unanticipated events. The good news is, this isn't likely to happen anyway. AT&T will be perfectly able to refinance a portion of the maturing debt and thus keep its dividend payments and its cash undisturbed.
Moreover, in the next couple of years the company will probably have a lot more cash coming its way than now. The reason? The smartphone & tablet revolution! As we move forward to an increasingly mobile and interconnected everyday life, data usage is bound to go up, especially when the majority of consumers start using the 4G infrastructure. This translates to a big increase in revenue -and thus cash flow- for AT&T going forward.
There is one issue though, we have to be careful about. AT&T announced $14 billion worth of investments in infrastructure for the next 3 years. To cope with this extra cash drain without any reduction to dividend -or anything else it pays right now- AT&T must either replicate this year's performance ($7 billion FCF after dividend payments) or take on more debt. This is an issue that needs further clarification as we move into 2013.
Lastly, there is the share buyback program. Based on the Investor Briefing for Q3 (page 3) the company has authorization to buy more than 300 million of its own shares back. That could free up to $600 million of cash flow for use in 2013, just from dividends that won't be paid.
Concluding, AT&T's 5%+ dividend is perfectly safe for the time being. Those of you that depend on it for income though, stay alert, this is a constantly changing world and in business you can never be safe enough.
Disclosure: I have no positions in any stocks mentioned, and no plans to initiate any positions within the next 72 hours. I wrote this article myself, and it expresses my own opinions. I am not receiving compensation for it (other than from Seeking Alpha). I have no business relationship with any company whose stock is mentioned in this article.