Dr. Marc Faber, author of the Gloom Boom Doom Report, expects equity markets to decline by 20% from the peak of 1,470 on the S&P in September 2012. This article looks into the reasons for Dr. Faber's bearish expectation, and my opinion on the prediction of a 20% decline from the peak. Further, this article discusses other issues raised in the interview with Dr. Faber, including austerity in the United States and deleveraging.
According to Dr. Faber -
I don't think markets are going down because of Greece, I don't think markets are going down because of the "fiscal cliff" - because there won't be a "fiscal cliff... The market is going down because corporate profits will begin to disappoint, the global economy will hardly grow next year or even contract, and that is the reason why stocks, from the highs of September of 1,470 on the S&P, will drop at least 20 percent, in my view...
My Opinion -
Dr. Marc Faber is right in all probability on the issue of fiscal cliff. There will be no fiscal cliff event, as policymakers will try to postpone the tax increases (for the masses) until more economic stability is achieved. However, I do believe that the fiscal cliff issue will create more nervousness among market participants in the near-term, leading to some correction due to the fiscal cliff issue. Eventually, markets will witness respite when the event of no fiscal cliff is official.
Before discussing my opinion on the corporate earnings factor, I would like to mention the debt ceiling issue, which will come to focus in the next month or two. The issue the debt ceiling amidst calls for austerity by the corporate sector will lead to nervous markets and a correction in equities.
I certainly do believe that corporate earnings have peaked out in the near-term. I had discussed this factor in detail in one of my earlier articles. The US corporate profit after tax declined marginally in the second quarter of 2012, and this trend should continue in the near-term, with Europe in a recession coupled with China and India in a sharp slowdown. The US economy has shown resilience, and should not enter into a recession. However, growth remains sluggish and corporate sector growth will remain muted in line with this global slowdown. The near-term corporate earnings bearishness is reflected in the third quarter earnings status, which shows that nearly 24% of S&P 500 companies (earnings reported for 3Q12) have missed estimates.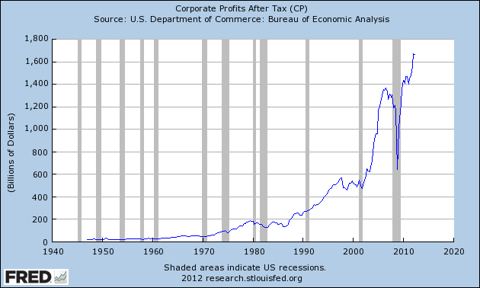 Among individual stocks, Apple (NASDAQ:AAPL) is a good example. After beating earnings estimates by 38% and 23% in the fourth quarter of 2011 and first quarter of 2012 respectively, Apple has missed estimates by 10% and 2% in the second and third quarter.

Earnings disappointment has been one of the factors for a decline in Apple share prices from a peak of USD705. I must mention here that Apple does look attractive at these levels. I will discuss more on its valuation later in the article. The point I am trying to make here is that individual corporate earnings misses will impact stock prices and the index movement as a whole. Therefore, investors do need to exercise caution in the near-term.
In summary, the factors of fiscal cliff, debt ceiling and poor corporate earnings will lead to a decline in markets in the near-term. If sentiments do get very bearish, a 20% correction cannot be ruled out from the peak.
Coming to the topic of austerity and debt, Dr. Faber is of the following opinion -
There will be pain, and there will be very substantial pain. The question is do we take less pain now through austerity or risk a complete collapse of society in five to ten years' time?... In a democracy, they're not going to take the pain, they're going to kick down the problems and they're going to get bigger and bigger... In the western world including Japan, the problem we have is one of too much debt, and that debt now will have to be somewhere, somehow repaid or it will slow down economic growth... I think we lived beyond our means from 1980 to 2007, and now its payback period...
I completely agree with Dr. Faber's statements here. According to the Congressional Budget Office [CBO], if the tax cuts are extended, the U.S. will witness budget deficits of $10 trillion over the next 10 years. Further, the present value of the Social Insurance programs (Social Security and Medicare) for the next 75 years is estimated at $34 trillion, according to the 2011 annual financial report from the U.S. Department of the Treasury. With gigantic unfunded liabilities coupled with a sustained period of high deficits, the US can very well be in an inescapable debt trap.
Also, I completely agree with the statement on excessive debt slowing down economic growth. I take lines from one of my earlier article to prove this point -
From 1960 to 1980, the total credit market debt increased by USD3.9 trillion. In the same period, the GDP increased by USD2.4 trillion. In other words, one dollar of debt had an incremental impact of 61 cents on the GDP. From the year 1980 to 2000, the total credit market debt increased by USD20.7 trillion. The GDP in these 20 years increased by USD9 trillion. Therefore, one dollar of debt had an incremental impact of 44 cents on the GDP. Coming to the most recent decade, the total credit market debt from 2000 to 2011 increased by USD27 trillion while the GDP increased by USD5.2 trillion. The impact of debt on GDP growth during this period has witnessed a sharp decline. For every one dollar of debt, the incremental impact on GDP was just 19 cents. It can be easily concluded that more and more of the debt is gradually having a lower impact on the GDP.
Therefore, piling on debt might not solve the problems. As pointed out by Dr. Faber, it will only make the problems bigger in the long-term. From an investment perspective, expansionary monetary policies can lead to risky asset markets trending higher, increased volatility and superior returns on hard assets and companies in related industries.
I would therefore consider any correction of over 10% as a great buying opportunity for selected stocks and ETFs. Investors certainly need to be cautious in the near-term on fresh exposure to equities. Some of the stocks and ETFs I would consider buying on correction would be -
SPDR S&P 500 ETF (NYSEARCA:SPY) - It has been proven that beating the index is not an easy task. Therefore, the strategy should be simple -- beat the index or invest in the index. From this perspective, SPY looks interesting. The ETF provides investment results that, before expenses, generally correspond to the price and yield performance of the S&P 500 Index.
SPDR Gold Shares ETF (NYSEARCA:GLD) - I maintain that view and investors can consider exposure to the hard asset on correction for the long-term. High budget deficits in the Western world coupled with sluggish growth for a prolonged period will support gold prices at higher levels. The GLD ETF seeks to replicate the performance, net of expenses, of the price of gold bullion. The ETF has an expense ratio of 0.4%, with net asset holdings for the fund at $65.26 billion.
Seadrill Limited (NYSE:SDRL): I like Seadrill, as it caters to the oil and gas sector, which I am bullish on for the long term. Also, the company offers a high dividend yield. SDRL provides offshore drilling services to the oil and gas industry worldwide, and is also an excellent long-term buy, in my opinion. The company has a diverse asset base of 24 drillships & semi-submersibles, 21 jack-up rigs and 21 tender rigs. Further, 18 newbuilds would serve as long-term revenue drivers once they come into operation in 2013 and 2014. SDRL currently has an order backlog of USD19.7 billion, which gives revenue visibility in the foreseeable future. Being the second largest ultra-deepwater player also serves as an advantage for SDRL in the long term. Investors can consider the gradual accumulation of this exceptionally high dividend yield (8.5%) stock.
Apple - In less than three months, Apple has corrected by over 20% from a peak of USD705. The correction has been on the back of earnings disappointment in the last two quarters, as mentioned earlier. However, Apple does look attractive, trading at a forward PE of 10.87 and a PEG of 0.5. If Apple does correct further due to a correction in the broader markets, investors can consider exposure to this innovation-driven giant for the long-term. I was not particularly bullish on Apple at USD705 levels. The current levels do look attractive from a long-term investment perspective.
Disclosure: I have no positions in any stocks mentioned, and no plans to initiate any positions within the next 72 hours. I wrote this article myself, and it expresses my own opinions. I am not receiving compensation for it (other than from Seeking Alpha). I have no business relationship with any company whose stock is mentioned in this article.