Pitney Bowes (NYSE:PBI) is a maker of postage and mail related equipment. It also provides supplies and offers services related to the mail industry. It is a legendary company, one of the eleven companies illustrated in Jim Collins' famous book Good to Great. At a dividend yield of 12.5%, this stock looks interesting enough to get a second look. Many people believe that the mail industry is dying and are pricing this company for dead.
In this first of two articles about PBI, I will analyze the industry landscape. The second article will discuss PBI's valuation and determine its investment potential.
Who Said Snail Mail Was Dying?
PBI is in business because of the mail system. Many people believe that the future of snail mail is dead; we have email they say. Well that is likely true for letters to pen pals and childhood friends. Then again, pen pals don't need high volume postage and stuffing equipment as part of a direct mailing marketing campaign.
Ask Amazon (NASDAQ:AMZN) if the mail system is going out of style. Perhaps you might have paperless statements for your bills, but ask yourself if you don't get junk mail anymore. The mail system makes online commerce possible and companies still use the mail system for advertising. As online commerce continues to grow, the mail system will likely continue to be utilized. PBI benefits whenever businesses use the mail system commercially either to deliver products or to advertise to customers. PBI is the preeminent company for equipment and supplies used in automating the mailing process.
The mail system has a few things to consider. There are different classes of mail: First Class, Standard, Periodicals, and Packages. First Class mail is for private correspondence or for billing statements such as those you receive from utility companies, banks, etc. This is the category most in decline. Standard mail is not personalized and costs less to send; companies use this category most often for sending advertisements. Packages are exactly that, competing with the likes of UPS and FedEx. Online retailers, which are a growing segment within the retail industry, use these services to deliver their products. Companies use the mail system for advertising and delivering their products to customers.
The USPS publishes statistics related to these categories which is shown here: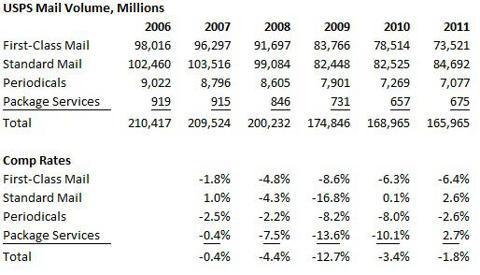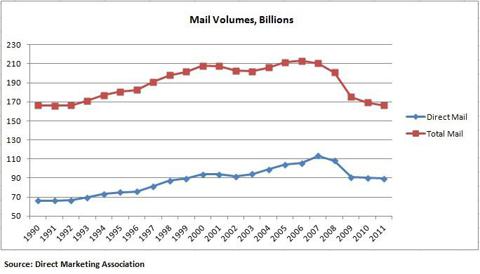 As you can see, the volume of mail has declined over the years, especially since the financial crisis. If companies need to cut back, their CRM and advertising programs may be the first things to consider. However, you can see that mail volume has recently leveled out, particularly in the Standard mail category which has actually increased from the previous year. Standard mail is the category which businesses use the most for their advertising. First Class Mail continues its downward trend which is not necessarily good for PBI. Companies need to send bills and statements via First Class Mail and are increasingly going paperless for these items. The Direct Marketing Association's Direct Mail stat has flattened.
The mail volume statistics tell a story of a declining First Class Mail and a stabilizing Standard Mail and Packages, which are related to advertising and commerce. There was no GDP data in this category but consider the chart below of the employment in the Direct Mail Advertising Industry (NAICS 54186) itself.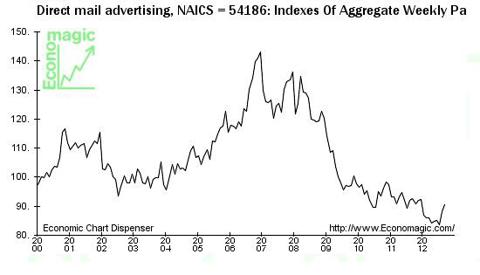 As you can see, employment plummeted since the crisis and has recently bottomed out. The rebound in this industry is consistent with USPS data, especially the Standard Mail category, and tells a story of the commercial use of the mail system to be stabilizing.
If all of these numbers were consistently declining year after year, I would write off any business related to snail mail because I would believe the model to be broken. However, the numbers appear to be leveling out which indicates that PBI might not be a dead model after all. The thesis that the mail system will die off appears overblown.
Real (Mad) Men Use Mail
If you are not convinced from the volume trends above that the mail system is not permanently in decline, look at the problem from the point of view of advertising. Direct mail by advertisers makes up a significant share of total mail volume and an increasing one at that. Mail will continue to be used if it provides an adequate return on investment dollars for advertisers. So here is the breakdown by category of the effectiveness of the various advertising strategies. The ROI cited is not like the one that business owners use to measure bottom line profitability. This stat in the marketing world reflects the sales dollars (not profit) that are driven by each dollar of advertising for each category. In other words, an ROI of 10 would indicate $10 of sales generated from $1 in advertising.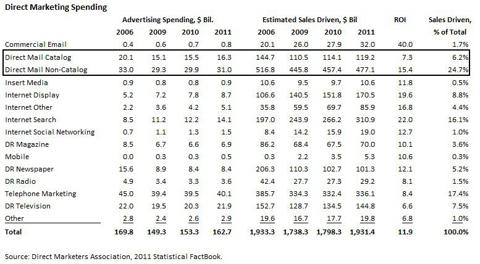 As you can see, direct mail is a very potent form of advertising compared to many of the others. Catalogs, also direct mail, do not offer a strong ROI as listed. However, catalog numbers might understate their ROI because customers that view a catalog might just use it as an introduction to a product that they will eventually go to a store to purchase. Companies like L.L. Bean make their sales through catalogs yes; however, it would be harder to assess catalog effectiveness for companies that also have a retail presence who use the catalog as an introduction instead of as a direct catalyst for sales. Either way, catalog ad spending appears to be stabilizing and is forecasted to increase.
The Internet search and commercial email categories drive a high ROI but direct mail succeeds against many other forms of advertising. Email is essentially costless which drives that high ROI. I feel confident that the direct mail industry will not go the way of other older industries precisely because it gets a better return on advertising dollars. In fact, although it is not calculated in the chart above, direct mail has consistently accounted for about 20% of advertising budgets year after year. This is very good news for Pitney Bowes which makes the equipment used to automate the direct mailing process.
Now see the chart below for added assurance. As you can see, companies prioritize direct mail as one of their key marketing channels further supporting the notion that mail will not die any time soon.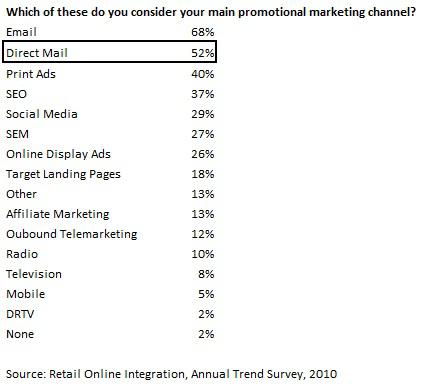 A trend also worth mentioning in the marketing world and related to the mail system is the use of Big Data. Big Data is one of the supposed reasons why Warren Buffett purchased IBM recently; IBM is uniquely positioned to help companies mine data in providing granular, statistically useful information about customer behavior. As the use of data becomes more sophisticated, the mail system will likely be utilized better, in addition to online marketing, in reaching these individually identified customers. Email is free and does not eat up marketing budgets; mail will likely continue to be another medium in targeting customers if they are more specifically identified in the data. Armed with this specialized knowledge, companies are likely to be more sophisticated in how they use the mail system. As an example, Gillette sends out brand new razors to many young men on their 18th birthday complete with case and blades. Many of those young men become Gillette customers for life. As smaller companies develop more sophistication in implementing this type of individualized information, expect more marketing like this to take place. Direct mail will take ad spend share away from mass media that could not get out individualized messages to its audience. It is hard to quantify and see the full extent of this development on the mail system but it is worth mentioning because it could make a big impact as small businesses take up and pursue these individualized tactics in the future.
The whole point of this first article was to provide the backdrop in assessing PBI as an investment. It lives and dies from the mail system. The above analysis points to a mail system that might not be in as dire a trajectory as many people may believe, in light of the rise of email and the Internet.
In the second article, I will break down mail data even further and project volumes into the future. PBI revenues are found to be highly correlated to direct mail volumes. Also, I will look more closely at PBI's financial statements to analyze how well the company makes for an investment. Based on the above analysis, it should be evident that the mail system is not going to die any time soon, helping to protect PBI's top line revenue. This fact alone is vital to PBI's valuation and the follow-up article will explore the other areas that are important.
Disclosure: I have no positions in any stocks mentioned, and no plans to initiate any positions within the next 72 hours. I wrote this article myself, and it expresses my own opinions. I am not receiving compensation for it (other than from Seeking Alpha). I have no business relationship with any company whose stock is mentioned in this article.