Treasury yields are falling again as President Barack Obama's re-election has boosted speculation that the Federal Reserve will stick with quantitative easing and bond buying. Renewed fears over Greece and the Eurozone debt crisis have also pushed investors into Treasuries with yields on the 10-year note falling back to the 1.6% range.
The low yield environment is going to linger for some time if the Fed has its way, forcing investors to continue their search for income-producing exchange traded funds and investments.
"With an Obama win, the status quo at the Fed remains," Chris Ahrens, an interest-rate strategist at UBS Securities unit, said in a report. "The market took a pause, and now it's starting to rally on the anticipation we're going to embrace the arguments surrounding the fiscal cliff. It's the same cast of characters negotiating the same issues."
Treasuries have returned 1.8% in 2012 and 15% since Obama was inaugurated in 2009, according to Bank of America Merrill Lynch indexes.
The fiscal cliff focuses on $600 billion in tax hikes and budget cuts that will pan out early next year, reports Cordell Eddings for Bloomberg. With the aforementioned in focus, searching out a combo of income, low-risk and stable growth may seem like a tall order. Neena Mishra for Zacks reports that there are a few ETFs that can deliver.
The PowerShares Emerging Markets Sovereign Debt Portfolio (NYSEARCA:PCY) tracks a virtual portfolio of liquid emerging market bonds denominated in U.S. dollars, from 22 countries. Emerging markets sovereign debt is hotter than any U.S. debt for the time, and the low correlation to developed markets is a diversification plus. PCY has a 4.7% yield, and has given back 18.9% year-to-date.
Another choice is the Guggenheim Multi-Asset Income ETF (NYSEARCA:CVY) focuses in on income producing vehicles from uncommon areas of the market. REITs, ADRs, MLPs, CEFs and preferred stocks are all bundled into this ETF. The fund has managed to be a low-volatility play that gives risk-adjusted returns for the long term. CVY yields 5.1% and is up 12.8% year-to-date.
The JP Morgan Alerian MLP Index ETN (NYSEARCA:AMJ) is an ETN that does carry credit risk. The Master Limited Partnership play is less risky than other energy plays, and focuses on the transportation, storage, processing and separation of the commodity. The Hurricane Sandy disaster is creating more opportunity for an investment of the logistics of gas and oil movement. A 4.9% yield and a year-to-date return of 8.2%, the case for investing in AMJ is just getting started.
JP Morgan Alerian MLP Index ETN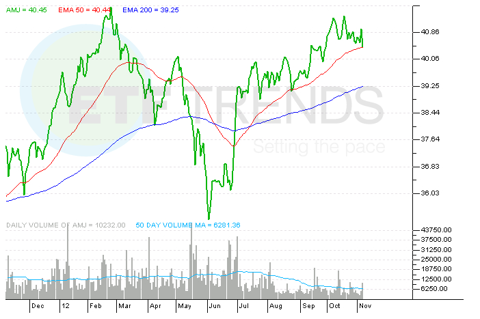 Tisha Guerrero contributed to this article.
Disclosure: I have no positions in any stocks mentioned, and no plans to initiate any positions within the next 72 hours. I wrote this article myself, and it expresses my own opinions. I am not receiving compensation for it. I have no business relationship with any company whose stock is mentioned in this article.
Additional disclosure: Mr. Lydon serves as an independent trustee of certain mutual funds and ETFs that are managed by Guggenheim Investments; however, any opinions or forecasts expressed herein are solely those of Mr. Lydon and not those of Guggenheim Funds, Guggenheim Investments, Guggenheim Specialized Products, LLC or any of their affiliates.