The Peter Principle is a principle articulated by Dr. Laurence J. Peter in which in an organization where promotion is based on achievement, success, and merit, that organization's members will eventually be promoted beyond their level of ability. The principle is commonly phrased, "employees tend to rise to their level of incompetence." In more formal parlance, the effect could be stated as: employees tend to be given more authority until they cannot continue to work competently. Peter's Corollary states that "In time, every post tends to be occupied by an employee who is incompetent to carry out its duties" and adds that "work is accomplished by those employees who have not yet reached their level of incompetence." We can see that the bosses of Apple Retail (NASDAQ:AAPL) (Ron Johnson (2000-2011) and John Browett (2012)) have proven that the Peter Principle is alive and well in the 21st century retailing marketplace. We are long Apple because it Apple Retail can survive John Browett and known when to cut him loose, then the man who is a bear on Apple will go broke.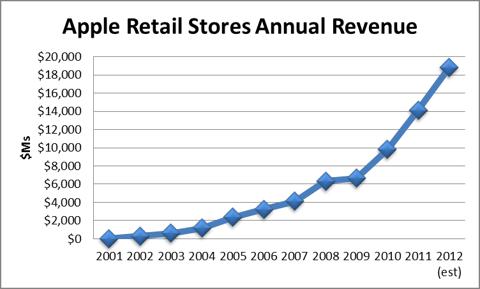 Source: Apple's 2001-2012 Annual Reports
In 2000, Ron Johnson had celebrated his Sweet 16th Anniversary as an employee of Target Corporation (NYSE:TGT) and was proudly serving the company as its Senior Merchandising Executive. We're not surprised that he was working at Target considering that he grew up in the Minneapolis suburb of Edina and his father worked as an executive with General Mills. We don't think that as good as he was, he was expecting Steve Jobs in Cupertino, CA to call him up and ask him to head up Apple's new retail store efforts that year. Nevertheless, he accepted the challenge and despite a few hitches along the way, helped build Apple Retail from its first store in 2001 to over 300 stores ten years later before he was tapped by J.C. Penney (NYSE:JCP) to revive that stagnating brand. Apple Retail's first full fiscal year of performance took place in FY 2002 and it generated a $22M operating loss on $283M of revenue. We think that Johnson is glad that Steve Jobs didn't pull the plug on the Apple Stores concept after one year because Apple Stores saw its revenues skyrocket from $283M in 2002 to $14.1B in 2011 and its operating income climb from -$22M in 2002 to $3.3B in 2011.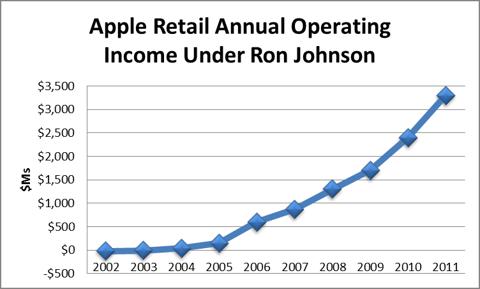 Source: Apple's 2002-2011 Annual Reports
Ron Johnson's stay at Apple Retail Stores wasn't successful merely because revenue and profits grew rapidly from such humble beginnings. Johnson's tenure was successful because of his ability to reinvest the electronic retailing concept while at Apple and the fact he positioned Apple Retail Stores to serve as the public face of Apple Inc. Johnson created an inviting shopping experience for consumers by creating an aesthetically pleasing retail environment and he benefited from being able to carry Apple's cutting-edge iOS devices such as the iPod, the iPhone and the iPad. Unlike other retailers, Apple Retail did not have aggressive sales people pushing products down the throat of consumers and its staff members were highly trained and knowledgeable, especially those nice folks at the Genius Bar. This helped Apple Retail Stores generate an enviable sales per square foot of $5,647 in 2011, which was nearly double the $3,085 generated by luxury jeweler Tiffany. Another reason why Ron Johnson's tenure at Apple Retail Stores was a smashing success was because he was tapped by J.C. Penney in the hopes that he could turn around its sagging and stagnant sales and profits.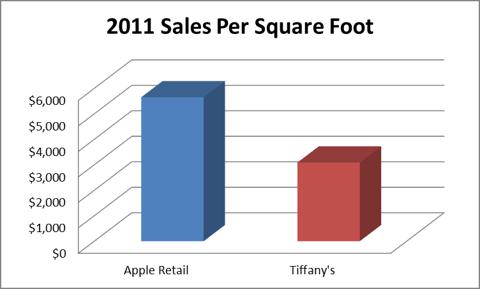 Source: New York Times
Ron Johnson has been CEO of J.C. Penney since November 2011 and has gone through a rough start in his first year with the company. His first quarter at the helm of JCP was in the fourth of its 2012 fiscal year and he oversaw a 5% sales decline and $87M loss. FY 2013 was when we got to see what grand plans Johnson had for the company. Unfortunately for JCP and Johnson, the results of those plans were not so grand. Johnson oversaw the creation of a new logo for JCP, its third logo in three years. Johnson tried to change JCP's pricing strategy from a promotion centered model to "everyday low prices" and unfortunately it resulted in everyday low revenue collections for JCP. Johnson discontinued the practice of commissions for retail sales people and he wanted brands to have "smaller shops" within J.C. Penney locations. We think that these factors have helped result in JCP's sharp 23% revenue decline in the first nine months of FY 2013 as well as its losses deepening from $65M in YTD FY2012 to $433M in YTD 2013.
We think that the smaller shops for brands concept at JCP stores won't work out so well based on our experience at Whole Foods Market (NASDAQ:WFM). When we worked at Whole Foods Market, the key brand at Whole Foods Market was the Whole Foods brand. We were asked to stop putting Coleman Natural Meats stickers on the pre-packaged beef items because the management didn't want to "promote the Coleman brand" even though we found that by labeling the Coleman beef items with the Coleman stickers saved us time by eliminating unnecessary questions from customers like "Do you carry Coleman beef?", "Is this steak from Coleman" and our favorite "If this is Coleman All-Natural beef, then why isn't it labeled as such?" Granted, our experience was an extreme example of a company that did not want to "promote vendor brands" however we think that the "smaller shops for brands" is the extreme opposite of our experience at Whole Foods. It's one thing to carry brands that people want, but turning your store into a "showroom" for vendor brands is another thing all together, and that is our perception of the JCP shops initiative. In short, we believe that although Johnson is at a different organization from where he achieved his greater success, we believe the Peter Principle applies here because we believe he is in way over his head with regards to his job at J.C. Penney.
After a two month search, Apple settled on John Browett to replace Ron Johnson as head of Apple Retail Stores. Browett came to Apple by way of Dixons Retail and we've carefully analyzed and evaluated the proud tradition of poor performance that Dixons Retail is famous for. We thought he had already reached his Peter Principle position at Dixons when he led that company for about 5 years and in that time revenue stagnated and profits sank like the Titanic. Despite muddling through the mucky morass of mediocre management at Dixons, Browett was given the opportunity of a lifetime in order to succeed Ron Johnson as the head of Apple Retail stores. Browett's hiring was announced in January and he began working for Apple in April. Although revenue and profits saw an increase in 2012 versus 2011 levels, we could see that John Browett's vision for Apple Retail was much different than Ron Johnson's. Browett had made so many questionable decisions while running Apple Retail that we were concerned that he was going to turn it into Dixons. We could see that Apple Retail's year-over-year growth was decelerating under Browett and as such, it was a good thing that Tim Cook decided to cut his losses while they were small by cutting John Browett loose after only six months. At Saibus Research, we call that addition by subtraction.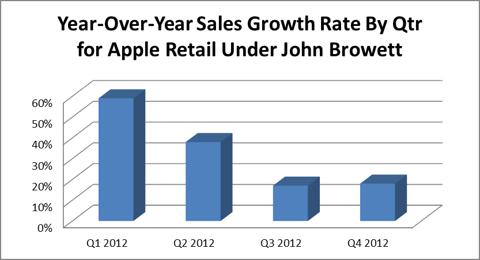 Sources: Apple's last four quarterly financial supplement reports
In conclusion, the heads of Apple Retail have shown us that despite the efforts of business schools throughout the world to identify the Peter Principle and to teach business students about it, it still persists in business organizations throughout the world. We see that Ron Johnson took Apple's retail concept from a laughing stock to the world's most envied retailer before taking the helm of J.C. Penney and turning that mediocre chain store into a pathetic performing laughing stock that has seen its financial condition go from bad to worse. We also see that John Browett did a mediocre job at Britain's most miserable electronic store chain and when he was tapped to run Apple Retail, Browett risked ruining what made Apple Retail special for the sake of improving operating margins by a percentage point or two. We're hoping that Apple Retail's next boss is someone who is motivated to take it to the next level but isn't motivated to use his experience at Apple Retail as a launching pad for his next position. Our research here reinforces our long position in Apple because we believe it was a learning experience for Tim Cook as well as the next head of Apple Retail.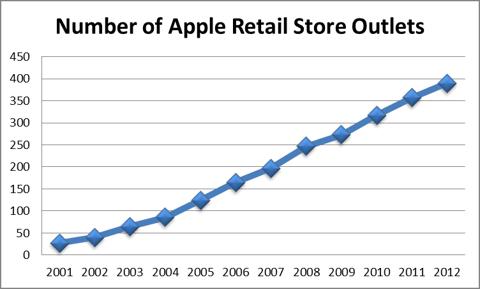 Source: Apple's 2001-2012 Annual Reports
Disclosure: I am long WFM, AAPL. I wrote this article myself, and it expresses my own opinions. I am not receiving compensation for it (other than from Seeking Alpha). I have no business relationship with any company whose stock is mentioned in this article.
Additional disclosure: This article was written by an analyst at Saibus Research. Saibus Research has not received compensation directly or indirectly for expressing the recommendation in this article. We have no business relationship with any company whose stock is mentioned in this article. Under no circumstances must this report be considered an offer to buy, sell, subscribe for or trade securities or other instruments.