The company, Diamond Foods, has been embroiled in controversy and a long-standing investigation dealing with payments to nut growers. The battle results will be announced November 14th on a conference call outlining restatement of financial results for the first three quarters of 2012. While the investigation has been conducted share prices have plummeted. Now that the final results are on the calendar its time to once again evaluate what to do with Diamond Foods.
Diamond Foods, Inc. engages in processing, marketing, and distributing snack products. It provides snack products, including roasted, glazed and flavored nuts, trail mixes, dried fruit, seeds, microwave popcorn products, and potato and tortilla chips under the Emerald, Pop Secret, and Kettle brands.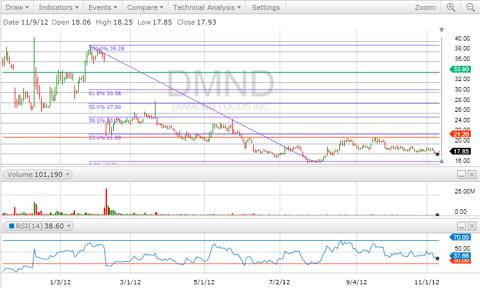 With the lack of current data it's impossible to make a technical judgment. The options market is more active than usual and seems to be telegraphing a price increase for Diamond Foods.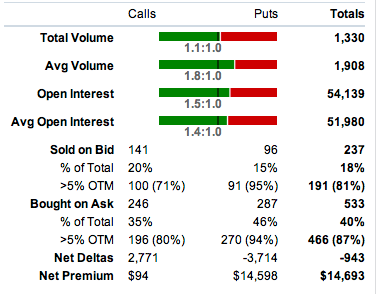 .
Option volume is high and Calls out number puts. Although this is not always an indicator of pricing direction the type of option orders adds some clarity.
Out of the Money Calls reaching up to $65 for January were traded today with a consistent dispersion from $20 to $65. I view this as a speculative statement on the part of the option traders that are betting that the news will be good and pricing will climb. After hours pricing was up 4.82% to $18.71.
DMND Option Trades Today November 12th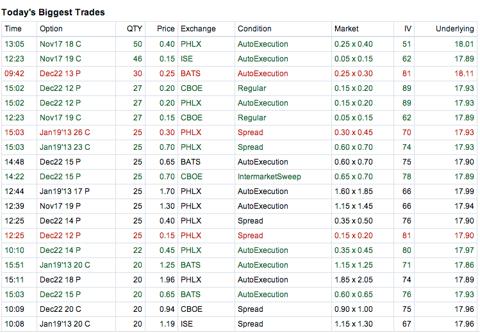 Given the price decline in the past year, and the unknown future, we maintain a hold rating on Diamond Foods. Share pricing should increase significantly if restated earnings are positive, but we feel that even with a strong restatement of earnings Diamond Foods has to far to climb to make it a potential buy for those that are currently long. Another troubling fact is that short interest is at 34.96%. In the case of Diamond foods the data is conflicted. The options market seems to be projecting an increase in share price, and the short interest demonstrates a potential declining price. It might make an interesting short term trade for a new position but for now we maintain a hold rating, and plan to hold onto our nut position.
Disclosure: I am long DMND. I wrote this article myself, and it expresses my own opinions. I am not receiving compensation for it (other than from Seeking Alpha). I have no business relationship with any company whose stock is mentioned in this article.