Since the election, markets have been in what seems to be a free-fall. Most notably, Apple (NASDAQ:AAPL) has continued to decline, from a September high of $705.07 to a recent low of $535.29 registered earlier this month, on November 8. However, it isn't the election that is causing such furious selling, it's the "Fiscal Cliff."
Among other things, the market has begun pricing in the effects of a true Fiscal Cliff event. While some members of Congress have publicly stated that a fiscal crisis is not likely, it still remains on the table.
Last time Congress met for the national debt crisis, the markets sold off violently, as a stalemate between the two parties led many to believe there would be no compromise. As many of us remember, the markets did not take too kindly to this slow, indecisive response, shaving off 17.06% in the one month leading up to the decision.
In the end, Congress played the kick-the-can-down-the-road card and the markets seemed to enjoy the plan, with the S&P rallying back to near breakeven by year end. Now, this is what the market will look for again, with potential violent selling as a result for another misstep.
One of the many discussion on the Fiscal Cliff is what it will mean for U.S. citizens. More specifically, one of the hot topics is which tax increases will go into effect and by how much they will increase. There's a lot to choose from, but right now I'm focusing on the increase in dividend taxes, something that many investors who live off of dividend income do not want to see raised from their current level of 15%, up to ~40%, potentially.
However, while a rise in the tax rate would hurt those who collect dividends as a form of income, it will have little effect on investors who have these high quality, cash-heavy companies in tax-sheltered accounts. While quality dividend stocks are not immune to the market, they usually are less volatile and avoid the more violent selling seen in other less stable companies.
This hasn't been the case over the last several weeks though. Some names have seen deep pullbacks, pullbacks that should be bought by investors in tax-sheltered accounts, who don't have to worry about dividend income taxes regardless of whether they're 15% or 50%. Below are 4 companies with quality dividends that have suffered moderate-to-deep corrections in the past several weeks:
AT&T (NYSE:T):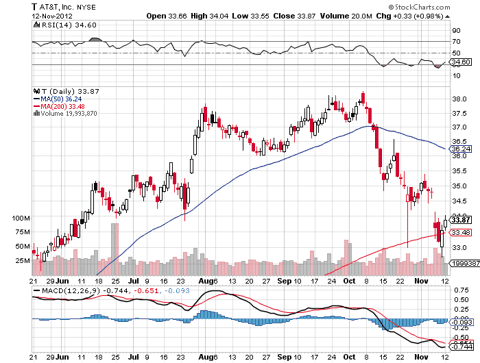 Yield: 5.35%
Annual Dividend: $1.80
Waste Management (NYSE:WM):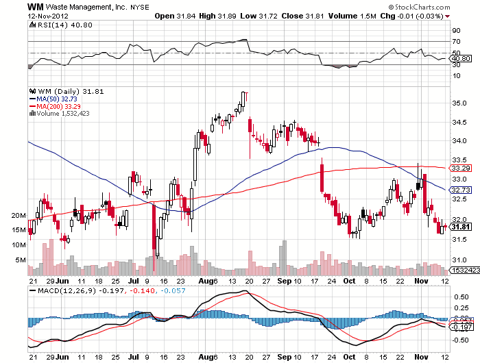 Yield: 4.45%
Annual Dividend: $1.42
Altria (NYSE:MO):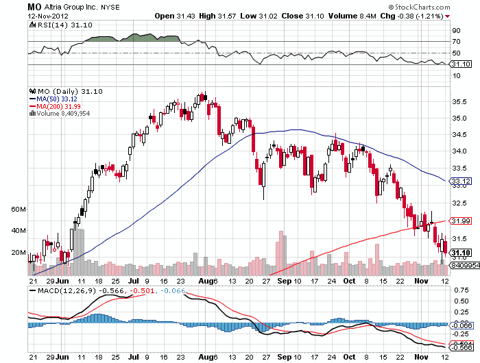 Yield: 5.6%
Annual Dividend: $1.76
Kinder Morgan Energy Partners (NYSE:KMP):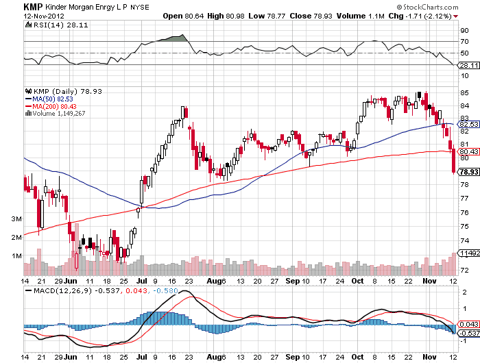 Yield: 6.25%
Annual Dividend: $5.04
As you can see on the charts above, these stocks have taken it to the chin in recent trading. The notion behind it isn't completely unwarranted either. The higher the tax rate, the higher the yield would need to be to keep the dividend payout the same.
There are only two choices that will accomplish that issue. The first would be if each company would substantially raise its dividend, increasing the yield and leaving the shareholder receiving the same annual income as before. This course of action is obviously unlikely. The second choice would be the more unfavorable of the two, but also the most logical, market efficient one: the price must come down, thus increasing the yield. As the stock price decreases, the yield increases, which is why so many stocks are being sold right now; they are technically overvalued in a Fiscal Cliff environment.
At first thought, this might be a sign for many investors to avoid the stock. No! This is a buying opportunity for the right investor. If you're purchasing shares of these stocks in a tax-sheltered account (such as a retirement account), you don't have to worry about income tax on such securities. So as these companies continue get sold by the investors who are affected by the tax increase, those who aren't can continue to purchase them at deeply discounted prices.
The stream of dividend payouts is of course fine. These companies aren't being sold because the dividend will likely be reduced or payout is becoming unlikely. The payouts are safe and even increase often, making it a true discount for certain investors.
A recent article by Bob Wells, provides a list of quality dividend stocks, as well as a look at his own portfolio of them. This list can be useful for those looking to add or choose dividend stocks for their portfolio. I have and will begin adding some of these names to my own tax-sheltered account in the coming days and weeks.
Disclosure: I am long T. I wrote this article myself, and it expresses my own opinions. I am not receiving compensation for it (other than from Seeking Alpha). I have no business relationship with any company whose stock is mentioned in this article.