A long time ago in a galaxy far, far away (New York City), I had the honor of having a conversation with Michael Bloomberg over the importance of sales people in an organization.
I actually thought that one of the reasons for Bloomberg's success was its sales force. Michael Bloomberg told me sales staff had nothing to do with it. He said anybody can sell Bloomberg boxes, because the product sells itself. It doesn't matter if I pay somebody a lot or little, the outcome, in terms of sales will be the same, he told me
You know the saying "One Swallow Won't Bring The Spring". In terms of big multinational companies, this saying comes to mind to show that nobody is indispensable and irreplaceable. Only once in a while big corporations have the likes of Steve Jobs, who are the heart of the corporation. But even they are not indispensable. Big multinational companies, especially high-tech companies, do not depend on any one single individual for anything.
As such, there is always an opportunity to make money when investors sell shares because some top level executive left the company for some reason. That's especially the case in both Apple (NASDAQ:AAPL) and Microsoft (NASDAQ:MSFT).
Yesterday it was announced that Steven Sinofsky would be leaving Microsoft for a unknown reason (Microsoft's release here). This high level executive of Microsoft was president of the company's flagship Windows division.
The question is, does Microsoft really depend on Steven Sinofsky for its Windows 8 operating system? The answer is of course no. There are hundreds of programmers who are involved in the development of Windows 8. There are probably dozens of high-level executives involved in the design. While Steven Sinofsky might have been at the top of the pyramid, he nevertheless is not responsible for either the development of Windows 8 or its future success.
Like Michael Bloomberg once told me, there are certain things that sell themselves. And they sell themselves because they are very good products or services. Apple gadgets are one category of things that sell themselves, and Microsoft software is another.
So when Microsoft falls over 4% because of the departure of someone who was supposedly irreplaceable and indispensable, then there arises an opportunity.
There are many reasons for somebody by Microsoft. Please read my recent piece called: Microsoft: In The Forefront Of The PC Revolution Once Again.
But the main reason you should buy Microsoft today, either long-term or for short term swing trade, is the abrupt correction the stock is making for the wrong reasons and that is, that many investors think Steven Sinofsky is indispensable and irreplaceable. Well I have news for everybody selling Microsoft today, neither Sinofsky nor anybody else is irreplaceable or indispensable in Microsoft.
As a reminder, it is my opinion that the Windows 8 operating system will be the next big thing that will push Microsoft to new levels of greatness. It is also my opinion that the Windows 8 operating system is the first version of an operating system that will be on everyone's computer desktop this time next year, as touchscreen computing becomes the next big thing.
Also as a reminder, the next best thing to a low multiple priced stock like Microsoft, is a stock with a shrinking float. And if you can get both at the same time (as in the case of MSFT), it's investment heaven. In fact, I dare say I'll take a shrinking float in a slightly expensive stock any day of the week.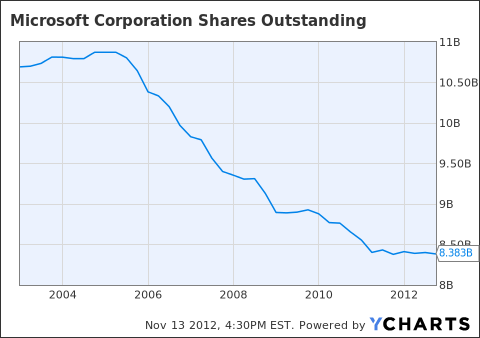 MSFT Shares Outstanding data by YCharts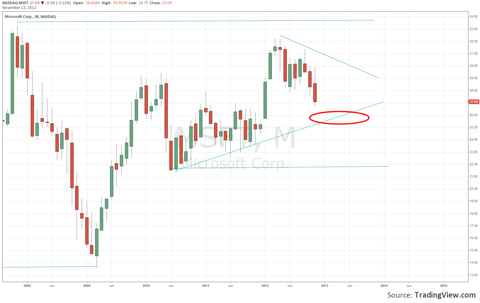 Last but not least, if you can pick up Microsoft close to the bottom of the channel as shown in the chart above, or in absolute terms, anywhere from $25-$26, I think you getting a heck of a deal. And if you do buy the stock at those levels, thank all those people who are selling today, because they think that Steven Sinofsky is irreplaceable and indispensable.
Disclosure: I have no positions in any stocks mentioned, and no plans to initiate any positions within the next 72 hours. I wrote this article myself, and it expresses my own opinions. I am not receiving compensation for it (other than from Seeking Alpha). I have no business relationship with any company whose stock is mentioned in this article.