Intel (NASDAQ:INTC) recently updated the Street on its plans in the upcoming "Micro Server" space - low power, density optimized machines that focus on having many low power cores rather than fewer, beefier ones. This is a space in which many ARM (NASDAQ:ARMH) licensees are making a lot of noise due to how conducive ARM's designs are to the workloads served by this space. In this article, I take a look at Intel's strategy to counter the threat.
Micro Servers - Guarding Against ARM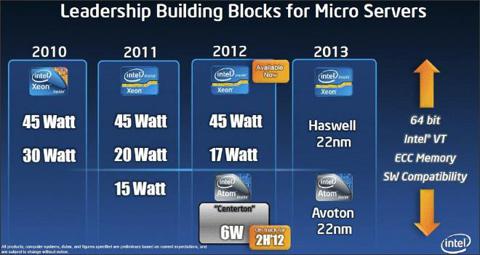 The big server push that ARM Holdings has talked about has traditionally revolved around the notion of micro-servers. These are servers that utilize a vast array very low power (and relatively low performance), energy-efficient cores instead of fewer, more powerful ones in a bid to lower total cost of ownership by lowering overall power consumption for certain workloads.
Not all datacenter workloads are conducive to this paradigm. In any case where the speed of any individual task matters (i.e. latency), micro-servers that use a bunch of smaller, weaker cores will be less ideal than a scenario in which many less performance sensitive tasks occur in parallel.
In this space, Intel will be launching its "Atom S" processor based on the current Atom core currently found in the latest smartphone and tablet chips (albeit with a bunch of server-oriented goodies such as 64 bit support, ECC, and a system design targeted towards servers) this year.
This chip isn't particularly interesting, but it's a head-start on the ARM camp, which still does not have a viable 64 bit core available. It is a dual core, 6W chip that still requires a number of other critical components not included on-die. The more interesting part is slated to hit the market in 2013, codenamed "Avoton."
According to several leaks, these chips will feature far more integration (SATA, Ethernet, PCIe), thus the platform power comes down considerably compared to the 2012 part. Further, these will be based on up to 8 of Intel's next-generation "Silvermont" 22nm cores (and will feature up to 8 of them) and will occupy a power envelope of between 5W - 20W.
With release in late 2013, Intel will likely be one of the first to the party against the following announced competition:
AMD's (NASDAQ:AMD) upcoming 64 bit ARM-licensed system-on-chip slated for release in 2014 via machines from its SeaMicro division
Applied Micro's (NASDAQ:AMCC) "X-Gene" which will feature a custom-designed 64-bit ARM core. According to the most recent conference call, these should be shipping for revenue in late 2013 or early 2014
Calxeda plans to release 64-bit ARM based servers in 2014 (using ARM's recently announced Cortex A53/A57 designs)
The Takeaway
The reason Intel is not yet a powerful presence in the mobile space was simply due to the fact that other companies got the jump on it. While microservers only make up 1-2% of server shipments today (and, funnily enough, mostly use Intel Xeon E3 processors), some predict that this segment could grow to be 10% of the server market by 2015. This is not a market that Intel really wants to lose to the ARM camp, so it is very aggressively pushing its "Atom" here. The leap from this year's Atom S to next year's "Avoton" is quite non-trivial in terms of integration, performance and power consumption.
While the ARM vendors - in particular Applied Micro - may have good solutions in the pipe, Intel is making sure to beat them to the punch with comparable, X86-compatible solutions. It remains to be seen how good Intel's solutions are to its competition's, but if it can leverage its process technology lead and its experience in server designs to provide a tangibly superior solution, then the "ARM server threat" will likely become a distant memory. If Intel's solutions aren't up to snuff, though, then this would be a chink in the armor through which other aggressive ARM players could seriously exploit.
Disclosure: I am long INTC, AMD. I wrote this article myself, and it expresses my own opinions. I am not receiving compensation for it (other than from Seeking Alpha). I have no business relationship with any company whose stock is mentioned in this article.
Additional disclosure: I am short ARMH