In mid October we wrote Halcon Resources - An Oily Hawk That's Cheaper Than You Think. The following Monday, Halcon (NYSE:HK) made a key acquisition in the Williston Basin which provides another cornerstone of growth for the company as it transitions from lease build out this year to an overwhelmingly drill bit weighted program in three core areas next year. This piece is not a rehash of the previous article (which is still worth reading and that cheapness angle is even more true now). Instead, it is an update of our thinking and a simple model based on the company's updated (higher) guidance.
Core Area Drilling Dominates 2013 Budget. While Halcon has its fingers in a number of plays, all of 2013's organic growth is set to come from drilling in the Woodbine, the Bakken/Three Forks, and the Utica/Point Pleasant. These three plays will get 90% of what will likely be a $1.1B budget next year and drive all of the volume projection which we will get to below.
As stated in the last piece, the budget flip flops from lease and producing property acquisition weighted with a little drilling this year to drilling weighted with a little wrap up and infill acreage acquisition next year. The acreage of each play is outlined in the table below and the company has largely built the foundation and is now in exploitation mode, with several rigs running in each play and not in a 1's and 2's rig style program but moving straight into development mode.
The other plays (including two as of yet unnamed stealth plays) listed in the table below will either be developed into cores or monetized as results warrant. I would not look for the Miss Lime to remain in the portfolio nor for the Midway/Navarro, which is a conventional play, to ever be considered "Core". I'd doubt the Wilcox will either, but the Tuscaloosa could depending on play results and their ability to reduce completed well costs relative to current industry levels. In other words, Halcon's focus will remain on core parts of unconventional oil plays where it can drive down both capital and operating costs lower over time. The other plays are somewhat interesting after thoughts at present.
Bakken Buy Adds Scale. As mentioned above, just after our October article, Halcon disclosed a large producing asset buy in the Williston Basin. Management added 81,000 net acres in Williams, Mountrail, McKenzie, and Dunn Counties, North Dakota for $1.45B. The company basically bought a swath of acreage across the heart of the play with several sweet spots included. Backing out the 10,500 BOEpd of current production at a conservative $80,000 per flowing BOE yields a modest adjusted acquisition price of $7,500 per net acre.
This is cheaper than operated peer Kodiak (NYSE:KOG) (currently valued at roughly $15,900 per production adjusted acre using 3Q volumes) and interesting since a chunk of the new acreage that will see HK rigs next year is in the FBIR where KOG points to much higher than Basin average EURs and where QEP recently paid roughly $21,000 per production adjusted acre.
Wall Street Is Coming Around. Referring back to when we wrote the piece in October, the Street average for 2013 production was just under the low end of the then current company guidance range of 32,000 to 38,000 BOEpd (31,700 to be exact). At the time we made some noise about that being a little low given the predecessor's company history (Petrohawk) and the under promise (but promise a lot) and then beat those promises mentality of management. With the 3Q12 report, Halcon upped its guidance for 2013 to a range of 40,000 to 45,000 BOEpd.
Notably, the mix of the new guidance became oilier. The new guidance represents a reallocation of capital focused on the three core areas and is not simply a bolt on of the new producing property to previous guidance. The Street has now brought its production number up to...wait for it...just under the low end of the new guidance range, averaging 39,000 BOEpd. Street EBITDAX marched up as well from $528mm at the time our prior report a month ago to $755mm to yield a current TEV to EBITDA forward multiple of 5.5x which would be slightly cheap to reasonable were it not for the growth, the oiliness of the profile, and our sense that the Street will, over the course of 2013, migrate their estimates north from their current thinking as drilling results unfold and analyst thoughts on the organic wedge firm up. Additionally, numbers are in the process of coming up and should be closer to levels shown in our model below in the not too distant future.
Meanwhile, Back in the Stock Market. The stock sold off after our note in conjunction with a market based swoon in the group. The 3Q12 conference call outlined the coming year's upwardly revised guidance, but patient investors are few and far between at the moment with people wanting to see results now. The programs are new but in some cases only a few weeks away from more results like in the Woodbine, and a few months from news like in the Utica.
Management does not want to fall into the habit of press releasing IPs which give hope to some, but which are a less useful gauge of progress than are longer term data. So some people may have lost interest in what is a high growth, big drilling inventory, oily, strong management run machine because it lacks an immediate catalyst. Not me. The name is on the cusp of results from two of its core plays as well as from some of the exploration wedge of its play portfolio. Furthermore, Halcon is oily and much of that oil is located in parts of the country that will see premiums to WTI.
Model Update - Numbers On The Rise. This is an update of our prior, very simple model to account for higher production levels. Note that the production mix shifted to be considerably more oily than in the prior read (it was officially 60%, we were at 64% and now the company is looking for 80% oil, not liquids but oil) and as such, the BOEs involved are quite a bit more valuable.
We have erred on the side of caution, again running a low, middle and high case, but we use the upper end of cost guidance in all three cases. Note that we don't expect them to max out per costs as the upper end of volume guidance would at the least reduce the per unit G&A cost but we want to strike a more conservative tone for the moment. So bottom of the barrel production and high end of costs yield 2013 EBITDA of just over $800mm. Looking at the low to high range this shows a forward TEV of 5.1x to 4.5x, a far cry from current implied Street valuation. But as we said last time, "it's cheaper than you think" (and now a bigger and oilier).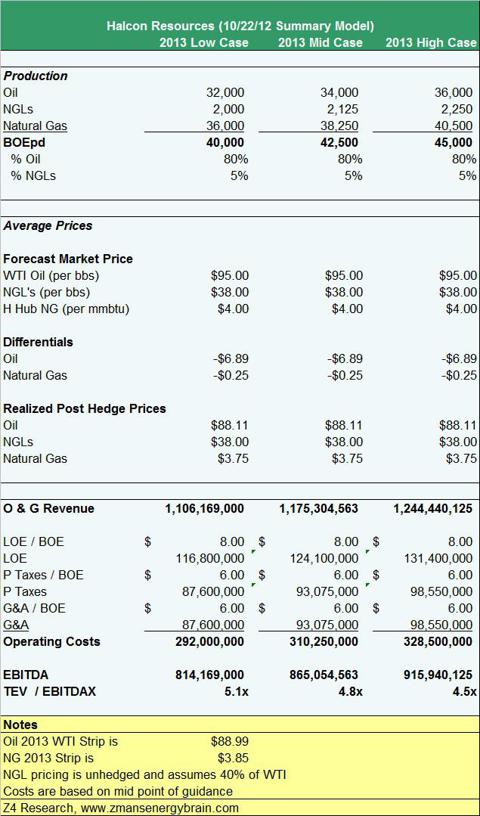 In A Nutshell: Halcon continues to be a rapid growth, oily name (now oilier than even we expected it would be) that should garner more attention as drilling results are reported and production mounts in its core plays. We have been buying on the recent dip and we're not alone as the avalanche of Form 4s filed by officers and directors filed this week would attest to.

Disclosure: I am long HK, KOG. I wrote this article myself, and it expresses my own opinions. I am not receiving compensation for it (other than from Seeking Alpha). I have no business relationship with any company whose stock is mentioned in this article.