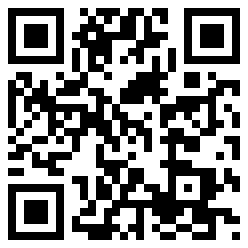 These symbols are forming part of our lives. QR codes, a mobile form of barcodes, are designed to allow consumers to quickly access more information.
Nowadays, many companies use this technology as an additional element in their advertising campaigns. In 2011, 8.9% of adults, that is to say, 21 million consumers used their smartphones to scan a QR barcode. The number of users is expected to increase to 26 million, in other words, 11% of all adults. Data from Mobi indicates over 60% of consumers only scan a code once, perhaps to check out the uniqueness of the engagement. This year, a very active runner in this race is Microsoft Corporation (MSFT).
On August 21, 2012 Neomedia Technologies (OTC:NEOM) announced that it had granted Microsoft a worldwide, non-exclusive license to NeoMedia's patent portfolio. Microsoft could be licensing these patents because it wants to use the technology further in upcoming applications. But it could equally be because NeoMedia has approached the company over potential patent violations in existing services. Windows 8 could be the goal of this agreement reached with Neomedia and this announcement allowed Microsoft advance to their direct competitors in the race for the mobile barcode.
The next chart shows the number of QR barcodes, Microsoft tags, Digital Watermarks, Augmented Reality using image recognition codes and other codes which appeared in the U.S. top 100 magazines.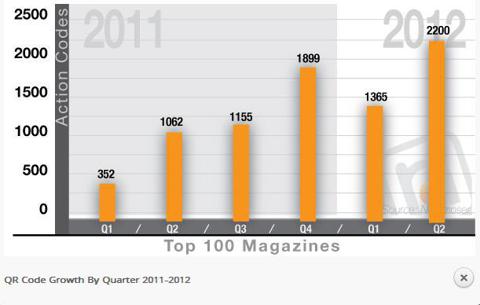 Source: nellymoser.com
For example, a competitor in this race that seems to be lagging behind is Apple Inc (AAPL) with its future operating system iOS-6. In the last WWDC 2012, Scott Forstall, senior vice president of iPhone Software in Apple Inc, showed how to use the feature with a San Francisco Giants ticket. Also, he told the audience the following:
The feature will work with things like Starbucks cards, Apple Store cards, and plane tickets, as well. Passbook is dynamic, so users will be notified of flight delays and gate changes.
QR Barcodes: Possible Healthcare and Consumer Goods Applications
But this proposal by the manager of Apple is not the most interesting aspect of this technology. Just imagine for a moment that you want to buy a TV and the instructions can be downloaded by means of a mobile barcode or the drugs patient information leaflet you are about to purchase is also in a barcode format and you can see them in your cellular, tablet or pc. We would be finishing with the massive logging of trees to make paper! The companies would save costs by the expenditure of unnecessary paper. In this case, we would be talking about millions of dollars.
QR Barcodes: Cellular Applications
Samsung (OTCPK:SSNLF) is one of the first companies to implement this technology on their mobile devices. The company included the software of Neomedia in its first smartphones devices. Nokia (NOK) and Research In Motion Limited (RIMM) are also involved in mobile barcodes.
The next chart showing the number of QR barcodes scans by quarter 2009-2012.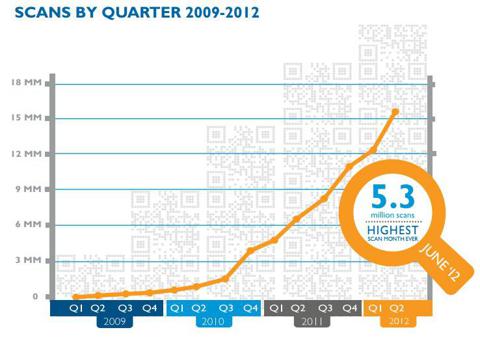 Source: e-strategyblog.com
Conclusion
Technology companies know the potential of the mobile barcode. There are many participants for a single patent. In my opinion, Microsoft has given a blow on the table with the agreement. Neomedia is now positioned as a key element within this game. Microsoft's competitors could be interested in winning the race by buying Neomedia.
Disclosure: I have no positions in any stocks mentioned, and no plans to initiate any positions within the next 72 hours. I wrote this article myself, and it expresses my own opinions. I am not receiving compensation for it (other than from Seeking Alpha). I have no business relationship with any company whose stock is mentioned in this article.