Last Thursday morning, Wisconsin-based department store Kohl's (NYSE:KSS) reported mediocre third quarter results. The retailer grew sales 2.6% year-over-year to $4.5 billion driven by 1.1% same-store sales growth. Earnings grew 14% year-over-year to $0.91 per share, exceeding consensus estimate by a few pennies. We encourage investors to read how we calculate the intrinsic value of Kohl's in this article here.
While earnings were better than expected, the earnings per share growth was due to share buybacks and modest operating leverage rather expanding gross margins. Kohl's shrunk its share count 11% since the same period in 2011. Gross margins dipped 44 basis points year-over-year to 38.1%, and management noted that the firm has been highly promotional, leading to lower earnings. We're also skeptical about the company's inventory build, which now stands at $4.8 billion, 17% higher than last year. The firm has often blamed not having enough inventories to meet demand, but we simply do not believe that's the case. Rather, we think the stores are building new inventory while remaining stocked with old products that don't sell well. This explains why the firm's fourth quarter earnings guidance of $2.00-$2.08 per share so greatly lagged the consensus of $2.16 per share-promotional activity will be heavy in the fourth quarter, and likely into the first quarter of next year, in our view.
E-commerce remained a bright spot, surging 50% during the third quarter to $295 million, and we think strong growth will continue in the fourth quarter. The firm also provided total sales growth guidance of 7% to 8% during the fourth quarter, driven by 3% to 4% same-store sales growth. Given our cautious outlook on the long-term future of the brand, we'd normally think this guidance was optimistic. However, same-store sales at competitor JC Penney (NYSE:JCP) dropped 26.1%; one of the worst declines we've ever seen. Its dividend cut wasn't very surprising to us either, as it registered a 0.9 on our Valuentum Dividend Cushion. To learn how to shield your portfolio from dividend growth blowups, please click here.
Therefore, we expect Kohl's Bucks and other couponing activity will be a huge positive for consumers looking to save during the holiday season. If the company can start to resonate better with young women and juniors, we see some potential upside to the sales forecast. We also believe the firm's shift to exclusive and private label brands could alleviate gross margin pressure.
In addition to potential sales upside, we think the firm somewhat sandbagged fourth quarter earnings guidance. Using a bear-case scenario of 6% sales growth and a bull case scenario of 8% sales growth, and gross margin declines of 110 basis points (bear) and 80 basis points (bull), we find management's assumptions to be fairly conservative: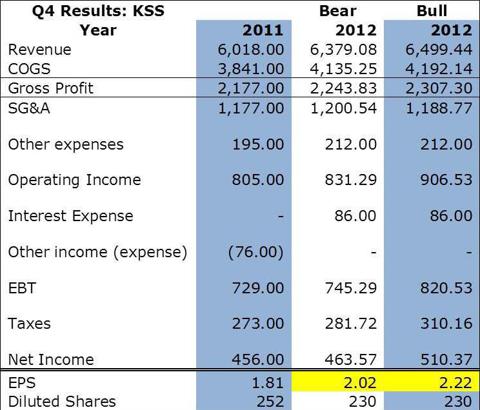 Source: Valuentum Securities
We think Kohl's could also reduce its share count more than forecasted, which would boost earnings. However, we believe shares are fairly valued. The company has a fantastic real-estate portfolio and a nice cash position, but we aren't confident in the firm's ability to attract newer, young buyers into the store. Luckily, JC Penney's lack of discounting and Sear's (NASDAQ:SHLD) lack of relevance will help keep sales somewhat stable in the near-term, but we're staying away until we see the company gain traction with younger buyers.
Disclosure: I have no positions in any stocks mentioned, and no plans to initiate any positions within the next 72 hours. I wrote this article myself, and it expresses my own opinions. I am not receiving compensation for it (other than from Seeking Alpha). I have no business relationship with any company whose stock is mentioned in this article.