They said it couldn't be done. Algae fuel was never supposed to reach the gas pumps at price parity to regular diesel. After all, the economics were supposedly impossible. Well starting today, critics should try fueling their cars at Propel's Clean Fuel Points in Redwood City, San Jose, Berkeley, and Oakland. Private company Propel Fuels and renewable oils innovator Solazyme (SZYM) announced today the start of a month long pilot program to test consumer response to the industry's first sale of advanced renewable fuel. As stated in the press release found here: "The fuel will be sold at the same price as conventional diesel fuels..."
Solazyme Isn't Your Typical Algae Company...
However, before you expect drop-in algae fuels to be selling on every corner around the United States, let us put things back into perspective. Solazyme continues to excel in its more valuable business segments as seen in my other article found here. Solazyme is a renewable oils company capable of replicating and enhancing existing oils through the use of a dark fermentation process inside of a closed system. Solazyme can effectively replicate a range of oils that can replace the markets for petroleum, plant oils, and animal fats. The company is capable of creating oils that are customized for specific industrial purposes and is already innovating tailored profiles that simply do not exist in nature.
Yet for all of Solazyme's innovative capabilities, investors continue to negatively associate the company with their understanding of the biofuels industry, open-pond algae companies, and the non-related connotation to the "Sol" in Solyndra. Even while the U.S Navy presses for biofuels and pays $15 per gallon, the whirlwind of criticism has come crashing onto Solazyme by an audience that was never willing to allow the economy of scales to come into play. Ironically, before even considering any improvements that have occurred since the company's IPO, Solazyme had previously declared at that time that it was then reasonable to manufacture its oils at a cost below $3.44 per gallon according to the S-1 statement found here.
Support From Industry Continues To Grow...
But for every skeptic, Solazyme's supporting partner list continues to grow. In the fuels category alone, large oil companies like Chevron (CVX) and EcoPetrol (EC) have signed agreements for product development as found here and here. Even agricultural commodity trader Bunge (BG) found the value proposition of uniting its sugar business, biofuel segment, and oilseed processing division as an opportunity too lucrative to pass up. Bunge has since entered into a 50-50 joint venture with Solazyme for the construction of a facility with a nameplate capacity of 100,000 metric tons. The site that was chosen to host the plant would be its flagship sugarcane mill in Moema, Brazil. The joint venture plant will be used to produce renewable fuels and renewable chemicals.
Solazyme's latest partnership with Propel Fuels seems somewhat trivial in comparison until you consider the underlying growth in store. As read here, Propel Fuels currently operates 29 fueling locations but has planned to expand this number to more than 200 locations over the next two years. It's worth mentioning that the Propel Fuels partnership had been announced two weeks ago at Advanced Biofuels Markets 2012. It's important to note that at the same conference, CEO Jonathan Wolfson had emphasized the company's fuel strategy would revolve primarily around commercial fleets rather than the consumer markets according to the coverage found here.
In regards to the company's fuels segment, Solazyme's management has always asserted that it made the most financial sense to initially pursue blends and additives rather than a 100% unblended fuel outright. Considering my other articles found here and here, Solazyme's superior oil and fuel would undeniably gain the best margins by improving the properties of another commodity altogether. In the case of the Propel Fuels pilot program we see this coming full circle as the blended fuel consists of 80% petroleum and 20% of Solazyme's Soladiesel.
One Person's Loss Is Another's Opportunity...
As Solazyme's share price inexplicably continues to fall despite a lack of news to carry the momentum one way or the other, investors must ultimately remember that the stock market in itself is not a rational entity. From early July to the present day, Solazyme has fallen nearly 49% with little public reason as to why. Even Raymond James analyst Pavel Molchanov felt obligated to reiterate his outperform rating in late October as he stated the following justification found here.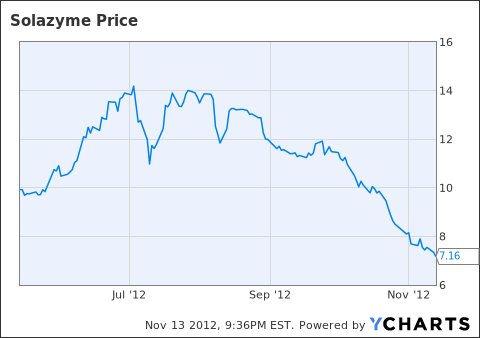 As of June 2012, Solazyme carried total current assets of $214.9 million with less than $22 million of current liabilities. Of the current assets, $195 million consists of cash and easily accessible short-term investments. Altogether, the company has no more than $34 million in total liabilities. The company's joint ventures are currently constructing production capability that will make the company a positive cash-flow operation. To date, the company has somewhere around 3,000 metric tons of capacity now running. By the end of 2015, the company expects to have 550,000 metric tons of capacity online.
Although biofuels continue to dominate the headlines of Solazyme, investors would be wise in remembering that Solazyme is first and foremost a renewable oils company. Fuels remain a low margin business with an insatiable demand. Yet as the company continues to dip its feet in the fuels market, it continues to make a bold statement in declaring what's possible in the world to come. Algae fuel for the price of regular diesel can one day become a tangible reality. Yet even this is just a touch of the value Solazyme offers to industry through its platform of converting low-cost sugars into high-value tailored oils.
Disclosure: I am long SZYM, BG. I wrote this article myself, and it expresses my own opinions. I am not receiving compensation for it (other than from Seeking Alpha). I have no business relationship with any company whose stock is mentioned in this article.