French oil and gas giant Total S.A. (NYSE:TOT) showed its potential during its most recent quarterly earnings report (PDF) that was released on October 31, 2012. Compared to the prior quarter, the company saw sales increase by 8%, adjusted cash flow from operations increase by 32%, and adjusted net income increase by 20% when measured in euros. The company's performance was not as good when measured in dollars but that is entirely due to the weakening of the euro against the dollar over the past year. The strong earnings report was only one piece of evidence regarding Total's potential going forward.
Total is already one of the largest publicly-owned oil and gas companies in the world not owned by a national government and is considered to be one of the six oil supermajors. However, the company has the ambition to grow even more and it has an excellent portfolio of development projects to use to do it. In the third quarter of 2012, Total had average daily production of 2,272 mboe per day, representing a slight decrease of 2% over the prior year quarter. There were three factors that affected this production level compared to the third quarter of 2011. First, new projects coming online or ramping up added 5.5% to the prior year production. This was partially offset by a 4.5% decline due to the maturation of older assets and scheduled maintenance activity. The company thus would have seen its production increase were it not for the third factor: the shutdown of the Elgin field following a gas leak in March and flooding in Nigeria. These two incidents reduced the company's production by 3% over the course of the quarter. This was enough to turn the company's production year-over-year increase into a decrease. Neither incident is symptomatic of any greater or hidden problem at Total.
Total stated in its 2012 Investor Day presentation (PDF) that it has the stated goal of increasing its average daily production to 3,000 mboe per day by the end of 2017. Achieving that goal would require the company to grow its production by 32% in four years. This is not management swagger. The company already has the assets and projects in progress to achieve this goal. In fact, 70% of these projects have already been approved by the relevant governments and the company has begun work on them.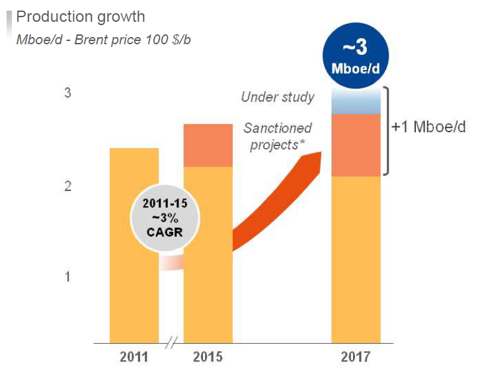 Source: Total, S.A.
The fact that almost three fourths of these projects have been approved removes a lot of uncertainty here. This is because the company has already cleared the regulatory hurdles that could otherwise pose risks for project completion. Total has already started development on 100% of the projects that will drive growth between now and 2015. All of this growth, which will be at an approximately 3% compound annual growth rate, will come from either ramping up existing production or from new projects that are currently in the development stage. Total will then accelerate its production growth beginning in 2016 and going into 2017. There are three main projects that are either planned or already under development that will drive this growth:
Egina in Nigeria
Kaombo offshore Angola
Moho-Bilondo in the Republic of the Congo
Despite this focus on Africa for medium-term growth, Total is quite well-diversified internationally. Since 2010, the company has obtained acreage in several nations all over the world.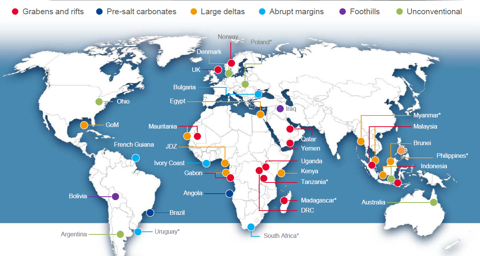 Source: Total, S.A.
This acreage, all of which could prove potentially profitable, ensures that Total has very little exposure to any one country. This greatly reduces the risk faced by the company due to country-specific factors. For example, Suncor (NYSE:SU) and Eni (NYSE:E) were hurt due to the Libyan civil war that occurred in 2011. An even better example of the country-specific risk that Total's global diversification helps protect against can be obtained by looking at what happened to Repsol (OTCQX:REPYY) when the government of Argentina nationalized YPF (NYSE:YPF). Total's global diversification should protect the company from outsized losses in the event of a country-specific event.
Total's growth trajectory ensures that operating cash flow will trend upward assuming that there is no prolonged decline in oil prices.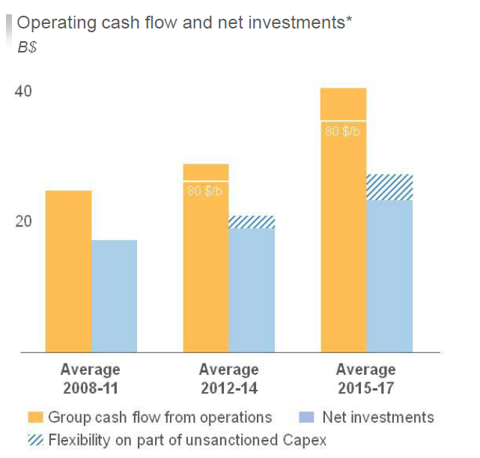 Source: Total, S.A.
As the chart shows, this growth will also lead to steadily increasing free cash flow going forward. As with production, free cash flow growth will also accelerate during the 2015-2017 period. This is, by definition, good for shareholders. Investopedia defines free cash flow as,
"The cash that a company is able to generate after laying out the money required to maintain or expand its asset base. Free cash flow is important because it allows a company to pursue opportunities that enhance shareholder value."
In effect, free cash flow represents the cash that the company has available to disperse to stakeholders including creditors and shareholders. This is the money that allows the company to pay dividends and pay down debt. Growing the money that can be used in this way is obviously good for shareholders and it is something that many great investors, including Warren Buffett, look for in an investment.
Total increased its dividend in the second quarter due to management's confidence in the free cash flow growth that the company's various growth projects will produce. The new dividend is 2.36 euro per share, giving the stock a 6.24% yield at the current exchange rate and stock price. Even after accounting for the French withholding tax, this yield is on par with the other two European supermajors BP (NYSE:BP) and Royal Dutch Shell (NYSE:RDS.B) and far surpasses its American peers. Total has not been a consistent dividend grower. The increase in the second quarter dividend represents only the third dividend hike since 2005.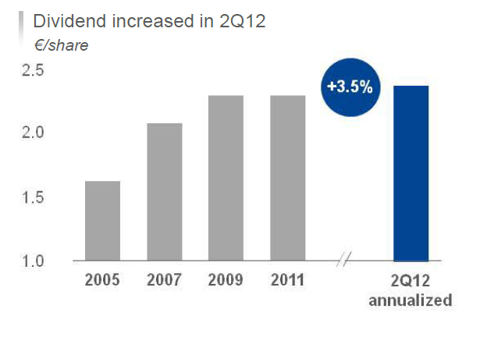 Source: Total, S.A.
This impending growth in free cash flow could cause the company to increase this already large dividend even further going forward. Total already has a strong balance sheet. The company has the stated goal of maintaining net debt at between 20% to 30% of equity. The company has been successful at maintaining this target range.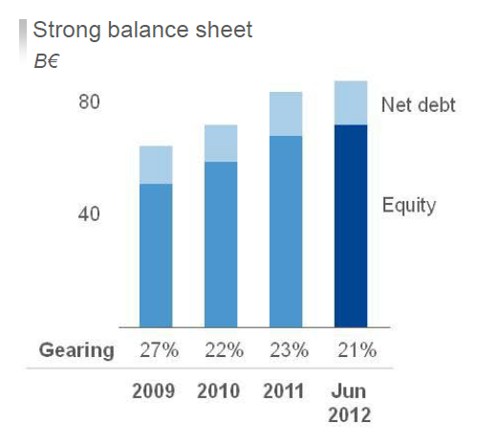 Source: Total, S.A.
Total's balance sheet thus looks quite strong. The growth in free cash flow is after the company has spent the money needed to maintain and grow production. So, what's left? Returning the excess cash to shareholders through either stock buybacks or dividends. Historically, the company has aggressively engaged in both of these activities and seems likely to continue to do so.
Disclosure: I am long BP, SU. I wrote this article myself, and it expresses my own opinions. I am not receiving compensation for it (other than from Seeking Alpha). I have no business relationship with any company whose stock is mentioned in this article.
Additional disclosure: I may take a position in TOT within the next 72 hours.