Pursuing high-yielding stocks can often be an errant maneuver in the goal of attaining sustainability when it comes to replacing one's source of income. The yield that pays you abundantly today may not always serve to meet your needs for tomorrow when you're relying on the expected income. Consistent dividend growth on the other hand is by far the more ideal strategy in securing an income source with a high return. A quick look at the following two fundamentally sound companies shows the stark difference between the two strategies.
E. I. du Pont de Nemours and Company (DD), also known as DuPont, has historically paid an above average dividend yield. A look at the company's yield a decade ago in 2002, and we'd have seen that the company was still paying a rough 3.28% annual yield based on the stock price of $42.63. On the other hand, Procter & Gamble Co. (PG) paid a more conservative dividend with an annual yield of 2.16% based on the stock price of $43.85.

Yet as the above graphics show, Procter & Gamble continued to steadily grow its dividend rate year-over-year whereas DuPont did not. As of November 13, Procter & Gamble retains a current yield of a rough 3.40% annual yield while DuPont offers a 4.00% yield based on share prices of $66.85 and $42.91, respectively.
However, by taking the current yield and applying it to the original purchase prices in 2002, we come up with the following results:
Based on the initial holding in 2002, the position in Procter & Gamble would now sport an annual yield of 5.13% due to the growing dividend rate. Yet when we take a look at DuPont, an equivalent position from 2002 would now be yielding a rough 4.03% annual yield due to its relatively steady dividend rate. As retiring investors are typically most concerned about a steady income flow, it's clear that a strong dividend growth company is the long-term winner in this category. If one were to consider the future going forward, it would appear likely that the gap between the two companies in terms of returned income would only further widen in favor of Procter & Gamble.
While taking a look at principal growth is an important factor to consider overall, the effect can often prove to be illusory to those with the goal of replacing income. In the above example, Procter & Gamble's stock price rose 55.80% over the last decade while DuPont's stock only grew 2.78%. Once again this illustrates a clear winner found in the shareholders of Procter & Gamble, or rather in reflection of a growing dividend strategy. Yet the fact remains that the company's gain in share price only further conceals the hidden strength of Procter & Gamble's yield. This is why an initial look between the two companies would suggest DuPont has the more ideal dividend to pursue.
Dividend growth is an essential part of long-term financial planning. Investors looking to find growing dividends may wish to also consider the following three companies. Each of these names have consistently raised their yields over the last 20 consecutive years. Such a predictable pattern of dividend growth is not exactly common and is quite often only reserved for the most established of businesses. It remains advisable for investors to pursue additional due diligence into each company to confirm that their associated risks are in line with the strategy of the investing party.
| Company Name | Payout % | Current Yield | Dividend Raised Since... |
| --- | --- | --- | --- |
| Target Corp (TGT) | 28% | 2.30% | 1968 |
| Johnson & Johnson (JNJ) | 77% | 3.50% | 1963 |
| Chevron Corp (CVX) | 28% | 3.40% | 1988 |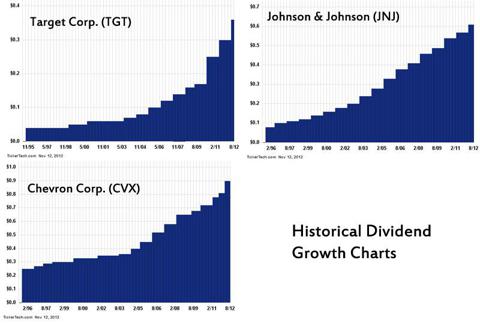 Disclosure: I have no positions in any stocks mentioned, and no plans to initiate any positions within the next 72 hours. I wrote this article myself, and it expresses my own opinions. I am not receiving compensation for it (other than from Seeking Alpha). I have no business relationship with any company whose stock is mentioned in this article.