Pfizer (NYSE:PFE), the world's largest research-based pharmaceutical company went ex-dividend on November 7th for its quarterly dividend of 22 cents per share. With that, Pfizer has now paid the same 22 cents per share for 4 quarters. That means only one thing for dividend growth investors: a new dividend 'might' be on its way.
This article details the past and present of Pfizer's dividend, in addition to giving a snapshot of what the future dividends might look like. We intend to present this article as an evaluation of all the relevant factors without taking a side. For each positive or negative point, we present the counter right next to it wherever possible.
Dividend Background: Pfizer is a well known dividend stock and for most part of its history, a great dividend growth stock as well. Wharton professor Jeremy Siegel's extensive research concluded that Pfizer was one of the best stocks you could have owned in the last 50 years (Yes, hindsight but it's a fact).
But Pfizer's $68 billion acquisition of Wyeth in 2009 changed the story for dividend investors. The company had to cut its dividend by half in 2009, going from 32 cents to 16 cents a share. However, after the dividend cut in 2009, Pfizer's dividends are slowly on their way up, growing 37.5% to the current level of 22 cents a share.
Current Payout: Given the current EPS of $1.27, Pfizer's payout ratio stands at 69%. As high as that sounds, Merck (NYSE:MRK) and Bristol-Myers Squibb (NYSE:BMY) have a much higher payout ratio, with the latter exceeding 100% right now. Only Eli Lilly (NYSE:LLY) has a payout near 50%.
Cash on Hand: Pfizer, being the biggest player, obviously has the cash power. The chart below shows the cash and short term investments for Pfizer and three other major pharma stocks: Merck, Eli Lilly, and Bristol-Myers. This could be another factor in determining the new dividend.
But the cash on hand has dropped significantly from the pre-2009 highs due to the Wyeth acquisition.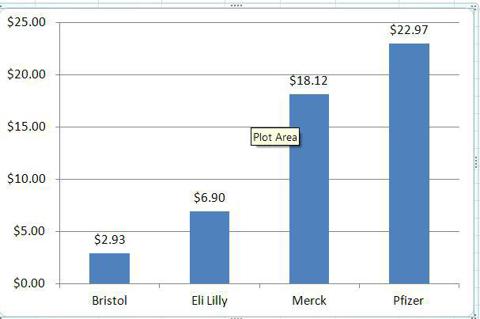 (Source: YCharts.com)
Dividend Growth: Competitors like Merck did not increase dividends for 7 years till 2011. But for the three years (2010, 2011, and 2012), Pfizer's average dividend growth rate is at an impressive at 11%. The 5 year dividend growth rate till the 2009 cut was 16%. However, investors are usually wary of companies that slash their dividends. And dividend growth investors usually consider only stocks with at least 5 years of consecutive dividend increases.
Extrapolation: The table below assumes Pfizer increases its annual dividend by 7% for 5 years from 2013 and by 5% for the next 5 years. Given Pfizer's average dividend growth over the 8 year period mentioned above, this rate seems plausible. Investors can be expected to double their yield on cost even at this conservative rate. Also, because Pfizer's current yield is quite handy, the end returns seem much bigger.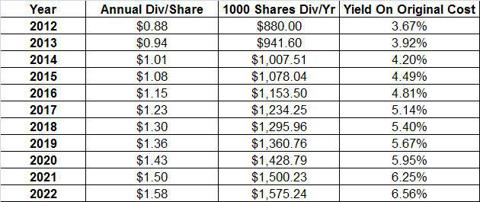 Earnings Worry: However, Pfizer's earnings estimate for the next 5 years stands at about 2% per year. So, investors might think even the dividend growth rate assumed above is tough. However, the cash hoard (accounting for R&D expenses) should still act as sufficient cushion for Pfizer to increase the dividend.
Conclusion: Alas, what is an article worth if the author does not weigh in. We believe this article from SA contributor Dana Blankenhorn hits the nail on the head that the earnings are not really going to rocket up anymore in spite of what the claims are about the pipeline.
That said, we do expect Pfizer to announce a dividend increase soon, mainly to get the investors back on its side. Dividend investors have a very good memory when it comes to 'their' dividends being cut as you can see in a few comments here.
Disclosure: I have no positions in any stocks mentioned, and no plans to initiate any positions within the next 72 hours. I wrote this article myself, and it expresses my own opinions. I am not receiving compensation for it (other than from Seeking Alpha). I have no business relationship with any company whose stock is mentioned in this article.